The 4 Oils You Need For Inner And Outer Beauty: A Nutritionist Explains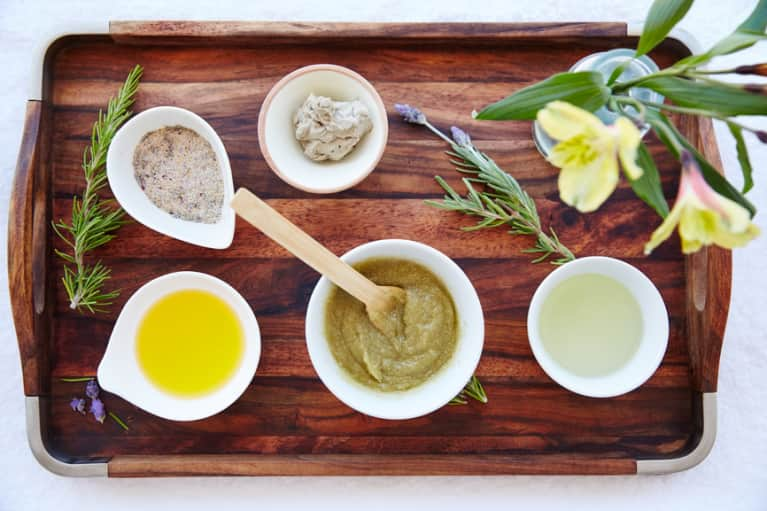 Fat is an essential macronutrient, and fatty oils make for powerful anti-aging beauty foods when used both internally and externally. Here are four oils that will leave you feeling incredible from the inside out:
New to the scene and totally sustainable, anti-inflammatory algae oil is incredibly high in monounsaturated fat (that's the good one!). In fact, 1 tablespoon alone has as much monounsaturated fat as an avocado. This type of fat helps stabilize blood sugar, allowing your body to release fat, protect lean muscle, and surge with energy.
With nine times more fiber than kale and two times more protein than spinach, expect to see a lot more see a lot more algae food ingredients in your culinary future. It's perfect for high-heat cooking (like stir-frying) because it stands up to high temperatures without steaming and has a super-light taste.
Medium-chain-triglyceride (MCT) oil works to combat the bad bacteria and yeast in the digestive tract that can cause inflammation and keep you from losing weight. Most often found in coconut oil, MCT is easily digested and has been shown to promote fat burning and increase energy expenditure. Recent research also shows that consumption of MCT oil before drinking can protect the liver from the oxidative stress of alcohol.
Add a teaspoon of MCT into your morning smoothie or blend it with a cup of hot coffee or tea to cleanse your colon and promote a healthy bacteria balance.
Virgin coconut oil is rich in antioxidants and has antiviral, antifungal, and antibacterial properties. When used on hair, it improves scalp health, fights infections and fungus, and supports hair growth, all while adding volume and shine without the common harmful chemicals.
Elevate your hair routine with my Be Well favorite, the St. Tropica coconut oil mask. It's deeply infused with superfoods your hair loves like organic biotin, green tea, hibiscus, amla, and horsetail.
Marula & Calendula Face Oils
Oiling every evening is my secret weapon for glowing skin. Calendula oil, loaded with alpha and beta carotenoids, will infuse your skin with antioxidants and enhance its natural healing systems. Marula oil's antioxidants, vitamins, and omega-3s deliver moisture and luminosity. Insider tip: Apply a light amount of oil onto your face before your next flight to protect your skin from getting dehydrated in the recycled air.
Related reads:
4 Awesome Ways To Use Coconut Oil
Why Eating More Fat Can Help You Lose Weight: A Doctor Explains
What You Need To Know About Cooking Oils