3 Detoxifying Ingredients, 1 Juice Recipe (No Juicer Required!)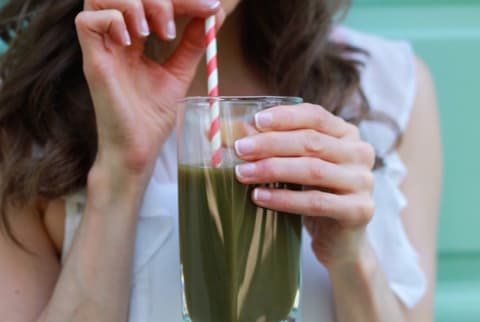 September 28, 2015
If you want to join the green juice craze but aren't ready to invest in a juicer yet, there's good news! You can still make nutrient-packed juices, with no juicer required. This too-yummy-to-be-healthy green juice pulls detoxifying properties from every ingredient:
Mint not only enlivens this juice with a burst of freshness, but it also aids digestion and detoxification by stimulating bile flow from the liver into the gallbladder so that fats can be broken down effectively.
Additionally, mint is naturally antibacterial, enhances gastric juice production, and improves the function of the muscles lining the stomach and intestines. It also has a calming effect on the GI tract, helping to relieve gas and nausea.
Similar to mint, lime stimulates bile production, which assists in detoxification. Lime also thins out bile, breaking up stagnation and facilitating its flow. Lime increases the liver's production of bile, which eventually finds its way into the small intestines, where its role is to break down dietary fats.
Aside from offering an energy boost from B vitamins, cucumber hydrates the body to help expel toxins. The silica and sulfur in the skin of a cucumber act as anti-inflammatories and promote hair growth and joint health.
This ultimate detoxification trio comes together to create the perfect "reset" juice. So drink up and detoxify and nourish your cells with every sip. You'll be glowing from the inside out in no time!
2 cucumbers
½ lime
⅓ cup fresh mint, packed
¾ cup filtered water
Pinch sea salt
Liquid stevia, to taste (optional)
1. Wash all the ingredients. Cut cucumber lengthwise and in half, and remove the lime skin and pith.
2. Add all ingredients except the stevia to a blender, and blend until smooth.
3. Place a fine mesh sieve over a glass and pour the contents of the blender through, using the back of a spoon to press and extract all of the juices.
4. Stir in stevia, if using. Chill or serve over ice. Enjoy!
Leaving the skin on the cucumbers will result in a thicker juice, but doing so enhances the silica content in your juice. If you choose to do so, adjust the water to thin the mixture to your liking.
I find using ¼ teaspoon of liquid stevia is best. Alternatively, use coconut water instead of filtered water and omit sweetener.
What's your favorite whole-body detoxifier? Let us know in the comments below!
For more ways to detox, start here:
17 Simple Tips To Detoxify Your Life
Photo courtesy of the author

Christine Cherpak
Christine Cherpak is a Functional Nutrition & Wellness Expert, and the founder of KalenaSpire, a holistic health coaching and private yoga practice that specializes in freeing people from chronic digestive discomfort.
Christine supports her clients in understanding the root cause of their digestive discomfort, creates a custom plan to put them on the road to healing, and shows them how to make sustainable lifestyle changes so they can finally enjoy and elevate their lives. Follow her on Pinterest and Instagram.