3 Gut-Healthy Bowls For A Delicious Week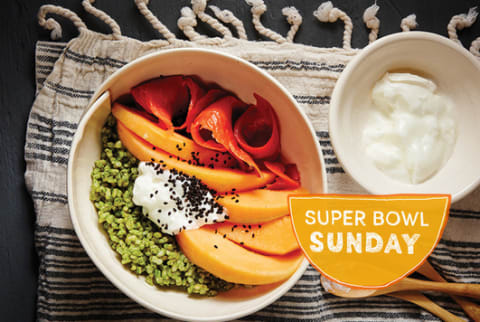 Photo by Great Bowls Cookbook
June 5, 2016
We all know bowls are THE way to have a super-satisfying, healthy meal. These recipes will take your bowl game to the next level with totally unique and yummy flavor combinations that you might not have thought of, from the book Great Bowls of Food by Robin Asbell.
Matcha Tea Rice With Sliced Melon, Pickled Ginger, and Lox
I'm pretty sure that the Japanese don't mix matcha in their rice, but boy, howdy, is it oishii (delicious!). Melon and cured fish give this bowl a Japanese feel, and the lush melon also cleanses the palate between bites. This one refreshes as it fuels you for a serious day of contemplation and movement. It packs well too.
3 teaspoons matcha
4 cups cooked long- or short-grain brown rice
¼ cup sliced pickled ginger
1 (2½-pound) cantaloupe, peeled, seeded, and sliced
8 ounces lox, slivered
4 teaspoons black sesame seeds
½ cup plain yogurt (not Greek)
1. Stir the matcha into the cooked rice.
2. To serve, divide the brown rice between the bowls. Arrange ¼ of the pickled ginger in each bowl. Arrange the slices of cantaloupe around half of each bowl. Mound the lox on the opposite side. Sprinkle the lox with black sesame, and then dollop stirred yogurt over the cantaloupe. Serve.
Big Buddha Bowl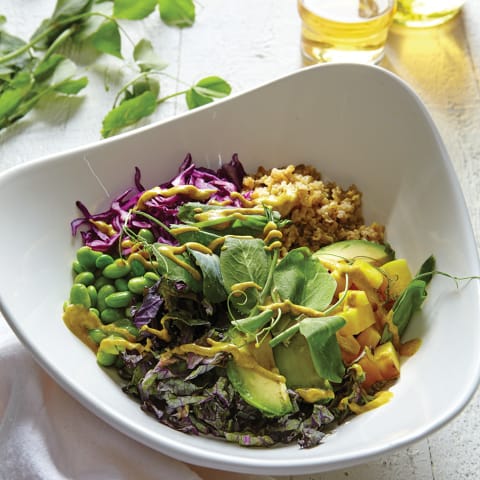 This bowl is big, and it brings together textures, colors, and flavors that practically add up to a main and three side dishes. The creamy golden dressing is a nutritional bonanza, with seeds and dates and turmeric puréed into a pourable elixir. The bowl will give you a different experience in every bite and all the macrobiotic glow you look for in a bowl.
2 tablespoons pumpkin seeds
1 clove garlic, peeled
1 tablespoon fresh turmeric, peeled and chopped
1 tablespoon fresh ginger, peeled and chopped
2 large dates
½ teaspoon salt
2 tablespoons cider vinegar
3 tablespoons flax or hemp oil
¼ cup kombucha or water
4 cups cooked freekeh or brown rice
4 ounces kale, shredded
1 medium avocado, sliced
1 cup red cabbage, shredded
1 medium yellow beet, cubed
2 cups edamame
1 cup microgreens or pea shoots
Black sesame seeds, for garnish
Hot sauce, to serve
1. To make the dressing, in a food processor, combine the pumpkin seeds, garlic, turmeric, ginger, dates, and salt. Process to mince finely and scrape down, then purée to a smooth paste. With the machine running, drizzle in the vinegar, scrape down, then drizzle in the oil and kombucha. Scrape the dressing into a small pitcher or bowl.
2. Warm the grain and toss with 2 tablespoons of the dressing. Spread one cup on each wide bowl.
3. Top each bowl with kale, avocado, red cabbage, yellow beets, and edamame. Drizzle with the dressing. Garnish with microgreens, sprinkle with black sesame seeds, and serve with hot sauce on the side.
Black Rice Bánh Mì Bowl With Quick Pickled Veggies
Yup, bánh mì is the super-popular sandwich that melds French bread with Vietnamese fillings, all slathered with mayo. In this fabulous platter, the tender rice gets a drizzle of sriracha-infused mayo, and the sweet-and-sour pickled daikon and carrots pile on top with five-spice chicken (or mock duck.)
This bowl has all the things you love in a proper bánh mì, spread out on gorgeous black rice that makes for a striking presentation.
4 ounces daikon, shredded
1 large carrot, shredded
¼ cup rice vinegar
1 tablespoon sugar
½ cup mayonnaise
2 tablespoons rice vinegar
1 tablespoon sriracha sauce
2 medium cucumbers, peeled and sliced
2 large jalapeños, sliced
4 large scallions, slivered
1 tablespoon canola oil
1½ pounds chicken or mock duck, chopped
1 teaspoon five-spice powder
1 tablespoon fish sauce or tamari soy sauce
6 cups cooked black rice
1 cup cilantro leaves, whole
1. In a medium bowl, combine the daikon, carrots, rice vinegar, and sugar and toss to mix. Let marinate for at least 30 minutes, or overnight. In a small bowl stir the mayonnaise, rice vinegar, and sriracha sauce; reserve.
2. Slice the cucumbers, jalapeños, and scallions, and reserve.
3. Heat a large sauté pan over medium-high heat, then drizzle with canola oil; swirl to coat. Add the chicken or mock duck and sprinkle with five-spice and stir. As the chicken sears, it will release from the pan, so give it a couple of minutes before turning. When the chicken or mock duck is almost cooked through, pour the fish sauce over it and stir and toss until the pan is dry and all the chicken is coated. Take off the heat.
4. On a large platter, spread the cooked rice, then drizzle with the mayo sauce. Compose the daikon mixture, cooked chicken, sliced vegetables, and cilantro leaves. Serve.

Robin Asbell
Robin Asbell is a cookbook writer and chef. Her work has appeared in Clean Eating, Better Homes and Gardens, Vegetarian Times, Real Food, and elsewhere. She lives and teaches cooking classes outside Minneapolis.