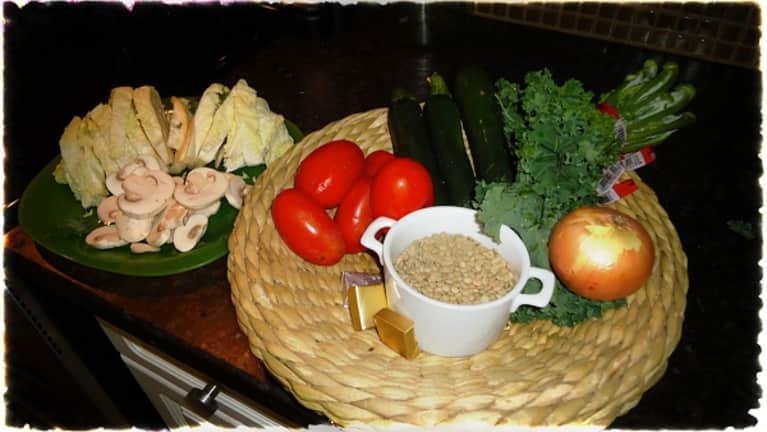 Growing up in a mixed household meant that I was not only was I blessed with naturally curly hair (thanks Dad), I was also exposed to the wonders of cabbage soup and all things cabbage from the Ukrainian side of my family (thanks mom). Baked cabbage, cabbage rolls, cabbage soup were all staples in our home and I've paid my dues, burnt fingers and all, rolling cabbage rolls. I was also lucky enough to grow up with a mom who shuddered at the thought of canned soup. We were introduced to the aroma and heartwarming comfort of homemade soup at a young age and my mom was a master at turning leftovers into amazing, soul-satisfying soups.
Soup has since become my go-to meal in the cold Canadian winters. Easy, filling and healthy. You can come to my house on any given day in the winter, open my fridge and you will find a pot of soup. Soup just makes me feel all warm and fuzzy inside, like a favorite pair of pj's or the warmth of my cat cuddled on my lap as I write this. Every time I make soup, the aroma fills the house and my clients always ask what's cooking. I've sent many a client home with soup samples to show them how simple can be healthy, satisfying for the soul and taste really, really good all at the same time.
Here's my vegetarian take on my mom's cabbage soup:
What you will need:
head of cabbage (can mix & match with savoy cabbage)
kale
2 large cooking or spanish onions

1 can organic stewed tomatoes (I also add fresh tomatoes that are on their last legs)

organic vegetable stock (non-vegheads use chicken stock)
3 large carrots chopped
sliced raw mushrooms (about 2 handfuls)
1 1/2 cup dried green lentils
sea salt & fresh cracked pepper
big pot
patience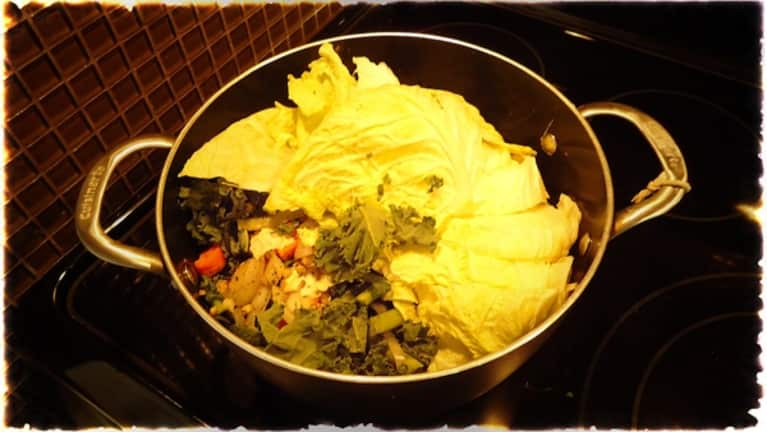 Prep steps:
Slice and chop the onions, carrots, tomatoes and cabbages.
I like to slice the onions, cabbage & kale into thick shreds, otherwise they cook down and become too mushy.
Next steps:
Saute onions, mushrooms & carrots in olive oil.
Season with salt & pepper
Add lentils, chopped cabbage, stock & canned tomatoes. Use enough stock to completely cover all ingredients as the lentils will soak up quite a bit. Cover with a lid and let simmer for a good hour... the longer the better.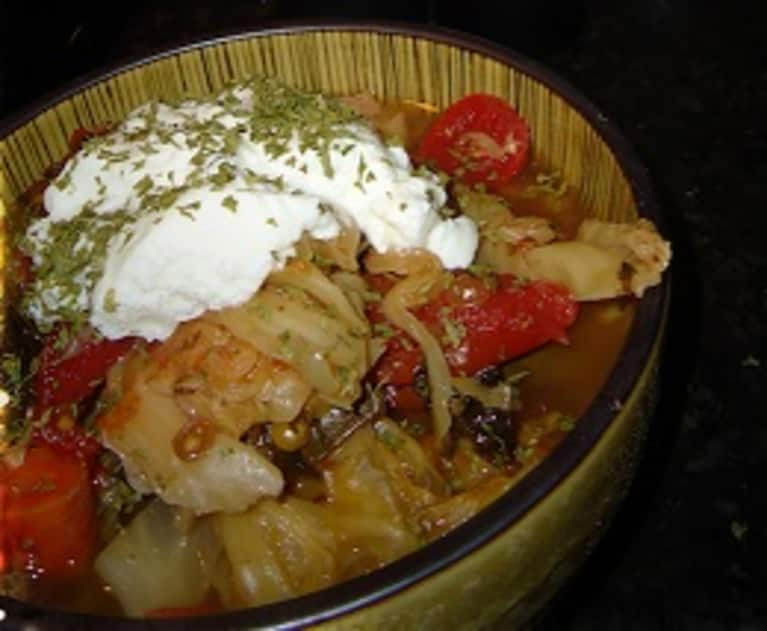 Serve:
In your favorite soup bowl (yes, I have a favorite one!)
Take it over the top with:
2 tablespoons of vinegar and a dollop of greek yogurt
Trust me on the last tip. Vinegar reacts amazing with the soup and was a staple growing up. I've replaced sour cream, which is a traditional way to top this and borscht (beet soup) with a healthier version, greek yogurt.
Curl up on your couch, pop in a good movie and enjoy on a cold rainy day. Mmmm... soup.