How To Make A Way Healthier (But Just As Beautiful) Unicorn Frappuccino
Contributing Food Editor
By Liz Moody
Contributing Food Editor
Liz Moody is a food editor, recipe developer and green smoothie enthusiast. She received her creative writing and psychology degree from The University of California, Berkeley. Moody is the author of two cookbooks: Healthier Together and Glow Pops and the host of the Healthier Together podcast.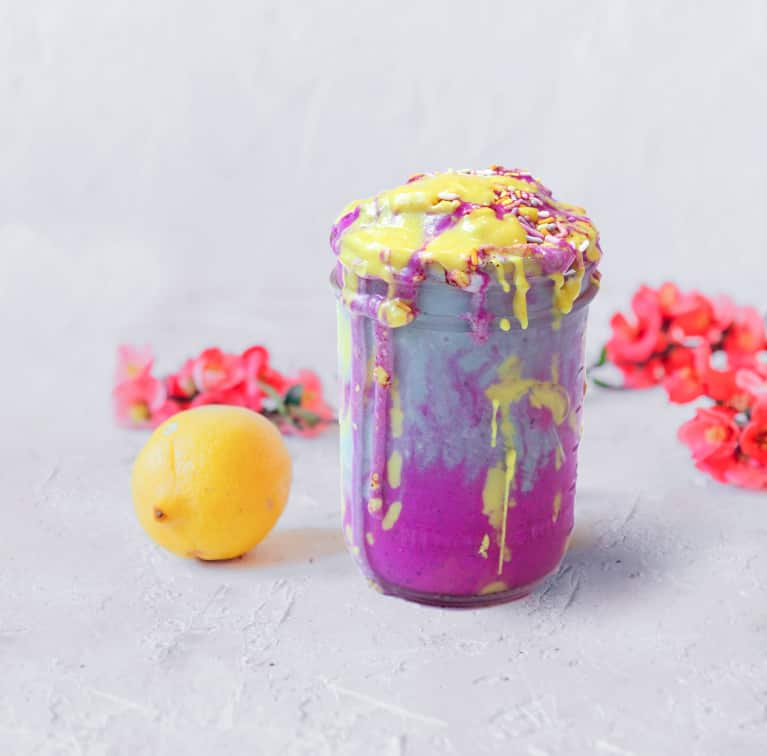 In case you missed it, Starbucks' Unicorn Frappucino has been taking over the internet, with even the New York Times covering its mesmerizing swirls of electric pink and blue. "Like its mythical namesake, the Unicorn Frappuccino blended cream comes with a bit of magic," said Starbucks spokespeople—and, unfortunately, 59g of sugar per serving. We knew we wanted to make a healthier version that was just as whimsical, so we reached out to the woman who, arguably, was at the root of this whole craze, Adeline Waugh, of the crazy colorful Instagram account, Vibrant and Pure. Adeline created the Unicorn Toast that took over the internet, and, together with Brooklyn's The End's Unicorn Latte, kicked off the unicorn craze that's currently taking the country by storm.
She created a drink that's filled with vitamin C, packed with anti-inflammatory ingredients, and completely free of refined sugar. While the Starbucks version has been noted to taste like a very-not-found-in-nature Blue Raspberry, this one is, according to Adeline, "like a tart but slightly sweet vanilla ice cream, with notes of coconut and banana." Here's how to make it.
Healthy Unicorn Frappucino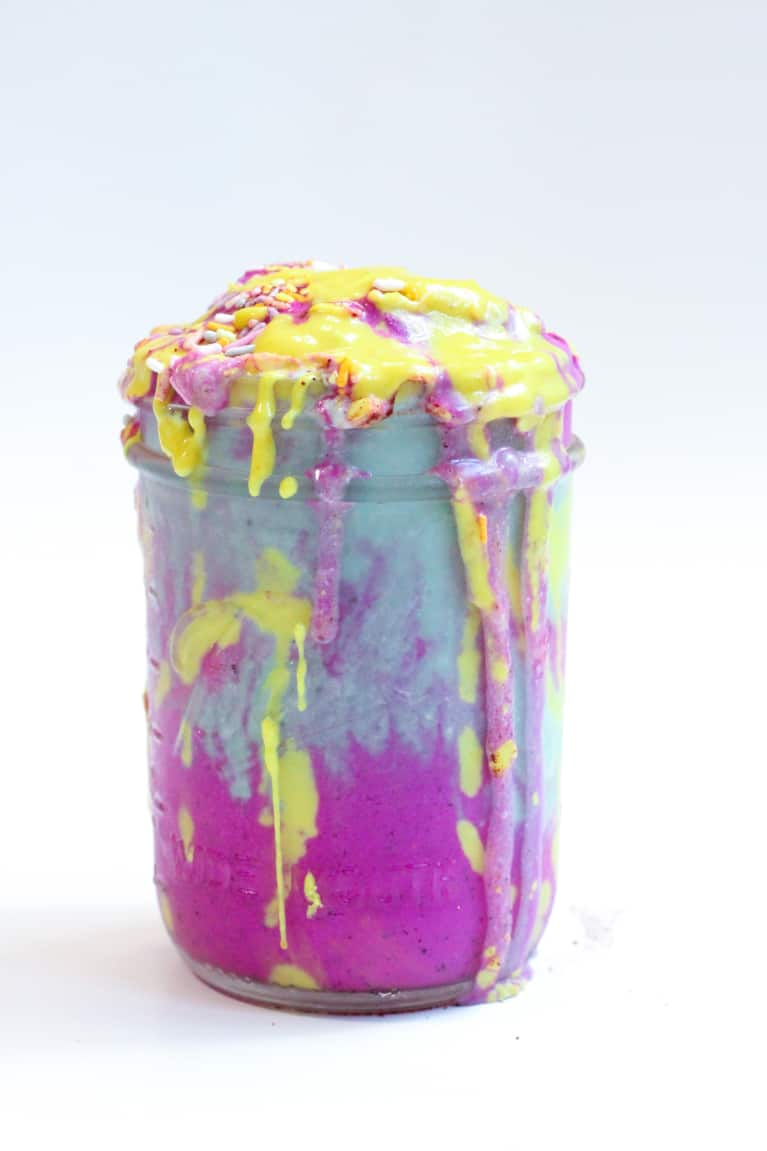 1 packet frozen pitaya
½ banana
¼ cup coconut milk
2 tablespoons yogurt (plant-based or regular)
1 teaspoon maple syrup
**add small handful of ice when blending
Blue Layer
4 tablespoons chilled coconut cream (place a can of full-fat organic coconut cream or coconut milk in the fridge for at least 6 hours before making recipe)
½ banana
1 teaspoon maple syrup
½ teaspoon spirulina
2 tablespoons coconut milk
juice of ½ lemon
¼ teaspoon vanilla extract
**add small handful of ice when blending
Vanilla Turmeric "Icing"
3 teaspoons coconut butter (melted)
2 teaspoons coconut oil (melted)
2 teaspoons coconut milk
2 teaspoons turmeric
½ teaspoon maple syrup
¼ teaspoon vanilla extract
You will need chilled coconut cream, so make sure you place a can of full-fat organic coconut cream in the fridge at least 6 hours before you plan on making this.
For the pink and blue colors, simply blend all of the ingredients together with a bit of ice in a high-speed blender until you have a thick milkshake-like consistency.
For the icing, mix together all ingredients and scoop into a piping bag (or a little zipper bag like I used), cut the corner, and drizzle into the inside of the glass. Then, scoop in alternating pink and blue layers. Optionally, you can top with extra icing, natural sprinkles, extra spirulina (or other superfood powders), and bee pollen.