For Your Scrolling Pleasure: All The Most Magical Food On Instagram
Contributing Food Editor
By Liz Moody
Contributing Food Editor
Liz Moody is a food editor, recipe developer and green smoothie enthusiast. She received her creative writing and psychology degree from The University of California, Berkeley. Moody is the author of two cookbooks: Healthier Together and Glow Pops and the host of the Healthier Together podcast.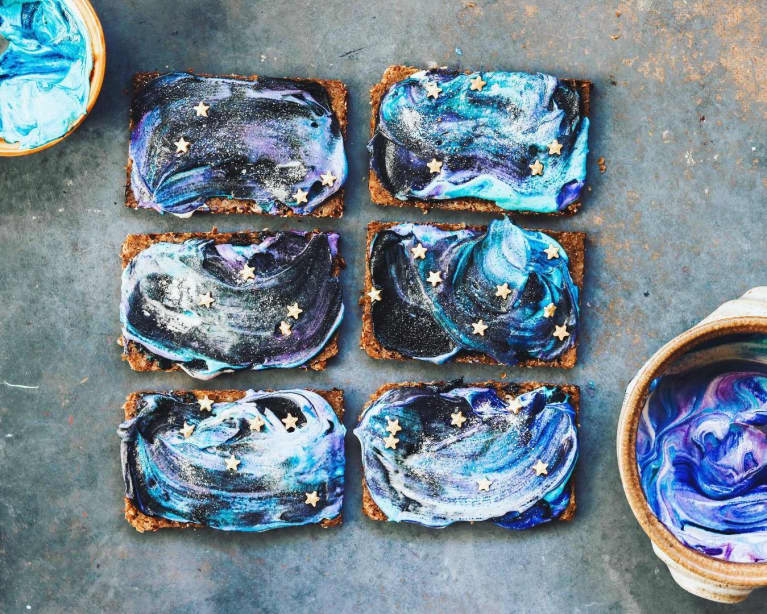 We're all about the magic dust that's been sprinkled over Instagram lately. Unicorn this, galaxy that—it seems like everywhere we look, there's beautiful colors and more than a touch of whimsy. Here are a few of our favorite fantasy foods:
Arguably the woman at the center of the crazy, food stylist Adeline Waugh followed up her unicorn toast with this gold-flecked mermaid toast that has us drooling.
Taline Gabriel's creations are literally breathtaking. We don't know how she does it, but we do know we'll buy (or eat!) whatever she's selling.
Once you've run out of magical stuff on earth, it only makes sense that you'd go intergalactic. @sobeautifullyreal has us covered with this galaxy chia pudding that has us confused, mind-boggled, and really, really hungry.
How pretty is this pink and green toast from fitness phenoms @toneitup? It looks like a bite of the beaches they're often photographed on.
If you like your protein balls with a side of sparkle, @sweatwithbec has you covered. P.S.: They taste like peanut butter cookie dough.
Not only are these fresh summer rolls a rainbow of gorgeous colors, they're also packed with vegetables. We'll take three, @stephanie.h.park!
This smoothie might just be too pretty to drink. Wait—who are we kidding? We'll drink it in five seconds flat.
Unicorn noodles, anyone? These electrically toned rice noodles make an eye-popping base for a vegan dish.
These layered rainbow crepes would be the best thing to wake up to, wouldn't they? Plus, they're vegan!