Exactly What This Foodie Superstar Ate For A Glowing Pregnancy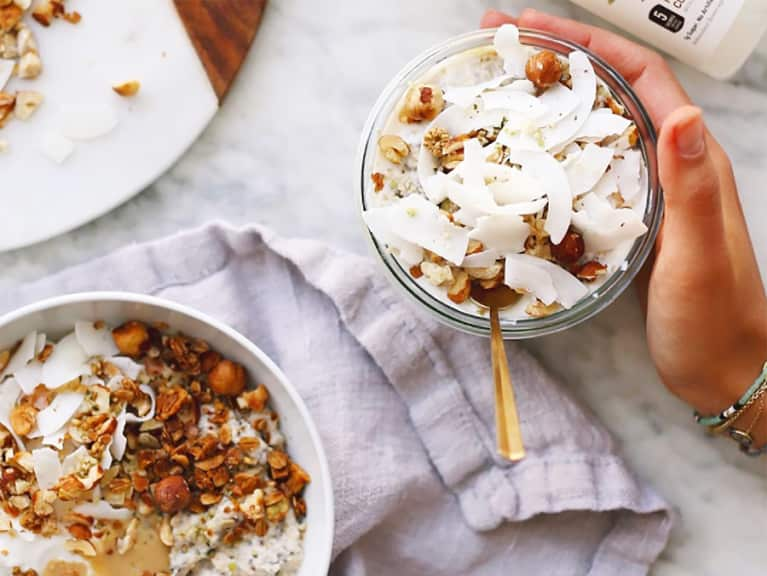 Throughout pregnancy and into new motherhood, what we eat not only affects our bodies, our moods, and our emotions, but it affects our baby's development as well. Below you'll find three simple recipes to ease your transition and keep you well-nourished. Celebrating plant-based pantry staples and mealtime ease, each requires minimal kitchen effort, minimal effort to actually get into your belly, and maximum nutrient reward. Plus, they will totally crush your cravings. Spotlighting their main ingredients, here's what you should be munching on and why!
1. Almond flour and almond butter
During pregnancy, 33 percent of a mama's total calories should be comprised of healthful fats, which are used as an energy source for baby's growth and development and to enhance the bioavailability of fat-soluble vitamins. Rich in "good" fats (think mono- and polyunsaturated fatty acids), belly-filling protein and fiber, and numerous other vitamins and minerals like iron, vitamin E, calcium, and potassium, almonds are an excellent addition to any prenatal and post-delivery diet. Trying to get creative? Almonds can also be stirred into porridges and oats or blended into your favorite smoothie.
During pregnancy, 45 to 65 percent of total calories should be comprised of unrefined and unprocessed carbohydrates—particularly in the form of vegetables, fruits, and whole-grains. Rich in "regularity-enhancing" fiber, phytochemical, antioxidants, and other essential nutrients, bananas are an excellent and natural source of carbohydrates and potassium and have also been shown to help reduce nausea symptoms (see yah, morning sickness).
Coconut oil is another amazing source of healthful fats (see: almonds) and is also rich in immune-boosting lauric acid. Known for its antifungal, antiviral, and antibacterial properties, this creamy oil keeps mama's immune system strong and may help prevent colds, flu, and other viruses during pregnancy. Used in my Superhuman Banana Bread recipe as a substitute for butter, coconut oil can also be used in smoothies and desserts and as your oil of choice when stir frying. Don't forget to rub some directly onto your bump to keep your skin supple and stretch-mark-free!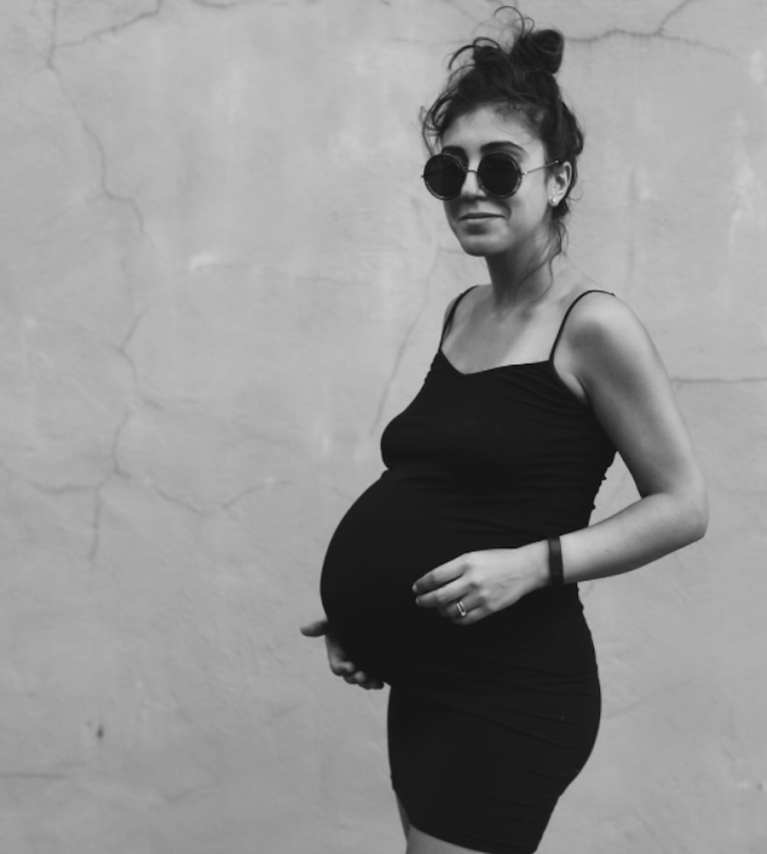 Antioxidant consumption is especially important during pregnancy, helping protect fetal DNA from damage and also reduce maternal tissue damage associated with inflammation and oxidative stress. Summer berries like strawberries, raspberries, blackberries, and blueberries are amazing options. They are often available year round at your local supermarket, so be sure to select either fresh or frozen berries based on seasonal accessibility for peak nutritional value—opting for the pre-frozen option in the autumn and winter.
Used in my Superhuman Banana Bread recipe as a substitute for eggs, chia seeds are a plant-based source of omega-3 fatty acids, essential for your little babe's neural growth and development. Often found in fish, fish oils, and seafood, chia is not only mercury-free, but once soaked, assists in making your smoothies (like my Berry Sunshine Smoothie) thicker and creamier without contributing too much of its own taste.
7. Coconut sugar and pure maple syrup
Unprocessed and lower glycemic alternatives to white sugar, both coconut sugar and pure maple syrup, though still sugars, provide that indulgent sweetness while keeping blood sugar levels more stabilized. Though research is still mixed, it's thought that these lower-glycemic alternatives may reduce mama's risk of developing gestational diabetes if munched on in moderation and in substitution for white sugar.
Both considered whole grains, rye and rolled oats are rich in "regularity-enhancing fiber" and are excellent sources of iron and B vitamins like folic acid, which work to prevent maternal anemia, reduced fetal growth, and congenital abnormalities such as neural-tube and brain and heart defects.
By using more than one of these ingredients in your recipes, you can promote both a health mom and baby during pregnancy, childbirth, and the first few months. Here are my three favorite birth-week recipes: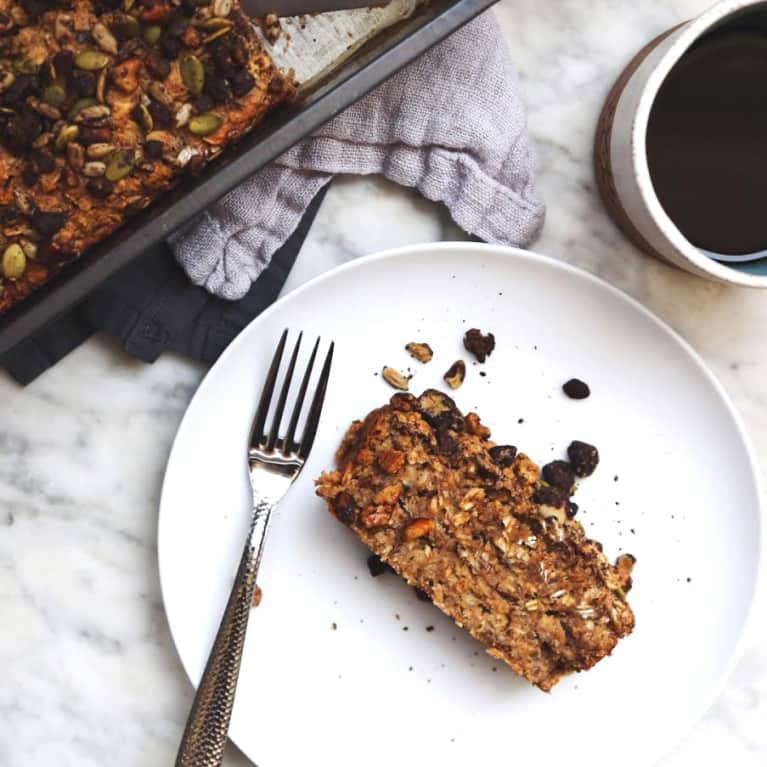 Makes 1 loaf, 8 slices: delicious warm or chilled; I love this banana bread best served warm, topped with a heaping dollop of nut butter for an extra delicious treat
Ingredients:
Method:
Preheat oven to 350°F, rack in the middle. Lightly coat a 9-by-5-inch loaf pan with coconut oil and line its bottom with parchment paper. In a small bowl, whisk together chia seeds and filtered water. Set aside at room temperature for a minimum of 10 minutes, or until mixture forms a gel-like consistency.
In a large bowl, whisk together now gelled chia seeds with mashed banana, almond milk, coconut sugar, maple, coconut oil, and vanilla until well-combined. Stir in rolled oats, almond and rye flours, baking powder, salt, and cinnamon until mixture is just combined.
Transfer the batter to a prepared loaf pan, sprinkle with granola, and then bake for 60 to 75 minutes or until the loaf is golden and feels firm. Remove from oven, allow loaf to cool to room temperature before slicing, then serve and enjoy!
Nutritional Information (per slice): 360 Calories, 17g Fat, 49g Carbohydrates, 7.5g Fiber, 20.5g Sugar, 8g Protein
No-Bake Cinnamon-Sugar Doughnut Holes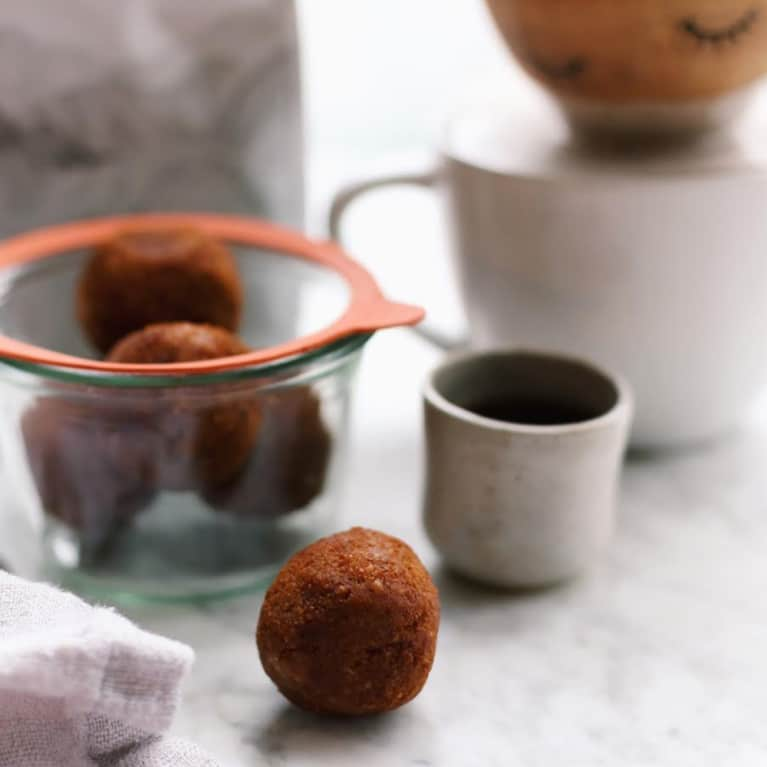 Makes 24 doughnut holes
Ingredients:
3 cups rolled oats
1 ½ cups coconut flakes
16 medjool dates, pitted
1 cup almond butter
¾ cup maple syrup
2 tablespoons ground cinnamon, divided
1 teaspoon vanilla extract
2 tablespoons coconut sugar
Method:
In a food processor fitted with an S-blade, blend oats until very fine. Add coconut flakes, medjool dates, almond butter, maple, vanilla, and 1 tablespoon cinnamon, then pulse until ingredients form a uniformed dough. Remove from food processor.
Divide dough into 24 even pieces, then roll each piece into a ball.
In a small bowl combine remaining tablespoon cinnamon and coconut sugar. Gently roll each formed ball in the cinnamon sugar mixture until well-coated, shaking off excess as you go. Refrigerate in airtight Tupperware for up to one week, or frozen for up to one month.
Nutritional Information (per doughnut hole): 210 Calories, 10.5g Fat, 30g Carbohydrates, 3g Fiber, 18.5g Sugar, 3.5g Protein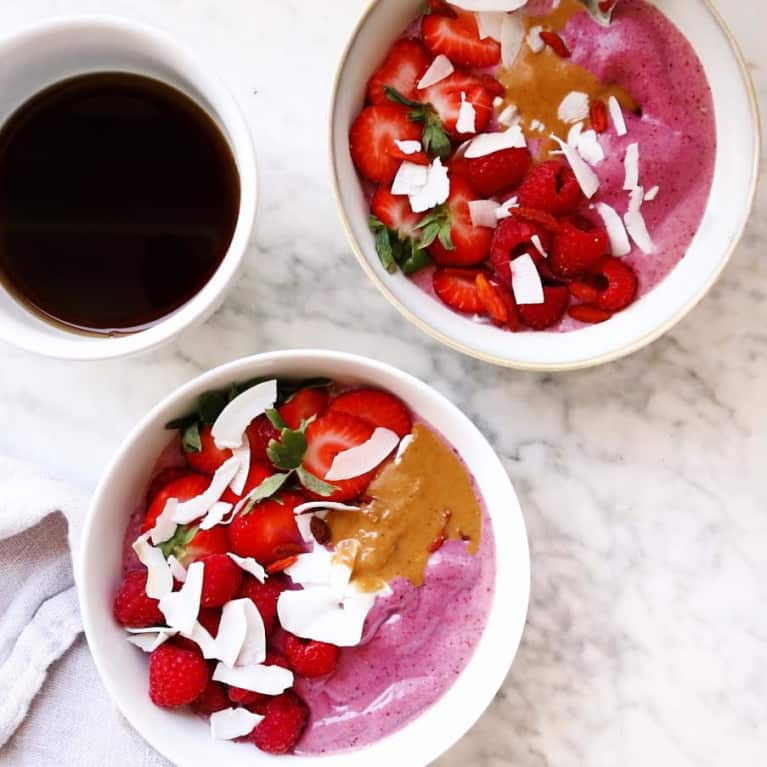 Makes 2 smoothie bowls
Ingredients:
2 ripe bananas, peeled and frozen
1 cup mixed summer berries, frozen
2 tablespoons almond butter
1 tablespoon chia seeds
1 to 2 cups unsweetened almond milk
If serving in a bowl: top with coconut flakes, fresh berries, and an extra dollop of nut butter
In a high-speed blender, whiz all ingredients until very smooth. Smoothie will be on the thicker side, ideal for pouring into your favorite bowl and munching on with a spoon. To make your smoothies shippable (aka: one hand friendly for when you're holding babe), add an additional 1 cup milk while blending. Divide evenly between two bowls or cups, serve, and enjoy!
Nutritional Information (per smoothie): 285 Calories, 12g Fat, 43g Carbohydrates, 10g Fiber, 21g Sugar, 6.5g Protein
Want to turn your passion for wellbeing into a fulfilling career? Become a Certified Health Coach! Learn more here.