The Overnight Oats Recipe You Need To Reduce Inflammation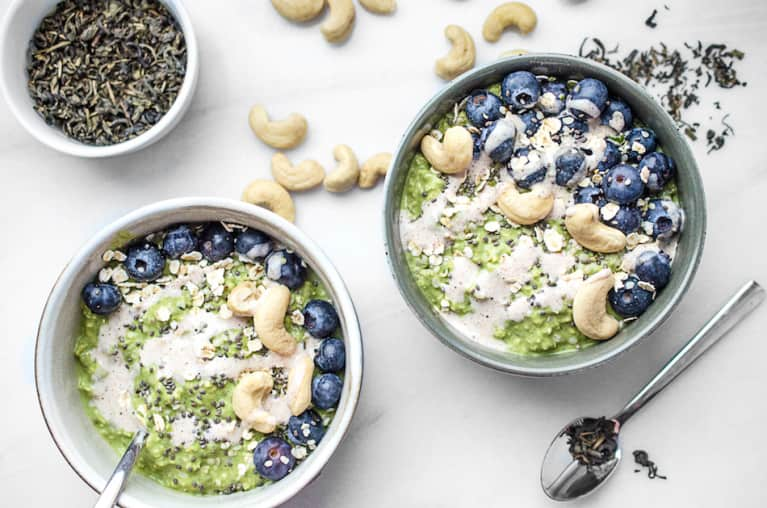 Green tea latte meets green smoothie bowl meets overnight oats! Yes, get excited! If you like to amp up the health factor of your meals by any (delicious) means necessary, this breakfast bowl is for you.
Tea is a great way to incorporate subtle and interesting flavors into everyday recipes. Certain teas also carry with them a long list of health benefits, most notably their contribution of antioxidants. This green breakfast bowl is made with the poster child of health-supportive teas—green tea.
Green tea can be enjoyed in many ways, but in a cup is just one. This green tea overnight oat breakfast bowl also incorporates baby spinach—raising its greenness to another level and boosting its anti-inflammatory properties even more.
This breakfast bowl is energizing and health supportive. It's high in cancer-fighting antioxidants, soluble fiber, as well as healthy omega-3 fats. Be sure to use gluten-free oats for a gluten-free version.
Green Tea Latte Overnight Oats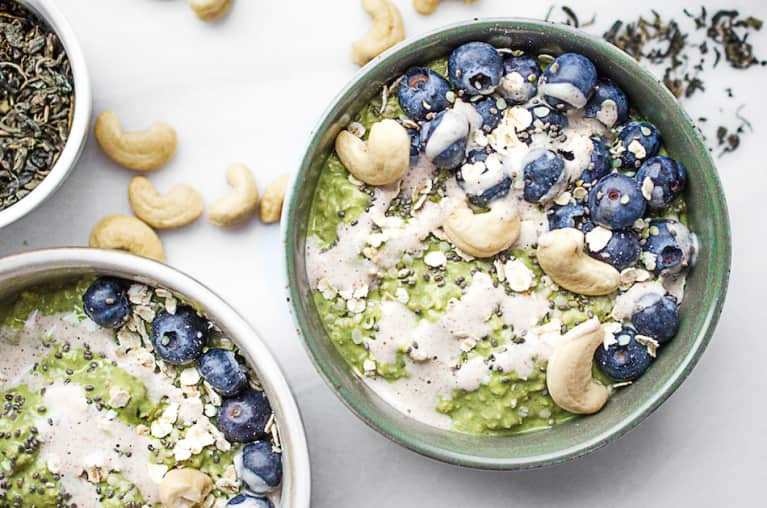 1 cup old-fashioned rolled oats (gluten-free if desired)
1 tablespoon chia seeds
1 tablespoon hemp seeds
1 cup packed baby spinach
1 cup strong green tea, cooled to room temperature
½ cup unsweetened almond milk
3 tablespoons cashews, soaked in water overnight or for at least 1 hour*
¼ teaspoon cinnamon
½ teaspoon vanilla
2 medjool dates, pits removed
fresh berries
sliced bananas
cashews
additional hemp seeds
Add the oats, chia, and hemp seeds to a medium-large bowl and mix.
Drain the cashews and add them and all remaining ingredients (besides toppings) to a blender and blend until smooth.
Pour the blender mix into the bowl with the oats, chia, and hemp and mix. Cover and let sit in the refrigerator overnight.
In the morning, divide the oats between two bowls, top with seeds, bananas, berries, or additional nuts and enjoy!
* Soaking helps with digestion but also helps with the pureeing process if not using a high-speed blender.
Want to turn your passion for wellbeing into a fulfilling career? Become a Certified Health Coach! Learn more here.