5 Days Of Healthy Meals: Inflammation-Taming Turmeric Soup Edition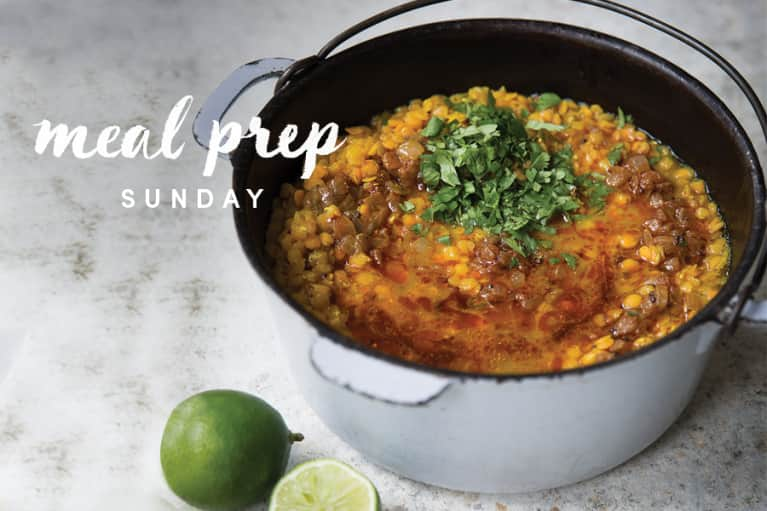 Our editors have independently chosen the products listed on this page. If you purchase something mentioned in this article, we may
earn a small commission
.
Welcome to Meal Prep Sunday, where you'll make a single, healthy recipe with serious bodily benefits, whether it makes your skin glow, helps soothe your gut, boosts your immunity, or more! Because it gets boring to eat the same thing every day, you'll do the bulk of the prep on the first day—and every day after that, there will be one small, five-minute-or-less tweak that will transform the leftovers into a new, amazing meal. Today, we're sharing a recipe from Deborah Madison, author of In My Kitchen. We'll let her take it from here, but be sure to check back next Sunday for an all-new set of recipes.
Red lentil soup with turmeric and lime has long been a favorite in our home. It's light, aromatic, and the ultimate in versatility as there are many ways you can finish it. It has plenty of turmeric, which I appreciate. My original recipe came from a friend who lives half the year in India and uses even more turmeric than what's called for—and that's already a lot—and a great deal more ghee as well. Still, this soup is plenty rich as is with ghee (or coconut oil).
2 cups split red lentils, about 1 pound
1 large onion
1 bunch cilantro for the soup
1 bunch cilantro to use during the week
3 limes
6 pieces (cubes) of paneer, fresh or frozen
Whole milk yogurt
Pita bread or naan, to cut into wedges
1 bunch fresh spinach (full sized leaves, if possible)
mango chutney (ideally Major Grey's)
Ground cumin
Black mustard seeds
Berbere (spice blend, available at most grocery stores, or see the recipe below)
Canned coconut milk or coconut cream
White rice/quinoa/couscous or other favorite grain
Curry powder
Pantry Items (Purchase if you don't have)
Turmeric
Ghee or coconut oil
Sea salt
Olive oil
Red Lentil Soup With Berbere
Makes enough for one week of meals for one, with the modifications below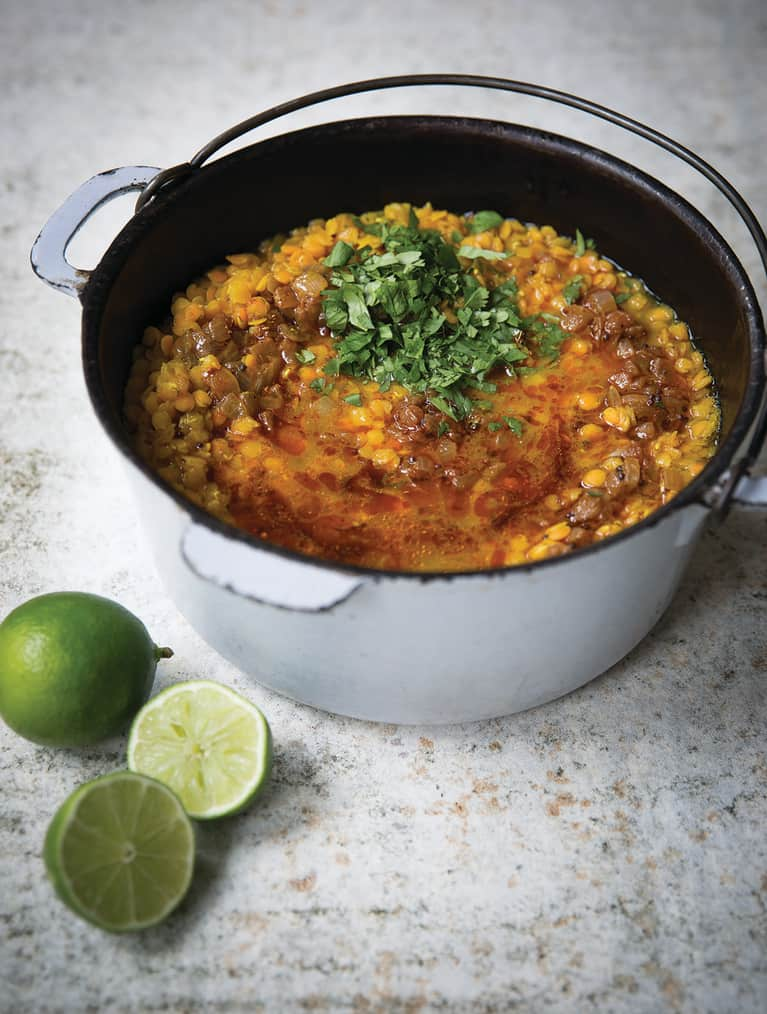 2 cups split red lentils, picked over and rinsed several times
2 teaspoons turmeric
3 tablespoons ghee or coconut oil
Sea salt
1 large onion, finely diced
2 teaspoons ground cumin
1½ teaspoons black mustard seeds
1 teaspoon berbere plus extra, to finish*
1 small bunch chopped cilantro, the stems finely sliced, the leaves chopped
Juice of 3 limes, to taste
Put the lentils in a soup pot with 2½ quarts water, the turmeric, 2 tablespoons of the ghee, and 2½ teaspoons salt. Bring to a boil, then lower the heat and simmer until the lentils are soft and just short of falling apart, 15 minutes.
While the soup is cooking, heat a medium skillet over low heat; add the last bit of fat. When hot, add the onion with the cumin, mustard seeds, berbere, and cilantro stems, stirring occasionally. When the onions are soft, add them to the lentils with the chopped cilantro, then add the juice from two limes. Taste and add more, if needed, to bring up the flavors. It should be a tad sour.
At this point if the soup seems too thick, you can add extra water, stock, or coconut cream or milk.
Divide into five equal containers. Store four in fridge and eat one portion immediately.
*If you're using a commercial berbere, add a little smoked paprika to it if you like. Also, the way it is traditionally used is mixed with olive oil, which you can do, then drizzle it over the soup.
Berbere (you can also purchase it at stores; see shopping list)
I don't believe that traditional berbere calls for smoked paprika but plain unsmoked paprika. Still, the smoky flavor is awfully good here. I can't resist it, either.
Ingredients
2 teaspoons coriander seeds
1 teaspoon fenugreek seeds
½ teaspoon black peppercorns
6 cardamom pods, husks discarded
4 allspice berries
4 cloves
3 tablespoons or more ground New Mexican chile
3 tablespoons smoked paprika or regular sweet paprika
2 teaspoons salt
½ teaspoons powdered ginger
½ teaspoons grated nutmeg
½ teaspoon cinnamon
Put the coriander, fenugreek, peppercorns, allspice, cardamom, and cloves in a dry skillet over medium heat. Toast until fragrant, then turn the seeds and berries out onto a plate and let cool for several minutes. Grind to a powder in a spice grinder, then put in a bowl, and add the remaining ingredients.
Store in a tightly covered jar. You can stir olive oil into the berbere and serve it as sauce, as well. Delicious over potatoes, sweet potatoes, and winter squash.
DAY 2: Lentils With Paneer and Black Mustard
Heat the soup with the paneer (cubes of a very mild Indian cheese). Sprinkle in a generous amount of berbere powder and drizzle olive oil into the soup to change up the flavor. Garnish with chopped cilantro and black mustard seeds.
DAY 3: Creamy Lentil Soup With Wilted Greens and Toasted Pita
I love spinach in this soup! Wilt the spinach in a skillet with the water from rinsing it clinging to its leaves. Place them over the hot soup. Swirl 2 tablespoons of yogurt into the soup, add a few pinches freshly chopped cilantro leaves, and finish with half a piece of pita bread, cut into triangles and toasted.
DAY 4: Quinoa "Boats" With a Green Soup Moat
Cook ½ cup quinoa according to package instructions. Puree the soup with ½ cup coconut milk. If you have extra spinach and you like a green soup, add that to the blender as well. Press the quinoa into a cup, turn it out into the bowl, then spoon the soup around it. Garnish with the mustard seeds, cilantro leaves, and if you wish, garam masala.
DAY 5: Chutney Curry Soup
Add a spoonful of chutney and a ½ teaspoon of your favorite curry powder to the soup as it's heating, for a fun new flavor. Serve warm, garnished with chopped cilantro if desired. If you'd like to heat up any leftover pita bread to mop up the soup, today's the day!
And do you want to turn your passion for wellbeing into a fulfilling career? Become a Certified Health Coach! Learn more here.