Everything You Need For This 3-Ingredient Longevity Tea Is Already In Your Pantry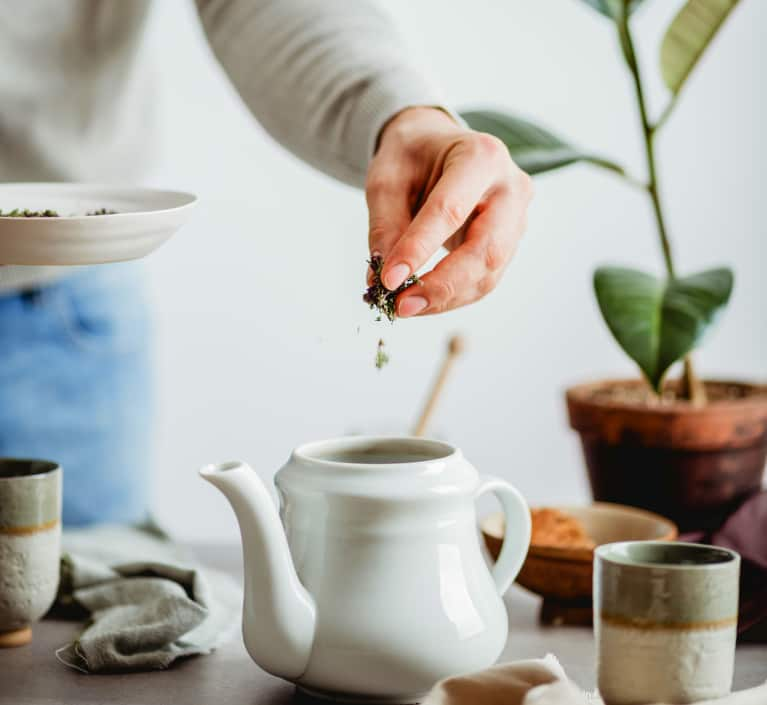 Our editors have independently chosen the products listed on this page. If you purchase something mentioned in this article, we may
earn a small commission
.
I've been using herbs to make savory teas for as long as I can remember. It started when I had some leftover mint after making a green smoothie. When I was thinking of ways to use it, I remembered the omnipresent mint tea that became my primary olfactory memory of Morocco, a sweet (perhaps overly so) burst of freshness that soothed my sand-swept traveler's soul. I threw some mint leaves in a mug, muddling them a bit with the back of a wooden spoon to release their juices, and my new favorite beverage was born.
Turns out, herbal teas have some pretty profound health benefits—and I'm not talking about superfood herbs like nettle or eleuthero or ginseng (although I love those too!), but rather those that are easily findable at your local grocer, or maybe even prestocked in your pantry.
Dan Buettner, author of The Blue Zones, one of the deepest dives into longevity secrets of the world's oldest populations, points to herbal teas as a large part of the anti-aging equation. Ikarians, for example, regularly consume teas made from herbs like rosemary, thyme, sage, marjoram, oregano, mint, and dandelion. "It's this regular, ritualistic consumption of these herbal teas that we think explains low rates of heart disease and also low rates of dementia," he says. Why? No one knows exactly, but the herbs are anti-inflammatory, antibacterial, anticarcinogenic, and antiviral, meaning they'd help to directly combat inflammation and to help stop contributing inflammatory factors (like flus or autoimmune reactions). Because tea is easy to consume daily (unlike, say, a dinner that takes three hours to prepare), these benefits are able to really compound over time, allowing them to have a truly potent, therapeutic effect.
This tea brings together three of those herbs: mint, rosemary, and thyme. The flavor is intoxicating and impossibly fresh (especially to city-dwellers like myself!), like a whiff of a dew-covered field or a perfect spring day. You can use fresh or dried herbs to make this—while dry are more convenient, the fresh ones will taste, well, fresher.
3 Ingredient Longevity Tea
1 part mint, fresh or dried
1 part rosemary, fresh or dried
1 part thyme, fresh or dried
*Note: since everything is done in parts, you can make as little or as much of this as you'd like. For one cup, I like to do ½ teaspoon of each dried herb, or a few sprigs of each fresh one. Play around, though—you really can't do too much!
Method
If using dried herbs, place in a tea strainer and in a cup or pot. If using fresh herbs, just stick directly in the pot. Top with boiling water and cover and let sit for 10 minutes (covering it ensures all of the potent volatile organic compounds end up in your body, not in the air!). Remove strainer and enjoy!
Want to turn your passion for wellbeing into a fulfilling career? Become a Certified Health Coach! Learn more here.