Meal Prep Sunday: An Alkalizing Soup To Supercharge Your Immunity + 5 Minute Tweaks For 4 Days Of New Meals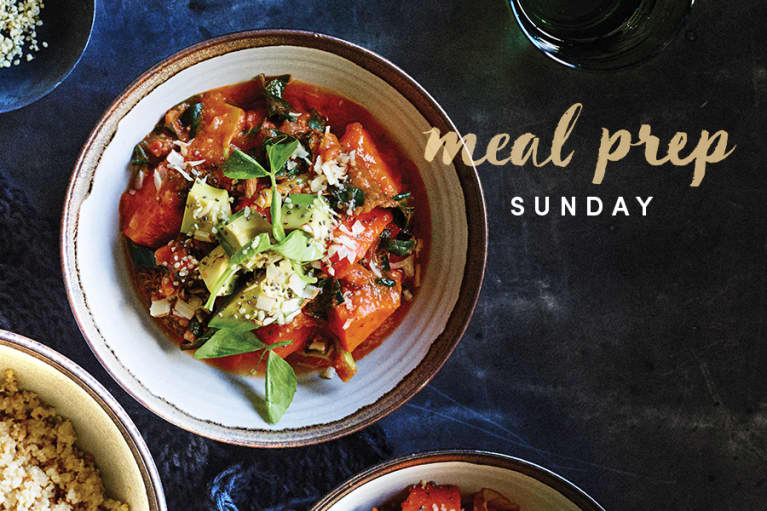 Welcome to our first edition of Meal Prep Sundays, where you'll make a single, healthy recipe with serious bodily benefits, whether it makes your skin glow, helps soothe your gut, boosts your immunity and more! Because it gets boring to eat the same thing every day, you'll do the bulk of the prep on the first day—and every day after that, there will be one small, five-minute-or-less tweak that will transform the leftovers into a new, amazing meal. Our kickoff comes from the inimitable Tess Masters, author The Perfect Blend. Be sure to check back next Sunday for an all-new set of recipes.
I'm a sucker for soup, and this one is seriously delicious and so quick and easy. The combination of rich, creamy almond butter, sautéed sweet potatoes, and spices will make you mmmm your delight at every bite. This hearty dish, loaded with protein (the optional greens and seeds add even more), is an alkalizing, immune-boosting, chlorophyll-rich crusader.
Shopping List for the Week
1 medium cauliflower
1 medium yellow onion
1 head garlic
2 32-ounce containers vegetable broth
2 cans whole tomatoes with their juice
1 small knob fresh ginger
6 small sweet potatoes
2 small heads broccoli
1 bunch fresh cilantro
1 large bunch Swiss chard
1 medium avocado
1 small container sweet pea greens
1 loaf bread of choice
Pantry staples (purchase if you don't have)
Raw almonds
Roasted almond butter
Red-pepper flakes
Extra-virgin olive oil
Salt
Hemp seeds (optional)
Chia seeds (optional)
Dry pasta or quinoa of choice (enough to serve 1)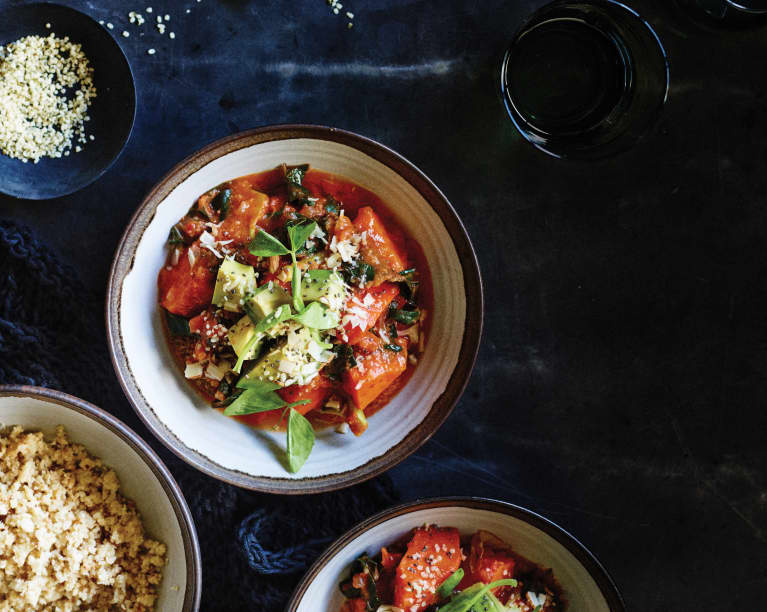 Makes enough for one week of meals for one, with the modifications below
Ingredients
Cauliflower rice
1 medium head cauliflower, cut into florets
2 tablespoons extra-virgin olive oil
½ teaspoon natural salt, plus more to taste
1 tablespoon grapeseed oil or extra-virgin olive oil
1 medium yellow onion, roughly chopped
2 teaspoons minced garlic (about 2 cloves)
Natural salt
3 cups (720 ml) vegetable broth
2 (14½-ounce/411 g) cans whole tomatoes with their juice
1½ tablespoons minced fresh ginger
¼ teaspoon red-pepper flakes
4 cups (570 g) peeled and roughly diced orange-flesh sweet potatoes
3 cups (210 g) chopped broccoli florets
4 cups (120 g) Swiss chard, stalks removed, leaves cut into ribbons (about 1 large bunch)
⅓ cup (43 g) roasted almond butter
½ cup (14 g) loosely packed finely chopped cilantro
1 medium avocado, pitted, peeled, and sliced
½ cup (80 g) sliced raw almonds
¼ cup (35 g) shelled hemp seeds
1 tablespoon chia seeds (black or white)
¼ cup (10 g) pea greens
To make the cauliflower rice, preheat the oven to 375°F (180°C). Line a large baking sheet with a silicone liner or parchment paper.
Put the cauliflower florets in a food processor and pulse about 5 times, until the cauliflower has the texture of couscous. You may have to process in two batches. Transfer the cauliflower to a large bowl and stir in the oil and 1 teaspoon of salt until well-combined.
Transfer the "rice" to the prepared baking sheet and bake for 15 minutes. Stir with a spatula or wooden spoon and continue to roast for another 15 minutes, until the "rice" begins to brown. Set aside until ready to serve.
To make the stew, in a large pot over medium heat, warm the oil and sauté the onion and garlic with a pinch of salt for about 5 minutes, until the onion is soft and translucent.
Meanwhile, add the broth, tomatoes, ginger, and red-pepper flakes to your blender and pulse a few times on low until rustically chopped and combined but not blended. Stir the sweet potatoes and broth mixture into the sautéed onion. Increase the heat to high and bring the mixture to a boil. Lower the heat to medium, add ½ teaspoon of salt, and simmer, uncovered and stirring occasionally, for about 15 minutes, until the sweet potato is just tender. Add the broccoli and simmer for another 5 minutes. Stir in the chard and almond butter and simmer for another 5 minutes, until the chard is just wilted. The broth should be absorbed and you should have a creamy vegetable dish. Stir in the cilantro and tweak the salt to taste.
Divide the stew into four equal portions. Put three of the portions in the fridge for later use.
Spoon today's portion on top of your cauliflower rice. Top with the avocado and sliced almonds and sprinkle with the hemp seed and chia seed boosters. Finish by topping with the pea greens booster.
Toast two thick slices of crusty bread (we love sourdough!). Strain one portion of stew to get rid of any excess liquid, then spoon over crusty bread. Top with any leftover garnishes you have from day 1 and serve.
Make one serving of your favorite pasta or grain (gluten-free pastas and quinoa both work well). While pasta is cooking, put today's portion of stew in a blender. Drizzle in vegetable broth until it just blends, to make a pasta sauce. Drain pasta and return to pot; toss with sauce over low heat until it's warmed thoroughly, then serve.
Remove one serving of stew from fridge. Add to blender with equal parts vegetable broth, then warm in microwave or over a stove until it's ready to serve. Enjoy your rich and creamy soup.
Based on excerpts from The Perfect Blend by Tess Masters, with the permission of Ten Speed Press, a division of Penguin Random House. Copyright 2016.