You Won't Believe These Chili Cheese Nachos Are Actually Meat- And Dairy-Free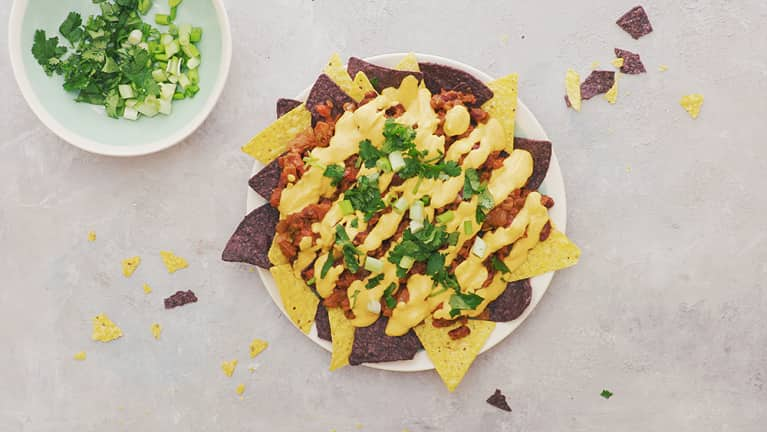 Our editors have independently chosen the products listed on this page. If you purchase something mentioned in this article, we may
earn a small commission
.
We're always looking to find the best functional food—that also tastes drool-worthy and delicious. In our new series, we're taking to the kitchen and teaming up with some of the food world's superstars to find the absolute best recipe in a number of categories, from comfort food classics to health food staples. In the upcoming weeks, we'll be sharing the Ultimate Healthy Grilled Cheese, the Ultimate Healthy Doughnut, the Ultimate Healthy Creamy Salad Dressing and more. Want to see us make something over? Email liz@mindbodygreen.com to add your request to the list!
Just in time for Super Bowl Sunday, we're starting off with The Ultimate Healthy Chili Cheese Nachos, courtesy of Angela Liddon, the author of the amazing Oh She Glows Everyday. These nachos are dreamy, with a cashew nutritional yeast cheese sauce that will make your skin glow, and a fiber- and flavor-packed chili. You know that gut-busting feeling you normally get when you eat nachos? There's none of that here! We'll let Angela take it from here.
Growing up, I was a huge fan of Wendy's Chili and Cheese Nachos (remember the 99-cent menu?). While it's been years since I've stepped foot inside, I still crave the idea of chili and cheese nachos on occasion. I've finally created a wholesome version that's free of processed foods but captures all the bold flavor of the original. You won't believe how decadent-tasting—yet wholesome—the cheese sauce is, and how satisfying the smoky lentil and kidney bean chili is. This dish makes a great appetizer (just serve the dip with a big spoon so guests can portion it into their own bowls), or you can serve it for dinner like we often do—it'll easily serve four. If you want to serve it to a crowd, try putting it in a warmed cast-iron pot or in a warmer to retain the heat. I like this dip spicy so I serve it with pickled sliced jalapeños on top—it adds a juicy kick of heat!
Serves 8 to 10
Ingredients
1 tablespoon (15 mL) extra-virgin olive oil
1 medium yellow onion, diced (about 2 cups/500 mL)
3 large cloves garlic, minced (about 1 tablespoon/15 mL)
½ to ¾ teaspoon (2 to 4 mL) fine sea salt, to taste, plus a pinch
1 medium/large jalapeño, seeded, if desired, and finely chopped
1 small red bell pepper, diced (about 1⅓ cups/325 mL)
1 tablespoon (15 mL) chili powder
1 teaspoon (5 mL) ground cumin
1 teaspoon (5 mL) dried oregano
1 teaspoon (5 mL) smoked paprika
1 (14-ounce/398 mL) can diced tomatoes, with juices
1 tablespoon (15 mL) tomato paste
1 (14-ounce/398 mL) can lentils, drained and rinsed, or 1½ cups (375 mL) cooked lentils
1 (14-ounce/398 mL) can red kidney beans, drained and rinsed
1½ teaspoons (7 mL) apple cider vinegar
Freshly ground black pepper
Sriracha or other hot sauce
2 batches Cheese Sauce (recipe below)
Pickled sliced jalapeños, drained, for garnish
Corn tortilla chips, for serving
In a large saucepan, heat the oil over medium heat. Add the onion, garlic, and a pinch of salt; stir, and cook for 4 to 5 minutes, until the onion starts to soften.
Stir in the fresh jalapeño and 1 cup (250 mL) of the bell pepper and cook for a few minutes more. Add the chili powder, cumin, oregano, and paprika, and stir to combine.
Pour in the diced tomatoes with their juices and stir. Increase the heat to medium-high and bring to a simmer.
Stir in the tomato paste, lentils, and kidney beans. With a potato masher, roughly mash one-third of the mixture—don't try to mash it smooth, just until it's slightly thickened.
Add the vinegar, salt, black pepper, and sriracha. Cook over medium heat for 5 to 10 minutes, or longer if desired, until thickened to your liking.
Into individual bowls (or a 2½- to 3-quart/2.5- to 3 L cast-iron pot or glass dish), ladle a layer of chili. Top with a layer of the cheese sauce. Keep layering until the chili is used up and you've added as much cheese sauce as you prefer (I usually reserve ½ cup/125 mL of the sauce for another use). Top the dip with the remaining bell pepper, pickled jalapeño, and a sprinkle of sea salt.
Serve immediately with corn tortilla chips. Let any leftovers cool completely (otherwise, the steam will create more water in the dip) before transferring to a container and refrigerating for up to 5 days. Reheat leftovers in a saucepan on the stovetop while stirring to combine with the cheese sauce. Cooled leftovers can be frozen in freezer-safe zip-top bags with the air pressed out or in freezer-safe containers filled to the top (to prevent freezer burn) for up to 1 month.
Makes 1 Cup (250 mL)
Ingredients
¼ cup (60 mL) raw cashews
1¼ cups (300 mL/6½ ounces/190 g) diced peeled potatoes (see Tip)
Heaping ⅓ cup (100 mL/2 ounces/ 55 g) diced carrots (see Tip)
2 to 3 tablespoons (30 to 45 mL) nutritional yeast, to taste
2 tablespoons (30 mL) refined coconut oil or other neutral-tasting oil, such as grapeseed oil
2 tablespoons plus 1½ teaspoons (37 mL) water
1½ teaspoons (7 mL) fresh lemon juice, or more to taste
½ teaspoon (2 mL) plus ⅛ teaspoon (½ mL) fine sea salt, or to taste
1 medium clove garlic
½ to ¾ teaspoon (2 to 4 mL) white wine vinegar, to taste
Sriracha or other hot sauce (optional)
Soak the cashews in a bowl of water overnight or for at least 1 hour. Rinse and drain.
Put the potatoes and carrots in a medium pot and add water to cover. Bring to a boil over high heat, reduce the heat to medium, and simmer uncovered for 10 to 15 minutes, until fork-tender. Drain. (Alternatively, you can steam the veggies.)
Transfer the cashews, potatoes, and carrots to a blender, add the nutritional yeast, coconut oil, water, lemon juice, ½ teaspoon (2 mL) of the salt, garlic, and vinegar and blend until smooth. If using a Vitamix, use the tamper to help it blend. If it's too thick, you can add another splash of water or oil to help it along. Taste the sauce and add sriracha and more salt, if desired. The sauce will keep in an airtight container in the fridge for up to a week.
Tip: It's important to dice the potatoes and carrots small before measuring (about ½-inch/1-cm pieces); I recommend weighing the potato and carrot for the most accurate measurement. To make it nut-free Simply omit the cashews. It won't be quite as rich, but it still tastes great!