A Turmeric Lavender Mocktail + 3 More Healing Recipes For Dry January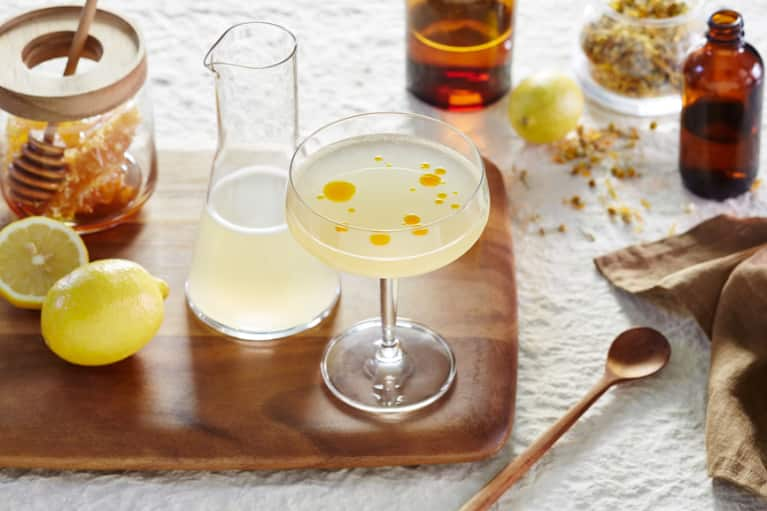 Whether you're doing dry January or just trying to drink less in general, it can be such a bummer to drink water when your friends or co-workers are knocking back cocktails. We never want you to miss out on any fun, so we created four superfood, super-functional cocktails—all without a drop of alcohol. When your friends are nursing a hangover, you'll be relishing your turmeric-inspired glow or enjoy the gut-soothing benefits of your piña colada. Bottoms up!
Anti-Inflammatory Turmeric Lavender Bee's Knees
1 teaspoon ground turmeric
1 tablespoon honey
Juice of 1 lemon
1 teaspoon culinary lavender
1 cup filtered water
Handful of ice cubes
In the bottom of a cocktail shaker or glass, muddle the lavender (you can use a muddler or the back of a wooden spoon) until it's crumbled apart.
Add turmeric, lemon, honey, and lavender, and shake or stir well, until all ingredients are combined (if using a shaker, add ice; if not, wait till the next step).
Strain and serve cold (over ice if you weren't using a shaker) with a sprig of lavender for garnish.
3-Ingredient Gut-Soothing Piña Colada
¾ cup canned coconut milk (warmed or blended, if separated)
2 cups cubed pineapple
Handful of ice cubes
Method
Blend all ingredients until smooth. Serve with a brightly colored umbrella straw, if desired.
Glowing Skin-Inducing Spicy Citrus Sipper
Juice from 1 lime
Juice from 1 orange
½ teaspoon ground smoked paprika
½ teaspoon ground ginger
1 teaspoon honey
1 cup seltzer
Handful of ice cubes
At the bottom of a tall glass combine lime and orange juices, paprika, ginger, and honey, and mix with long spoon.
Add seltzer and ice and mix again. Top with slice of lime.
Super-Calming Rose Hot Toddy
1 cup filtered water
1 chamomile tea bag
1 teaspoon rose water
1 teaspoon honey
Boil water. Steep tea for 6 or 7 minutes (you want it to be strong) and then discard.
Stir in rose water and honey and drink immediately.
Want to turn your passion for wellbeing into a fulfilling career? Become a Certified Health Coach! Learn more here.