The Healing Ingredient Kristin Cavallari Swears By (We Hadn't Heard This One Before)
Contributing Food Editor
By Liz Moody
Contributing Food Editor
Liz Moody is a food editor, recipe developer and green smoothie enthusiast. She received her creative writing and psychology degree from The University of California, Berkeley. Moody is the author of two cookbooks: Healthier Together and Glow Pops and the host of the Healthier Together podcast.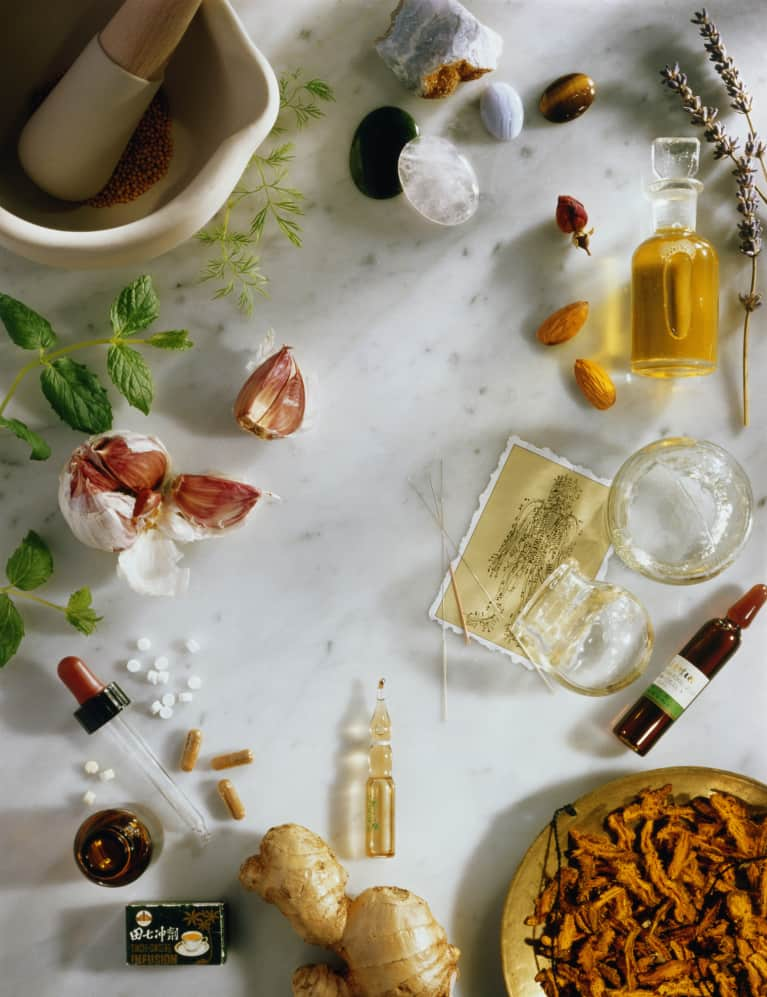 You already use essential oils to clean your house, make your skin glow, and boost your energy—but did you know you can cook with them? Cooking with essential oils is a wonderful way to add a huge punch of flavor and therapeutic benefits to a dish.
"What's nice about cooking with essential oils is that the potential concerning molecules that could be irritating are burned off with the heat of cooking!" says Amy Galper, executive director of the New York Institute of Aromatherapy. "You don't want to use more than one drop, or it can overpower the dish, and you need to be sure to purchase genuine and true essential oils that haven't been adulterated with any synthetic chemicals."
Kristin Cavallari, who has since becoming a mom transformed from a Laguna Beach party animal to a health-conscious mom who's filled with tips about healthy cooking and natural living, is a huge fan of using essential oils in her concoctions. "They pack a ton of flavor in just a drop or two, so they last forever," she says. "I specifically love the basil oil—it's great to have on hand if, like mine, your basil is rotten by the time you get to it." Kristin's favorite brand is Young Living, which sells a line of essential oils specifically for cooking, and Amy recommends Enfleurage, Original Swiss Aromatics, and Lab of Flowers. Want to experiment with essential oils in your own cooking? Here's one of Kristin's favorite recipes.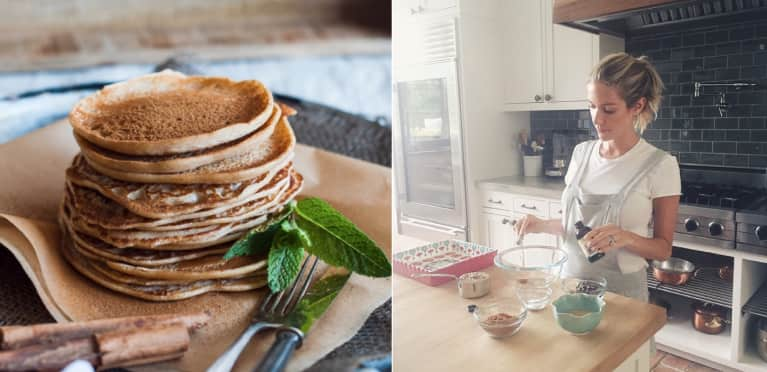 Cashew Pancakes With Cinnamon Brown Butter
"Pancakes are a favorite weekend breakfast at my house," Kristin says. "Cashew flour adds protein and won't make your blood sugar spike."
Makes 4 servings
Ingredients
Cinnamon Butter
½ cup unsalted grass-fed butter
2 teaspoons real maple syrup
1 drop cinnamon essential oil
¼ teaspoon fine-grain sea salt
1¼ cups cashew flour
1 teaspoon baking powder
1 drop cinnamon essential oil
¼ teaspoon fine-grain sea salt
2 large eggs
½ cup coconut milk
1 tablespoon coconut oil, melted + more for cooking
2 tablespoons real maple syrup
1 teaspoon vanilla extract
Cook the butter with the essential oil in a small saucepan over medium heat for 8 to 10 minutes or until golden brown, stirring occasionally.
Whisk in the maple syrup and salt.
Remove from heat and set aside.
In a large bowl, whisk together the flour, baking powder, essential oil, and salt.
In a medium bowl, whisk together the eggs, coconut milk, 1 tablespoon coconut oil, the maple syrup, and vanilla.
Add the wet ingredients to the dry and mix to combine.
Place a large skillet or griddle over medium heat and add a teaspoon or so of coconut oil.
When the oil has melted and the pan is hot, add ¼ to ⅓ cup dollops of batter to the pan, being sure not to crowd them.
Cook until bubbles appear, then flip.
When browned on both sides, remove from the pan and serve immediately with the cinnamon butter drizzled on top.
Add additional coconut oil as needed for cooking the next batch, and continue making pancakes until the batter is used up.