What A Nutritionist Eats Post-Workout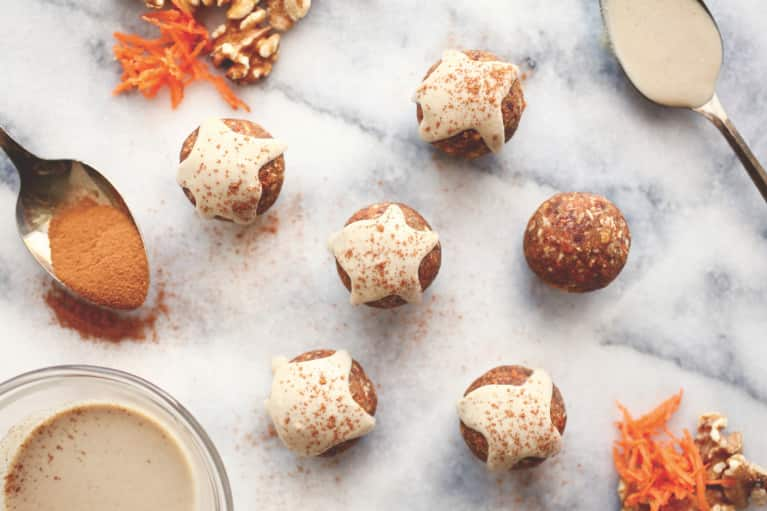 Our editors have independently chosen the products listed on this page. If you purchase something mentioned in this article, we may
earn a small commission
.
These carrot cake balls, from nutritionist Christal Sczebel's new book Energy Balls, are packed with ingredients to speed muscle recovery and help you get back on your feet post-workout. They're perfectly portable and ready for your gym bag, and—perhaps most importantly—they taste just like carrot cake!
These carrot cake balls help to increase energy levels for optimal mental and physical performance. They contain almonds, walnuts, raisins, dried pineapple, dates, shredded carrot, coconut, and those classic carrot cake spices: cinnamon, nutmeg, and cardamom. These ingredients bring vitamins A, C, and E—powerful antioxidants that aid immune function and exercise recovery time—as well as minerals that support muscle and bone health. The icing is the perfect finishing touch as it is loaded with protein for performance and a delicious vanilla flavor!
Makes 12 balls
Ingredients
¾ cup [90 g] almond meal or ground almonds
½ cup [85 g] pitted dates
¼ cup [70 g] dark raisins
¼ cup [45 g] dried unsweetened pineapple
¼ cup [30 g] raw walnut halves
1 cup [90 g] shredded carrots
½ cup [40 g] shredded unsweetened coconut
1 heaping teaspoon ground cinnamon
¼ teaspoon ground nutmeg
¼ teaspoon ground cardamom
1 tablespoon vanilla protein powder of choice
2 tablespoons unsweetened almond milk
⅓ teaspoon melted coconut oil
1 drop pure vanilla extract
In a food processor, combine the almond meal, dates, raisins, dried pineapple, walnuts, and 1 tablespoon water and process for 1 minute until everything is incorporated. Add the carrots, shredded coconut, cinnamon, nutmeg, and cardamom, and process for 1 to 2 minutes until a sticky mass forms.
Using a tablespoon, scoop the mixture and, with clean slightly wet hands, shape the mixture into a ball between your palms, and set on a plate. Repeat with the remaining mixture until you have 12 balls, each just smaller than a golf ball. Place the balls in the freezer. Continue to the next steps if you're icing the balls (optional).
Meanwhile, place the protein powder in a small bowl and pour in the almond milk, coconut oil, and vanilla extract, stirring continuously until the icing is the consistency of heavy cream.
Remove the balls from the freezer and spoon icing onto the top of each one; it will run slightly but should not run off the balls. Sprinkle a pinch of cinnamon on the top of each ball and return to the freezer for 1 hour to set. Store in the freezer until required (the icing will become soft if stored in the refrigerator or at room temperature).