These Fudgy Peanut Butter Brownies Have A Protein-Packed Secret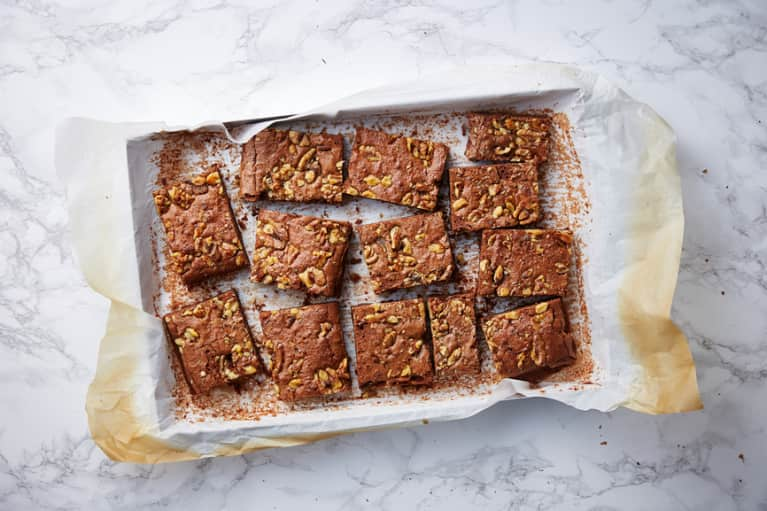 These dense, fudgy peanut-butter brownies taste tremendously indulgent and always satisfy my chocolate craving. Packed with plenty of protein from hemp and black beans, and free from refined sugar, they hold their own against any traditional sugar-laden brownie. I love them with cacao nibs and flaky sea salt paired with a chai latte or glass of almond milk. Enjoy!
Fudgy Peanut-Butter Hemp Brownies
1 can black beans (1½ cups cooked black beans)
⅔ cup homemade chocolate peanut butter/almond butter, or use Wild Friends brand
¼ to ⅓ cup pure maple syrup
2 flax eggs (2 tablespoons ground flaxseed mixed with 5 tablespoons water)
Heaping ¼ cup cacao powder
3 tablespoons shelled hemp seeds
½ teaspoon Himalayan sea salt
1 teaspoon vanilla extract
½ teaspoon cinnamon
1 teaspoon baking powder
Optional: ¼ cup pumpkin puree
Stir-ins/toppings: 85 to 90 percent dark chocolate, pecans, coconut flakes, Maldon sea salt
Puree in the black beans in a food processor.
Add the nut butter, maple syrup, and flax eggs to the processor and blend until smooth.
Add remaining ingredients and blend to form a batter.
Transfer to a parchment-lined 8-inch round or square pan.
Bake at 350°F for 22 to 28 minutes, or until slightly puffed and center is just barely set.