Here's How These Healthy Foodies & Yoga Superstars Are Celebrating NYE (With Recipes!)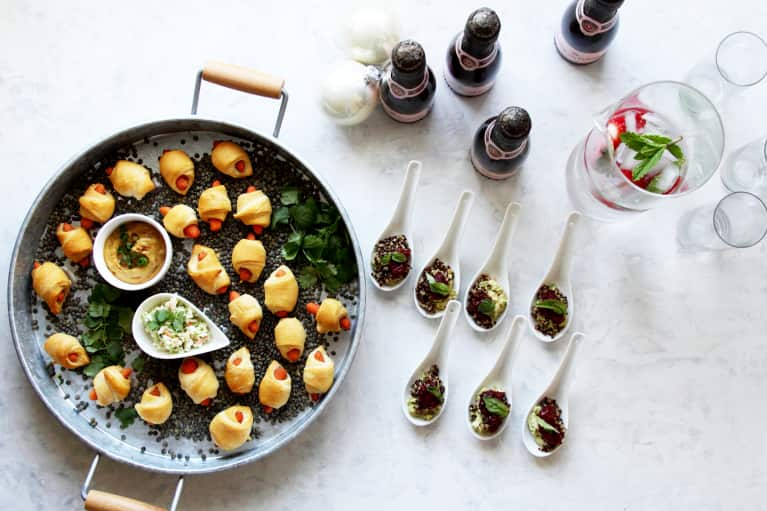 The healthy holiday dream team is back! After throwing the Ultimate Thanksgiving here on mbg, our favorite foodies are back with celebrity yogi, mbg class instructor, and best-selling author Kathryn Budig; Top Chef star and cookbook author Candice Kumai; The Chew favorite Dan Churchill; and chef and blogger Cynthia Groseclose stopping by to share New Year's Eve memories, their tips for getting back on the health train after the holidays, and, of course, their favorite vegan party nibbles and sips.
What were some of your favorite moments of 2016?
KB: Honestly, 2016 has been the worst year of my life, so my favorite (predicted) memory will be watching the clock hit midnight on NYE.
CK: Traveling to Japan, to say goodbye to Baachan (my grandmother, our family's matriarch) with my family. She passed away this year, and it was a time to peacefully and tranquilly say goodbye. My next book is an homage to her and my deep-rooted Japanese heritage. On a lighter note, I loved showing my mentor, Dr. Mehmet Oz, how to make matcha! Signing my sixth book deal with HarperCollins and directing, writing and producing the project as it manifests itself is also a glorious gift.
CG: Spending the summer in California, watching my little boy surf Malibu and launching my new blog, Suppers by the Sea.
DC: I think the first time I cooked on The Chew with Mario Batali was pretty amazing! The fact I went to eleven countries this year for work is truly humbling. Each place inspired me in their own right and has delivered colorful cuisines that have gone into my books and blog.
What are you looking forward to in 2017?
KB: I am looking forward to a completely fresh start. I have so many amazing shifts coming—a podcast on espnW, a cooking show in the works, love, a new city, and so much more.
CK: New book release! Number six is on its way! I'm looking forward to doing more research in Japan, and being open to new, exciting adventures!
CG: Working on my very first cookbook proposal, surf trips to spots I haven't been to before, and the good, big things that have yet to unfold.
DC: Im very excited to open my first NYC restaurant and an online program (stay tuned!). I have a number of filming dates set too, and visits to countries like India, Spain, and those of South America that I have never been to all happening in the first six months. So in essence bringing more healthy, colorful eats to family and friends around the world.
Any hangover-prevention tips?
KB: DRINK WATER. Oh, and eat food! It's easy to get caught up in the festivities and drain Champs on an empty and dehydrated tummy. Eat your noms and try to down a glass of water for every drink you have.
CK: Late night stop for NYC pizza at three in the morning or a breakfast burrito, Cali style, the next morning. My sister and I also think drinking biodynamic and organic wine can also help to prevent a nasty hangover.
CG: Pretty basic. Know your limits and drink water in addition to your drinks.
DC: For every glass I have, I always have one-and-a-half glasses of water in between. In the morning, one of my favorite cures is the Australian classic, Vegemite, with avocado on sourdough. The Vitamin B in the Vegemite helps with the recovery, the bread is something we all crave in the morning, and avocado is free from dairy but still offers that creaminess, so it ticks all the right boxes for me.
What was your most memorable New Year's Eve to date?
KB: Honestly, I'm that person who wonders how people stay up so late! I did have to bail my parents out when I was in high school. They locked themselves out of the house, and I had to divulge my dirty secret: One of the french back doors was always left open, and it was my portal to slipping out stealthily to see my high school boyfriend.
CK: Dayum, that's tough. It's one of my fave holidays! I have traveled to Samoa, Tonga, Indo, Switzerland, and Bondi for past celebrations, and each has been a total adventure. Wherever I was, and am, I always create magic and have fun! Cheers!
CG: Twelve years ago, I was living in Paris and spent the night in Paris with my sister and brother-in-law. It is a very special memory.
DC: My first one in NYC last year was pretty special. To be on a rooftop in Midtown and watch the fireworks between all the lights of the skyscrapers is something you dream about.
What are you doing to celebrate this year?
KB: Not sure yet! I'll be celebrating in NYC either in sweatpants or out on the town.
CK: Girlfriends, SoCal, wherever the night takes us, then off to Palm Springs just after to chill, which I desperately need.
CG: Chilling out with my family at home and making crabs for dinner. It has become a tradition over the past few years.
DC: It looks like I'll be cooking and creating a number of appetizers for a large number of friends in Soho—that is, before the dancing takes over!
How do you get back into a healthy routine after the holidays? Any tips?
KB: It's a combo: I don't let myself go during the holidays. If I have time to workout, I do. It's still important to me, but I also have the attitude that if I don't have time during the holidays, I don't. I try to treat this time as special, but also honor my regular health obligations.
CK: Just live clean, workout more, clock more sleep. Drink less alcohol, eat less sugar, roll with positive people. Be mindful. Be grateful. Practice gratitude. Choose wisely. Stop comparing. Stop judging, be chill. Meditate. A good life is simple. You don't need money—you need friends, health, family, laughs, and avocado.
CG: Get outside and get moving. There is nothing better.
DC: I always say that motivation must come from within, so find what works for you. I like to set up a two-week training plan prior to New Year's Eve, a combination of full body, resistance, HIIT, and sprints. I match this with my existing food philosophy. This keeps me adhered and ensures I have direction. But some people don't like a plan! My honest tip would be find out what works for you and make sure it empowers you.
What's one word to describe 2016, and one to describe 2017?
KB: 2016: Transformative-crapola 2017: Reinvented
CK: 2016: Challenging 2017: Magic
DC: 2016: Experiences 2017: Blooming
CG: 2016: Transformational 2017: Realization
The Best (Vegan) NYE Party Recipes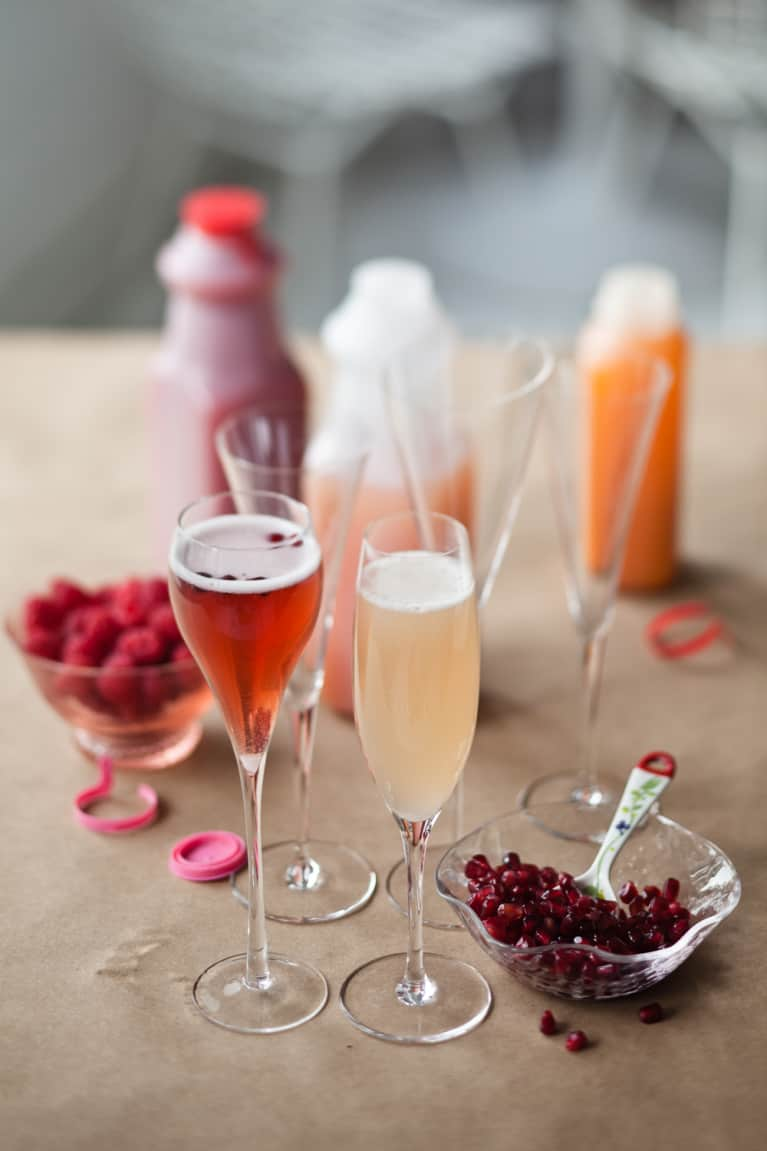 Says Candice, you can "save hundreds of calories and cut sugar with these three simple, fresh, and sparkling ways to wow your guests at your holiday shindig!"
Ingredients
1-2 bottles of Champagne or your favorite sparkling wine
Mix-ins of choice (see Method)
Ging Fizz: Add a pinch of fresh grated ginger to each glass and pour sparkling wine or Champagne over and serve!
Pom Sparkler: Add pomegranate seeds & a splash of Pom juice to each glass of Champagne and serve!
Cranberry Royale: Add a little Crème de Cassis & fresh, halved cranberries to each glass of Champagne and serve!
Strawberry Jalapeño Umami Bites
2/3 cup multi-colored quinoa
1 1/3 cup vegetable broth
1 teaspoon extra virgin olive oil
1 teaspoon sea salt
Strawberry Jalapeño Compote:
16 strawberries, stemmed and chopped
2 jalapeños, pith and seeds removed, minced
1 cup apple cider vinegar
4 tablespoons coconut sugar
zest of two lemon
1 avocado
1 tablespoon extra virgin olive oil
1 lemon, juiced
strong pinch of sea salt
torn fresh basil and mint for garnish
Combine quinoa, broth, oil and salt into a medium sauce pan. Bring to a boil, stir well, then reduce to a simmer. Cook for roughly 15 minutes or until quinoa is fluffy and liquid is absorbed.
In a second sauce pan, combine strawberries, jalapeño, apple cider vinegar, lemon zest and sugar. Warm over medium heat and bring to a rolling simmer. Cook for 20 minutes, stirring often, until liquid reduces by half and takes on a jammy consistency.
Place your pitted avocado into a bowl with lemon juice, salt, and olive oil. Mash with a fork until creamy.
Roasted Carrots In A Blanket with Spicy Red Chili Mustard & Broccoli Slaw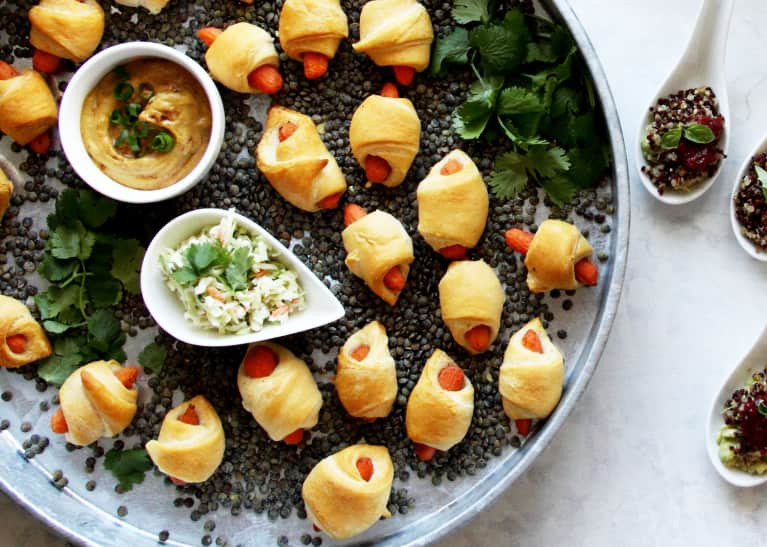 "I think most people have some memory of pigs in a blanket," says Cynthia. "While it is often thought of as a very casual appetizer, I created a little more sophisticated, vegetarian version with roasted carrots and hints of herbs and spices."
Ingredients
24 organic baby carrots
1 can Trader Joe's crescent rolls or Dufour Puff Pastry, cut into 24 small triangles
1 tbsp chopped cilantro, plus leaves for garnish
1 tbsp olive oil
1 cup dijon mustard
2 tbsp roasted red chili paste
1 cup broccoli slaw, chopped
1 tbsp Vegenaise
1 tsp rice wine vinegar
2 green onions, chopped
sea salt
ground black pepper
Preheat oven to 425 F. Toss carrots with olive oil, season with salt and pepper and bake on parchment-lined baking sheet until tender and easily pierced with a knife (about 10-15 minutes). Toss with chopped cilantro.
Reduce oven temperature to 350 F. On a parchment-lined baking sheet, roll the carrots with each puff pastry triangle to form a carrot in a blanket. Bake 10-15 minutes or until golden brown.
In a small bowl, combine mustard and red chili pepper paste. Garnish with chopped green onion.
In small bowl, combine broccoli slaw, Vegenaise and rice wine vinegar. Season with salt and pepper. Garnish with cilantro leaves.
Serve carrots in a blanket hot. Dip in mustard sauce and top with a small spoon of broccoli slaw. Makes 24.
Mushrooms & White Bean Board
"I love a Roasted Mushrooms & White Bean Board," says Dan. "You can dip in with veggies, rice crackers, or toasted bread. The combination of the white bean heartiness with the strong umami kick of the roasted mushrooms is a great flavor to bring in the new year."
Ingredients
3 cups button mushrooms, sliced
3 tablespoons olive oil
3 sprigs thyme
1 sprig rosemary
2 cans navy beans
3 garlic cloves
pinch of salt and pepper
1/2 cup vegetable stock
juice and zest of half a lemon
Method
1. Preheat oven to 350 F.
2. Line a baking tray with baking paper and evenly spread mushrooms, thyme, rosemary, salt and pepper on top. Drizzle with 1.5 tablespoons of olive oil and roast for 17-22 minutes or until brown.
3. Wrap garlic cloves in aluminum foil with 1/2 tablespoon of olive oil and roast for 15 minutes or until jammy.
4. In a Vitamix or blender, blitz the navy beans, stock, remaining oil, lemon juice, pinch of salt and pepper, and roasted garlic until smooth.
5. Pour out bean mix onto a board and top with the mushrooms. Finish with lemon zest and scallions.
Clean Kabocha Squash Fries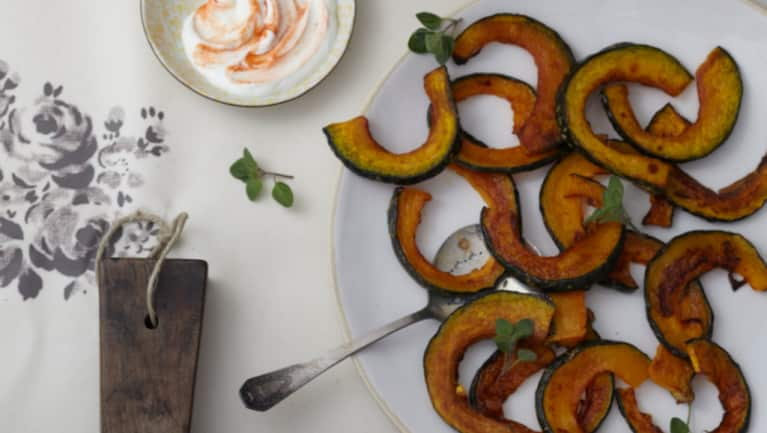 "I began making this recipe as an alternative to my mother's totally healthy steamed kabocha squash bites," says Candice. "Of course I love the way she does it (steaming means more nutrients and simple to cook) but I wanted to Americanize this a bit. Since then, it's become my most requested appetizer, surpassing my crab cakes at parties. Yeah, they are that amazing!"
Ingredients
1, 4-pound kabocha squash, cut lengthwise, seeds removed with a spoon and cut into ¼ inch half moons (skin on)
2-4 tablespoons olive oil, this is optional depending on how much oil you prefer
1/2 teaspoon sea salt, to taste
For the Sriracha dipping sauce:
3/4 cup 2% Greek yogurt or coconut/almond yogurt
1 teaspoon Sriracha (use more or less depending on desired heat)
1/4 teaspoon sea salt (optional)
Preheat the oven to 375 F and line a sheet tray with aluminum foil.
In a large mixing bowl, toss the squash and olive oil until well coated. Spread the squash evenly across a sheet tray (making sure that each piece of squash is touching the surface of the pan, for even browning). Sprinkle sea salt.
Roast for approximately 20 minutes, flip and roast for another 25 minutes or until kabocha squash is golden brown on both sides.
While the squash is roasting, make the simple Sriracha dipping sauce. In a small bowl, combine the 0% Greek yogurt, siracha sauce, and sea salt. Mix well.
Serve alongside with the kabocha fries and mmmm, pure heaven. Serves 4-6.