Raw Buckwheat + Clementine Winter Breakfast Bowl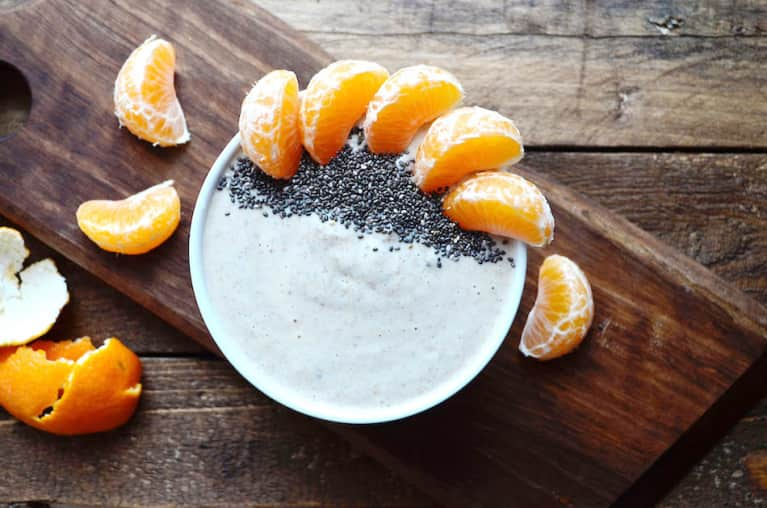 Colder weather means a change in our food cravings and nutritional needs as much as it means a change in our wardrobes.
Summer and warmer weather brings us green smoothies, colourful fruit, and energizing breakfast bowls, and although we can enjoy our green juices and blender concoctions all year long, sometimes a heartier, more substantial, and comforting breakfast bowl is appropriate for those cold, dark mornings.
This buckwheat, clementine, and chia bowl is all that and more.
First, it's a fantastic source of complete protein, soluble fiber, omega-3 fatty acids, B vitamins, and a whole list of minerals and antioxidants—as nutritious and health supportive as it comes.
Second, this bowl is raw, meaning none of the nutrients are denatured by heat. It delivers live, active enzymes and nutrients to kick your morning into high gear!
Raw vegan foodies don't have to live solely on salads and cold meals throughout the winter months. Some creativity in the kitchen and careful selection and preparation of ingredients can create more satisfying meals like this one.
This buckwheat breakfast bowl also scores major nutritional points because the buckwheat is soaked overnight. Soaking reduces anti-nutrients, improving the bioavailability of certain minerals, like zinc, so they can be better absorbed. Soaking also assists in digestion and creates a texture that allows for blending.
Last but not least, this winter bowl is deliciously seasonal, making good use of the juicy clementine, bursting with flavor, color, and immune-boosting vitamin C.
This recipe is quick and easy and perfect for the season. Enjoy!
Raw Vegan Buckwheat Clementine + Chia Winter Breakfast Bowl
Serves 1 regular portion or 2 small
½ cup raw buckwheat, soaked in water overnight
1 clementine, peeled
1 tablespoon ground flaxseed
2 teaspoons chia seeds
¼ teaspoon cinnamon
¾ cup unsweetened almond milk
1 medjool date, pit removed
Clementine pieces
Chia seeds
Walnuts
Almond butter
Drain and rinse the buckwheat.
Add all ingredients to a blender and blend for 30 seconds. You can blend longer to achieve a smoother texture if you prefer.
Top with your favorite or suggested toppings.