6 Strategies For Coping With Holiday Stress (From A Recovering Addict)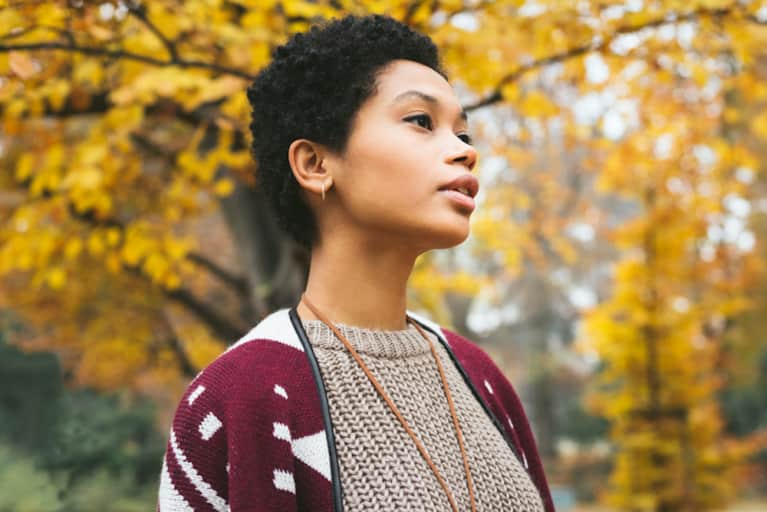 If you're in long-term recovery like I am, you know that holidays come with built-in danger zones. Those of us who have weathered the seasonal storms for many years have learned what helps—and what doesn't. There are pitfalls to watch out for, situations to avoid, and positive options to choose that can make this time of year an opportunity to practice mindfully taking charge of your own health and happiness.
"The holidays can be a stressful time of year for anyone and can be even more so for those in early recovery from mental health or substance abuse issues," says Kristin Wilson, director of clinical outreach at Newport Academy. "Without your usual school or work schedules, you might be more prone to feelings of boredom, loneliness, and isolation," she notes. And a heightened focus on relationships can be a source of suffering rather than celebration. "The holidays usually mean extended time with family and, depending on the family dynamics, interactions may lead to feelings of guilt and sadness," Wilson says.
Here are a few of Wilson's tips for bolstering your mental and emotional resilience so you can navigate the holidays without losing your balance. They work the other 11 months of the year, too!
"The hustle and bustle of the holiday season can seem overwhelming," Wilson says. "It's important to take time to stop and be present (no pun intended). Enjoy the moment, the sights, the sounds, the company." Incorporate a daily meditation into your routine; if you don't have time to sit, then practice mindfulness wherever you are—whether you're in line at the mall or on the road to yet another holiday gathering. Pause, breathe, notice what's around you, and tune into the sensations in your body. Just a few moments of mindfulness can foster better self-regulation and more positive emotional states.
Ask for help when you're feeling stressed. Positive relationships are known to enhance psychological health. "Reaching out to sponsors, friends, and family can all be helpful," Wilson says. "Don't take a holiday break from the activities that keep you on track, like support group meetings and therapy appointments." Research by positive psychologist Barbara Fredrickson shows that positive social connections actually boost vagal tone, a measure of heart rate activity that's directly related to psychological resilience. Fredrickson describes how what she calls "micro-moments" of positive emotion—like exchanging a smile with your barista—can have a surprisingly big impact on your mood.
If you want to stay centered, this is not the time to skip out on your yoga class or regular workout in favor of holiday shopping or party prep. Regular exercise is a powerful factor in building resilience: Studies have found that it improves self-esteem, counteracts social withdrawal, and reduces anxiety and depression—all factors that contribute to resilience. Yoga in particular strengthens vagal tone because it creates feelings of connection with oneself and with others.
Even in cold weather, being outdoors can boost mood and self-esteem and increase creativity and focus, Wilson says. Time in nature, especially when it's spent in the woods, exposes us to naturally occurring, highly beneficial chemicals called phytoncides, which have been shown to reduce blood pressure and the stress hormone cortisol. There's also a mindfulness component to outdoor activity when you take time to engage the senses and appreciate the feel of the sun on your face, the scent of the pine trees, and the sound of snow crunching under your feet.
Research proves that humor moderates stress, in both physiological and mood measures. Humor has also been shown to improve physical health and workplace well-being over the long term. "Find humor in everyday situations and make others laugh," says Wilson. "Laughter provides benefits to the mind, body, and spirit. It lowers blood pressure, reduces pain, diminishes anger, and changes perspectives."
6. Create a new holiday ritual.
Especially for those in recovery who are attempting to break unhealthy habits, the things you used to do year after year might not be the things that are best for your state of mind this year. Be proactive and formulate new traditions that get you out of the box and honor what you truly need, not what others expect from you. How do you really want to spend New Year's Eve? "Do what is supportive of you and your mental health, and skip what's not," Wilson advises. "Be authentic to yourself!"