When six of the healthy food world's brightest stars wanted to a host a virtual Thanksgiving at mbg, we whipped out our tablecloth and threw on our finest clothes (with the loosest waistband). And, of course, you're invited to join in on the fun, as celebrity yogi, mbg class instructor, and best-selling author Kathryn Budig; the inimitable Thug Kitchen's Matt Holloway and Michelle Davis; Top Chef star and cookbook author Candice Kumai; The Chew favorite Dan Churchill; and chef and blogger Cynthia Groseclose share Thanksgiving memories, healthy eating tips, and, of course, all of the plant-based recipes you need to host a delicious Thanksgiving dinner.
What's your favorite Thanksgiving memory?
Kathryn: I was left in charge of a full meal plan for six friends one year in Los Angeles. I took on the challenge like a boss and even converted the stoutest of Brussels sprouts haters. I was absolutely exhausted but felt like Martha Stewart.
Candice: Watching my very devout dad volunteer at the local soup kitchen every year as my mom and I cook together. We all meet together at the table afterward.
Michelle: One year, dinner was running super late and my parents let me eat all the warm dinner rolls I wanted instead of trying to keep me from spoiling my dinner. Seventeen rolls later I was full and happy.
Matt: The year my family all showed up with the ingredients for whatever dish they were assigned to cook, but nobody cooked their dish, just grocery shopped on the way over. We didn't eat until almost 10 o'clock that night.
Dan: Well, considering my first ever Thanksgiving was last year (editor's note: Dan's an Aussie!), I would have to say cooking my first turkey in 2015. I had just landed in the country the day before, and the feeling of having my friends and making new ones on this sacred American day was something I will remember forever.
Cynthia: My mom isn't a big cook, so I have so much more respect for her looking back now because she went all out for Thanksgiving. She would start cooking the night before, and the next morning, the house would smell so comforting and good. My sister and I would wake early Thanksgiving morning to watch the Macy's Thanksgiving Day Parade, and my grandmother would come over and sit and talk. I miss those days.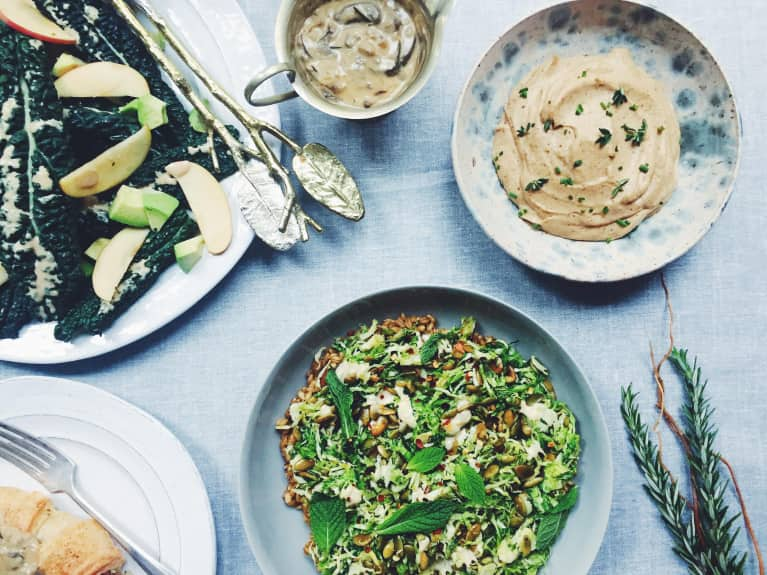 Where do you typically spend Thanksgiving?
Kathryn: I actually haven't spent it with family in years. I was leading a retreat in Mexico last year and have even spent it eating sushi in Dubai! I'm thrilled to get to spend it with my family this year.
Candice: At Mom and Dad's in Carlsbad, California. Love them and my hometown always!
Michelle & Matt: Up until recently we both always had to work on the holiday, so we didn't get to go anywhere or do anything. Now, we just try keep our asses home relaxing for all those past years we missed out.
Dan: Well, at this time of year growing up I was probably down at the beach, in the water, and enjoying the near summer Australian climate. In the United States, I have now had a few friends-givings cooking for mates in the lead-up to the big day, and we are always around at a communal home. I like the idea of spending it with your close mates at a long communal table.
Cynthia: We typically travel to my parents' house in Chattanooga. I love catching the end of the fall leaf-color change. We don't see that often living on the coast.
What are you typically drinking on Thanksgiving? What's your favorite healthy (or indulgent!) holiday cocktail?
Kathryn: I'm really not much for cocktails, so I'll be cracking open some gorgeous bottles of red wine. I'll make even a wine connoisseur cringe with this adjective, but I really love full, jammy reds!
Candice: We always have Champs, and lots of water! Coffee afterward. Nothing too fancy, I'm a fan of down-home cooking and really good company as the focus.
Michelle: I love sparkling apple cider with the meal and a good Old-Fashioned after.
Matt: Pass the gravy boat; I'll drink that!
Dan: Personally, I don't think you can go wrong with a grapefruit or lime soda water and bitters.
Cynthia: My family is really into wine, and my sister has done some sommelier training, so I rely on her to make excellent choices. I am always a fan of a good Pinot Noir. It goes with so many things.
Do you have any Thanksgiving traditions?
Kathryn: Pie. Thanksgiving doesn't exist without pie.
Candice: Mom makes the turkey, and I make everything else—she makes me hustle! Dad goes to Brother Bennos to volunteer at our local soup kitchen before we eat. And my girl gang in Cali and I are always on group text!
Michelle: Does eating until your clothes don't fit anymore count?
Matt: Putting Christmas decorations out immediately. Especially if we're drunk on gravy.
Dan: I think one of the traditions I will like to take forward is having everyone bring a dessert from their childhood. It's an amazing way for us to get to know each other and eat up some amazing nostalgia!
Cynthia: We have been going around the table and talking about what we a grateful for for a number of years now. It really helps put things into perspective because you can always find something to be grateful for.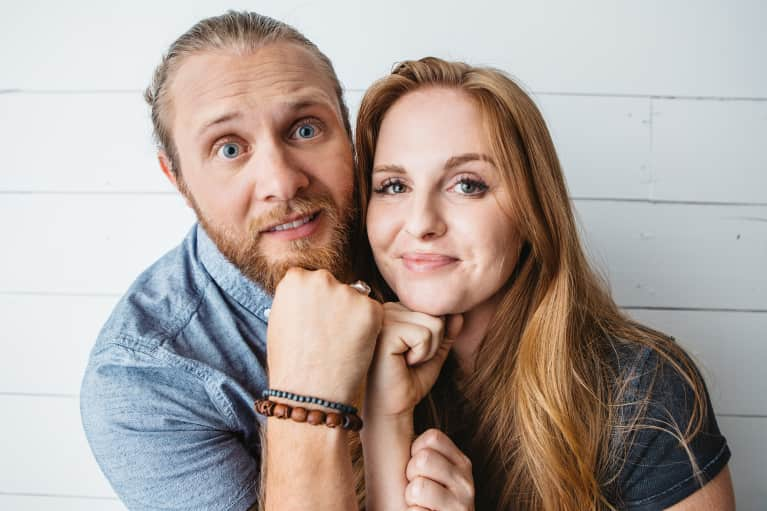 What are you most thankful for this year?
Kathryn: I'm grateful for the strength to persevere through wild amounts of change. I'm so thankful to those closest to me who have held my hand when I've needed support and slapped my ass when I've needed to step it up.
Candice: This past year was the most difficult year of my life. I went through a tremendous amount of change, heartache, and pain. I am so incredibly thankful for my friends, my family, and our health. Without those three things, I may not have come out of the year, better, stronger, and even more resilient. Setbacks help us all to grow, to learn, and to build character; for those things, I am grateful.
Michelle and Matt: We're both so thankful for our jobs. We're getting to work and live a life we couldn't have imagined five years ago, and that isn't lost on us. We're thankful every meal of every day.
Dan: I'm grateful for having been able to travel to 12 countries this year for work and see the variations in lifestyle and living conditions. I am always grateful for how much closer my family gets every year.
Cynthia: I am so thankful for my family and wonderful friends. And I am also very thankful to be able to do what I love as a career. It doesn't get much better than that. I feel very blessed.
What's your favorite Thanksgiving dish?
Kathryn: My mom makes insanely good whipped potatoes. They are not even remotely healthy, which is what inspired my cauliflower dish with mushroom gravy. I wanted to create a lighter version without taking away the decadence.
Candice: Hands down, anything with sweet potato! And Mom's pumpkin pie! Yum!
Michelle and Matt: When family members get drunk and dish out gossip. Second to that? Stuffing, always.
Dan: Probably my sweet potato bake. It's everything that's meant to be naughty but made into a super-healthy dish.
Cynthia: I love oyster stuffing. The spices and textures. Just love it.
Do you have any tips for attending Thanksgiving at a non-health-interested person's house?
Kathryn: Tip No. 1: It's a holiday, so indulge! I'm thrilled to help put this plant-based meal together for vegans, vegetarians, or anyone who wants to cut back on meat, but my hope is that it gives people light options to combine with their holiday favorites. Tip No. 2: Bring your own dish (maybe even from this article)! It's a great way to get some of what you want and maybe even open people's minds to healthier alternatives.
Candice: Drink plenty of water; stay hydrated. Share your dessert with a loved one. Go for more greens!
Michelle & Matt: Bring the food you want to eat, and stay off your soapbox for one day. Everyone is allowed to celebrate however they want, and being kind might get them to actually try some of your food.
Dan: Control the controllable. For example, if you have no idea what to expect for Thanksgiving dinner itself, maybe for the meal before, you should eat something with a bit more vibrancy and nutritional love.
Cynthia: I think you can oftentimes find a way to make any Thanksgiving work for you, and if everything contains butter and cream, just eat smaller portions, have some gratitude that someone took the time to cook for you, know that it is just one day, and get some good exercise and eat very clean the following day. Life is about balance, and one day will not make or break your healthy lifestyle.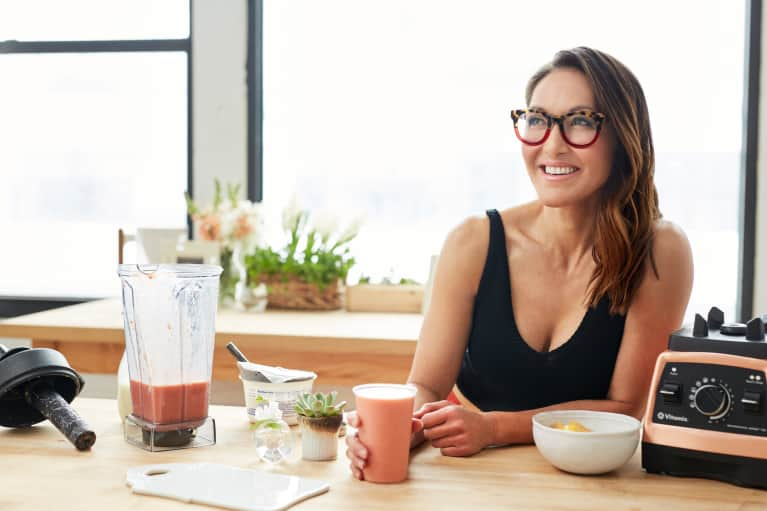 Everyone feels a bit overstuffed after Thanksgiving (even a healthy one!). Any tips to get back to normal?
Kathryn: I really think the key is portion control. My eyes are way bigger than my stomach, and I get so excited at the plethora of dishes to choose from. Start with a little taste of everything, and give yourself a solid 10 to 20 minutes to kick back before you go back for seconds. That might help kick the stuffed feeling!
Candice: Always smoothie it up with those clean green drinks the next day! Pre-commit to a barre class, yoga, or a run with a girlfriend the next day, so that you're held accountable. Drink 10 cups of water a day, and most of all, don't be so hard on yourself. Enjoy every moment with family and friends—in the end, it's all that matters.
Michelle & Matt: It's tempting as hell to just sit on your ass the next day and eat leftovers, but it's important to go somewhere and get a little sweaty. Exercising will make you feel better and will help you work up an appetite again. Even if that means you go walk around the neighborhood watching neighbors put up their hideous Christmas decorations, just don't stop moving.
Dan: Any day after a big meal, I always have a smoothie. They feel super refreshing and are filled with a ton of fiber to help balance your digestion.
Cynthia: I like to start the day with hot lemon water and a green juice. I get some fresh air and take a brisk run outside and focus on eating clean the rest of the day.
The Ultimate Plant-Based Thanksgiving Dinner
Avocado Kale Caesar Salad
"You can have it all with this perfect fall pairing of fresh apples, hearty hemp seeds, and my fave, kale!" Candice says.
Serves 4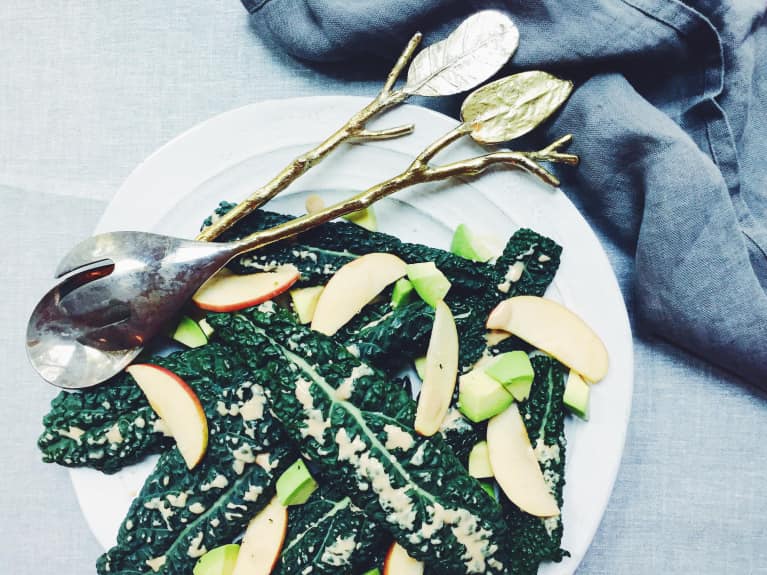 1 bunch Lacinato kale, tough ribs removed, leaves torn
½ Fuji apple, halved and thinly sliced into half-moons
1 avocado, cut into 1-inch cubes
2 tablespoons hulled hemp seeds
2 tablespoons vegan mayo or coconut yogurt/cream
1 tablespoon Dijon mustard
2 tablespoons fresh lemon juice
1⁄4 teaspoon freshly ground black pepper
1⁄4 teaspoon sea salt
1 tablespoon vegan Worcestershire sauce
Prep the vegetables for the salad.
In a large bowl, whisk together the mayonnaise, mustard, lemon juice, pepper, sea salt, and Worcestershire sauce.
Add the chopped kale and Fuji apple slices to the bowl and toss well to coat with the vinaigrette.
Plate the salad and top with the avocado cubes and hulled hemp seeds.
Brussels Sprout Bowl with Sexy Sesame Tahini
Dan, who created this recipe, says, "How can you not be excited to feast when there is so much sexy green goodness looking back at you?! The natural sweetness of the Brussels sprouts combined with all the amazing textures ensure your stomach gives your mouth a solid fist pump."
Serves 4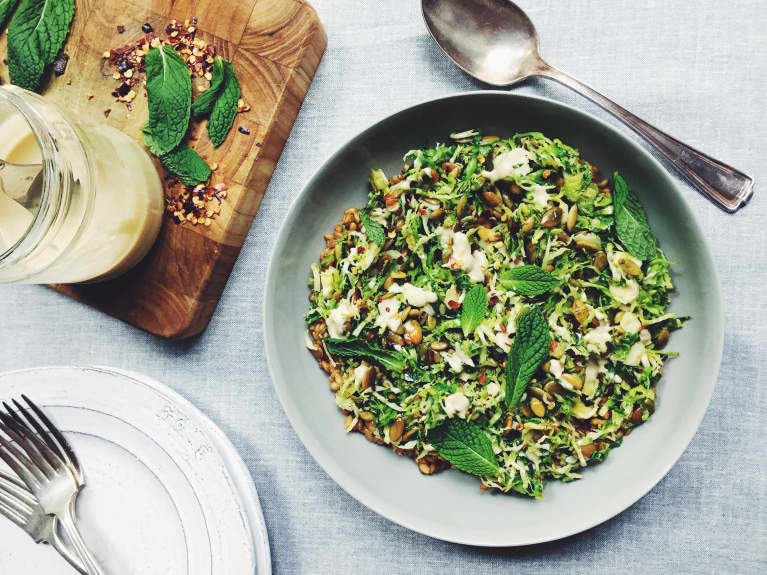 2 cups raw whole Brussels sprouts
½ cup pepitas
2-second pour of olive oil
1½ cups cooked barley
3 tablespoons tahini
3 teaspoons sesame oil
3 teaspoons honey
Juice of 1 lemon
Pinch of salt
1 bunch fresh mint
2 teaspoons chili flakes
Finely slice Brussels sprouts using a mandoline or knife.
Add olive oil to a saucepan on medium-high heat. Add pepitas and cook for 2 to 3 minutes, stirring frequently, until golden brown. Add Brussels sprouts and stir for three more minutes before removing from heat.
Combine Brussels sprouts mixture in a bowl with barley, half the bunch of fresh mint, and a pinch of salt.
Mix lemon juice, sesame oil, tahini, honey, and ¼ cup of water in a bowl or glass jar. You want the sauce to pour like a ribbon, so add a little more water if it needs it.
Pour sauce over Brussels mix and garnish with chili flakes.
Roasted Garlic Cauliflower Mash
"My mother always makes the most decadent (and ridiculously unhealthy) whipped potatoes," Kathryn says. "This is my ode to her classic: a lighter, dairy-free spin without sacrificing any of the deliciousness."
Serves 4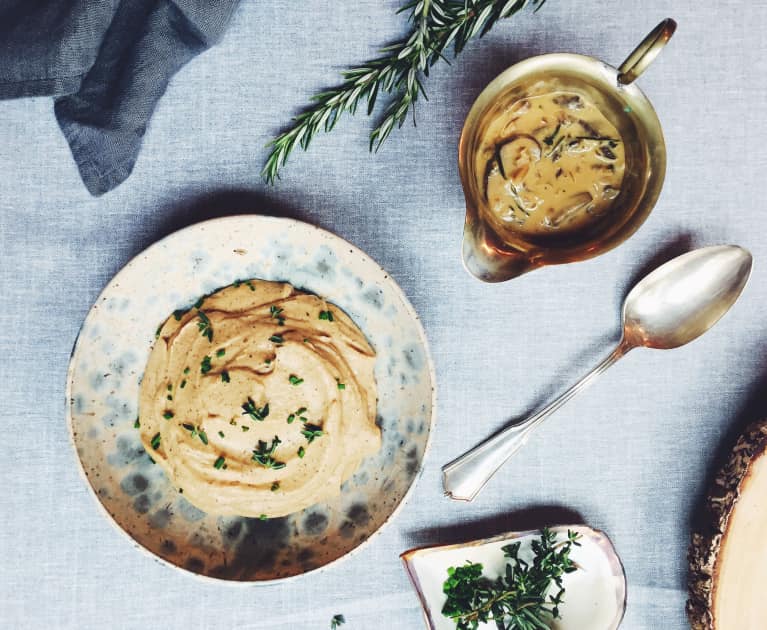 1 large head (or 2 small heads) cauliflower, broken into florets
3 cloves garlic, peeled and smashed
3 tablespoons extra-virgin olive oil (plus 2 tablespoons for blending)
1 teaspoon sea salt
dusting of cracked black pepper
½ cup nutritional yeast
½ cup light canned coconut milk
chopped chives for garnish
Preheat oven to 400°F. Toss the cauliflower and garlic with 3 tablespoons olive oil and sea salt until well-coated. Evenly spread over a baking sheet and dust with black pepper. Roast for 30 to 40 minutes (totally varies from oven to oven, so keep an eye on them), shaking them up every 10 minutes. You want them slightly golden.
Transfer the entire tray into a high-speed blender. Add coconut milk and 2 tablespoons olive oil and blend on medium. Add nutritional yeast and blend until smooth. Salt and pepper to taste. Top with chives.
¼ cup extra-virgin olive oil
1 large shallot, minced
1 teaspoon chopped rosemary
1 teaspoon chopped thyme
6 bella mushrooms (or a mix of your favorites), sliced
2 teaspoons tamari or soy sauce
½ cup veggie broth
4 tablespoons light canned coconut milk
2 tablespoons nutritional yeast
1 to 2 tablespoons flour
Warm the olive oil on medium heat in a saucepan. Sauté the shallot for 3 to 5 minutes or until translucent. Add the fresh herbs and sauté for another minute, followed by the mushrooms. Keep stirring them around until they're evenly coated.
Let these guys cook down for about 3 minutes (add the tamari/soy sauce during this period).
Pour in veggie broth, coconut milk, and nutritional yeast and stir well. Add 1 tablespoon of flour and whisk. Continue with the amount of flour needed to reach your desired thickness. I find 1 to 2 tablespoons does the trick. You can serve immediately or refrigerate until ready to eat. Top with fresh herbs! Pour this over the Roasted Garlic Cauliflower Mash and Winter Veggie and Chickpea Puff Pastry Wreath (or just douse your entire plate).
Winter Veggie and Chickpea Puff Pastry Wreath
The geniuses behind Thug Kitchen say this is "somewhere between a potpie and a savory tart, packed with flavor and gorgeous as hell. Nobody will even think to ask where the dried-out turkey is!"
Makes 2 wreaths, enough for 8 people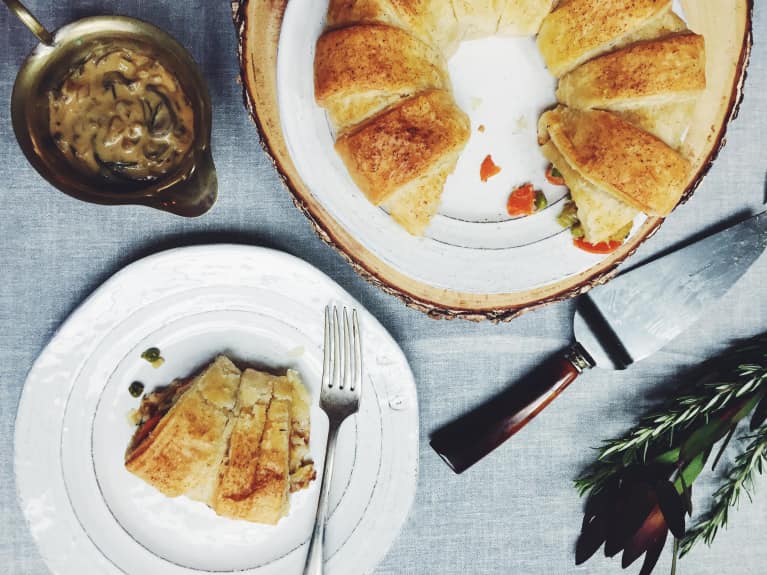 1 tablespoon olive oil
1 sweet yellow onion, chopped
1 leek, sliced into half-moons
2 carrots, sliced into half-moons
2 celery ribs, chopped
2 garlic cloves, minced
½ cup fresh or frozen peas (canned are gnarly, so don't do that)
1½ cups chickpeas
pinch of salt
¼ cup olive oil
¼ cup flour
2 teaspoons dried oregano
1½ teaspoons dried thyme
1 teaspoon garlic powder
½ teaspoon salt
¼ teaspoon ground black pepper
¼ teaspoon cayenne pepper
½ cup dry white wine*
½ cup almond milk
½ cup water or veggie broth
4 9-by-9-inch sheets of puff pastry, defrosted**
olive oil for brushing
paprika
In a large sauté pan or fryer, heat up the 1 tablespoon of oil over a medium heat. Add the onions and leeks and sauté until the onions start to get translucent, about 3 to 5 minutes. Add the carrots and celery and cook for another 3 minutes. Add the garlic, frozen peas, chickpeas, and salt and cook for another 3 minutes or until the carrots are getting soft but not mushy. Turn off the heat and dump mixture into a medium bowl and set aside. Make sure to scrape out all the veggies out so you can reuse that pot.
Mix the oregano, thyme, garlic powder, black pepper, salt, and cayenne pepper together in a small cup. Warm that soup pot back up over a medium heat, add the ¼ cup oil, and whisk in the flour. It should look somewhere between glue and runny paste. Keep stirring it around until it smells kinda nutty and looks a little toasted, about 2 minutes. Toss in the spices and keep stirring for another 30 seconds. Whisk in the white wine. The flour is gonna ball up with the wine and kinda look like frosting. Slowly whisk in milk and the broth. Mix all that up until it's incorporated and it starts looking thick like gravy. Once all the clumps are gone, stir in the cooked veggies and sauté for 30 seconds more until it looks nice and thick, almost like paste. Turn off the heat and let that cool until it's room temperature or overnight. You should end up with around 5 cups of filling which is enough to fill 2 wreaths.
When you're ready to assemble, preheat your oven to 400°F. Put 2 of the 9-by-9-inch papers end to end and roll them together to seal the crease and make it one long piece on a lightly floured large baking sheet. Then roll it a li'l more so you get a sheet that's about 11 by 17 inches. Add 2½ cups of the filling to the bottom third of the sheet that'' closest to you, leaving about half an inch around the bottom. Cut the rest of the puff pastry into 1-inch-thick ribbons going up to about ¼ inch away from the filling. Make no sense? Think fringe. Now fold that over from the end nearest to you like you're tucking a food baby with a puff pastry blanket, pressing the seams together so they stick, and then rolling it along the fringed edge, and kinda tucking the ends and the seam under the log. Push this into a wreath shape and use some of the fringe there to seal it. Brush it with a little olive oil and sprinkle some paprika on top for looks. Cut a couple of slits in some kinda pattern to take the fancy level even higher. Repeat with the rest of the puff pastry and filling.
Stick it in the oven and bake for 25 to 35 minutes or until it looks golden brown and flaky. Serve warm with a gravy of your choice and then make someone else clean the kitchen.
* Whatever you like to drink will work. No wine, because of reasons? Just add more broth.
** Puff pastry will be in the freezer section of the store, next to the pie crusts. There are recipes out there to make this from scratch, but on Thanksgiving love yourself and get that from the store. You've got enough holiday f*ckery on your plate.
Vegan Maple Bourbon Apple Pie
Cynthia calls this one "a blend of modern and traditional apple pie flavors in a flaky vegan crust!"
Makes one 9-inch pie, serves 6-8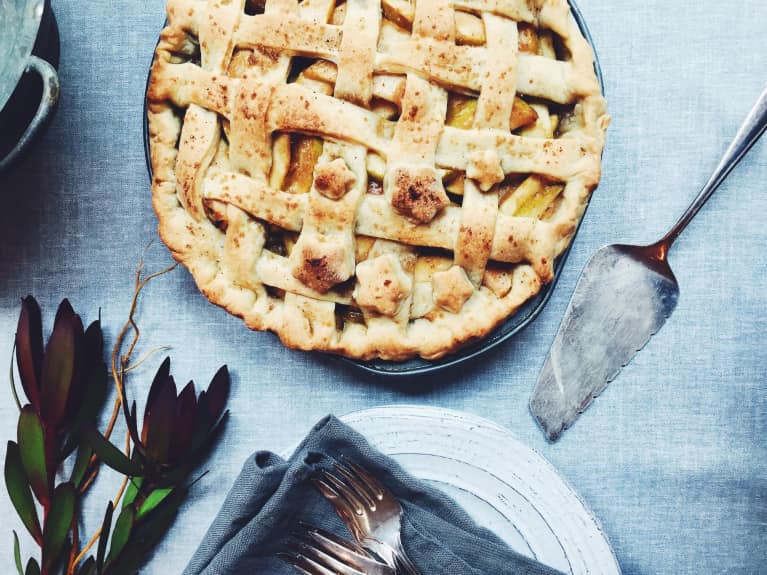 4½ cups all-purpose flour, plus extra for flouring
1 to 1½ cups unrefined coconut oil (solid)
1 tablespoon cane sugar
½ teaspoon nutmeg
1 teaspoon salt
½ cup ice water
Combine flour, sugar, nutmeg and salt in a food processor and pulse to combine. Add coconut oil and pulse until the mixture is crumbly like a coarse meal. Pulse dough and gradually add ice water until dough forms a ball. There will be some crumbs, but you will be able to press them into your ball. (note: I found it was much easier to make two batches of dough than one large one to allow for your lattice top and yielded a flakier crust)
Turn dough out on a lightly floured surface and roll into a round disk approximately 10 inches in diameter. Take your rolling pin and gently roll the dough onto it, so that you can lay it out onto a sheet pan covered with parchment. Cover the dough with plastic wrap and refrigerate for a minimum of 1 hour.
8 medium Granny Smith apples, cored and slice 1/4 inch thick
⅔ cup cane sugar
Juice of ½ lemon
¼ cup maple syrup
¾ teaspoon cinnamon
½ teaspoon sea salt
4 tablespoons unrefined coconut oil (solid)
3 tablespoons all-purpose flour
2 to 3 tablespoons bourbon (optional)
Filling Preparation
In a large skillet over medium-high heat, add coconut oil and melt. Add the apples and saute until just starting to soften (about 5-8 minutes). If you are using the bourbon, carefully add it, being cautious if the apples flame slightly. Cook until the bourbon has completely reduced. Add the sugar, lemon juice, maple syrup, cinnamon and sea salt and stir to completely coat the apples and continue to cook until the sugar has dissolved. Sprinkle the apples with the flour and stir a few minutes to completely combine and allow the sauce to thicken. Remove the apples from the heat and allow to cool.
Assembly Ingredients
Coconut oil cooking spray
¼ teaspoon nutmeg
2 teaspoons brown sugar
Preheat oven to 425°F.
Remove the dough from the refrigerator and using your rolling pin, pick it up from the sheet pan and place it into a 9-inch pie pan, allowing the dough to fall over the edges. Take your hands and press the dough down into the pie pan and trim the edges. Crimp the edges with a fork or use your fingers. Take remaining dough and form a ball. Lightly flour your surface and use star, leaf or other festive small cutters to created decorations for your pie crust.
Remove your second dough disk from the fridge and cut into vertical lines about 1 inch wide.
Remove the pie from the refrigerator and evenly fill with the apple filling. Take the second cut dough and create a lattice top by placing the strips of dough vertically and evenly across the pie. Repeat this process going horizontally, alternating weaving over and under each piece of dough until the pie is covered. Trim any excess dough and crimp. Place your decorations on top, lightly spray with coconut oil spray and sprinkle with nutmeg and brown sugar.
Bake the pie for 25-30 minutes, or until filling is bubbly and top is golden brown.