Holiday Meals Got You Bloated? Here's What To Do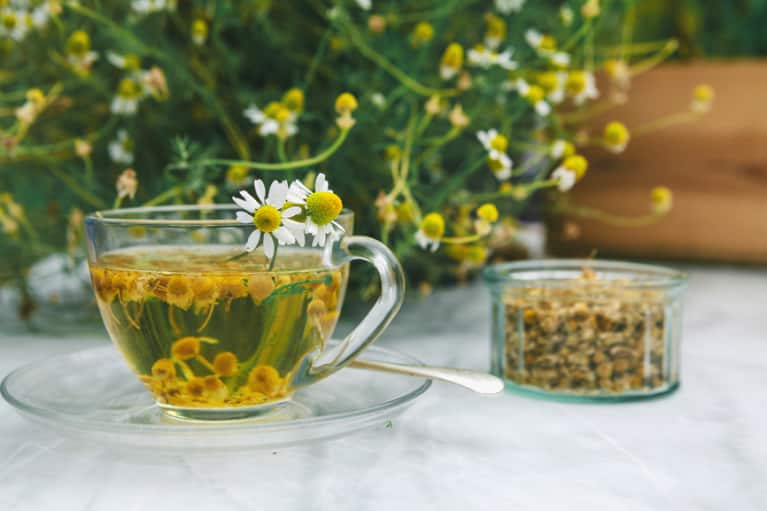 The holidays are here and that means our calendars are loaded with celebrations, food is aplenty, and it becomes easy to let our eating habits run wild. And while we want to enjoy all of the delights of the season, we know that the food we eat is directly linked to the strength of our digestive health and our immune system's ability to protect us. As a naturopathic doctor, it's my job to help my patients find balance.
Moderation is always key in healthy digestion, but avoiding key trigger foods can also help; gluten, dairy, and sugar are the most common foods that create gut issues—everything from acid reflux to bloating to indigestion—for my patients.
Prepare your gut for those big holiday meals.
If you are eating some of these common inflammatory foods or happen to overindulge, have no fear. Here are some recommendations for preventing digestive distress and relieving any symptoms you might be experiencing.
Raw, unfiltered apple cider vinegar is great to take with your first bite of food, as it will give your stomach some extra acid to help break down your food. Most people actually start producing lower levels of stomach acid as they begin to age, so the ACV helps increase acid and will stimulate the closing of our lower esophageal sphincter (the valve between our stomach and esophagus). This can help prevent stomach acid from back-flowing into our esophagus, which is the primary cause of acid reflux.
Probiotics are beneficial bacteria that act as the first defenders in our gut and immune system. These bugs help break food down into small particles so we can utilize the nutrients and also protect us from harmful bacteria, viruses, and fungi. I always recommend taking probiotics at the end of a meal with a full stomach.
Bloated and uncomfortable? Here's what to do.
If you didn't have time for the preventative measures above and you helped yourself to a second piece of fruit cake, then here are a few go-tos for acid reflux, gas, and bloating.
1. Activated charcoal for stomach discomfort.
Activated charcoal is usually made from coconut husks and acts like a sponge, attracting the nasty effects (like bloating) of overindulgence. It's available as a capsule and is oftentimes even added to beverages at your favorite juice bar or healthy grocery store.
2. Slippery elm, marshmallow root, or chamomile to sooth the intestines.
Any of these teas can be very helpful for calming an upset stomach. The slippery elm and marshmallow root help decrease inflammation in the gut and can soothe the mucous membranes of the intestines. This can provide much needed relief from painful acid reflux or uncomfortable bloating.
3. Herbal bitters to support the body's own digestive processes.
Digestive herbal bitters are very helpful before or after a meal to improve digestion. Some common digestive bitters include fennel, anise, ginger, milk thistle, cardamom, and turmeric. The goal of bitters is to help with the body's own production of enzymes and bile, which work to break down food and absorb nutrients more efficiently. A good complex of bitters can also help calm the tissue in the intestines. All herbs have unique functions in the GI tract, but together they provide a synergistic effect that works great for many people.
The holidays are a wonderful time of year, but they can easily disrupt our normal routine and bring us face-to-face with many foods we wouldn't normally eat. By taking some simple extra steps to prevent digestive upset and calm our bellies, we can smile, relax, and fully enjoy this time.
Want to turn your passion for wellbeing into a fulfilling career? Become a Certified Health Coach! Learn more here.