The 9 Best Healthy Comfort Food Recipes To Nourish Your Body And Soul
Contributing Food Editor
By Liz Moody
Contributing Food Editor
Liz Moody is a food editor, recipe developer and green smoothie enthusiast. She received her creative writing and psychology degree from The University of California, Berkeley. Moody is the author of two cookbooks: Healthier Together and Glow Pops and the host of the Healthier Together podcast.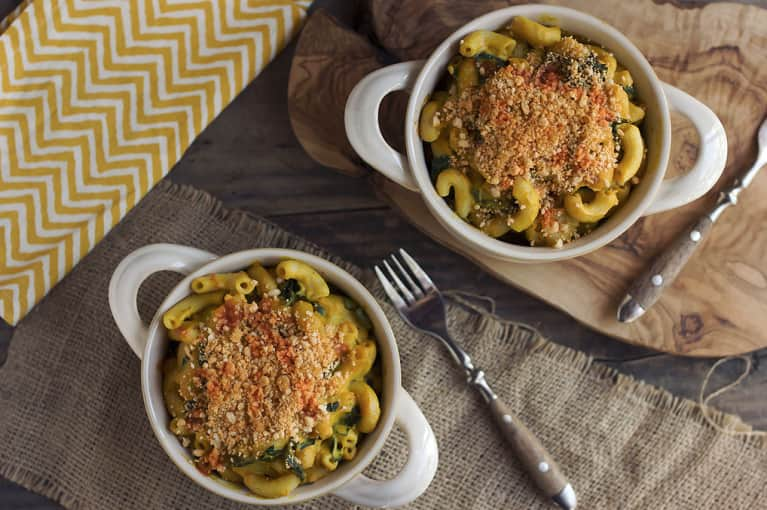 Whether you're shaken up by the election or the darkness that descends before most of us leave work, everyone could use a little comfort right now. These comfort food favorites are like a gastronomic hug, so open your arms (and your mouth!) and dive on in.
Coconut Quinoa and Lentil Curry
Warm, spicy, slightly sweet curries are like a hug for your insides. We love this version, which gets its out-of-this-world flavor from red curry paste, mango (!) and lime, and its hearty dose of protein from lentils and quinoa. Get the full recipe here.
This fresh baked treat, with wafting cinnamon and gooey, dripping, sweet icing, will be sure to put a smile on your face. While it's not the healthiest recipe, it does swap butter and eggs for antiviral, antibacterial health superstar coconut oil, and the subtle maple flavor of the icing is out of this world. Get the full recipe here.
Butternut Squash Mac and "Cheese"
Think that gorgeous orange color comes from something in the Velveeta family? Think again. This vegan mac and cheese is made using butternut squash and turmeric, with a hefty does of nutritional yeast for a cheesy kick. With its crispy, gluten-free topping, this is exactly what you want to curl up on the couch with. Get the recipe here.
Cookie dough meant to be eaten straight out of the bowl? Um, yes please. This plant-based, protein-packed cookie dough takes only a few minutes to whip up. We recommend keeping a supply of it in your freezer, in case of a cookie dough emergency. Get the full recipe here.
If you were one of the kids (or adults!) obsessed with Tater Tots, this recipe is for you. Tasting just like the classic, these guys are baked, not fried, and pack in three full manganese and Vitamin C-rich zucchini. Get the full recipe here.
You've seen cauliflower pizza crusts, but have you seen sweet potato ones? This baby has only three ingredients, is naturally gluten free and bursting with fiber and Vitamin A. After you make the crust (it takes mere minutes) you can top it with anything you'd like! Get the full recipe here.
Is there anything more comforting than a bowl of warm, creamy soup? This version eschews cream for a cashew blend, and relies on healthy staples like nutritional yeast and garlic for it's deliciously umami flavor. Get the full recipe here.
Risotto is one of the ultimate comfort food classics, with its stick-to-your-ribs texture (despite being naturally gluten free!). This vegan version is bursting with fall flavors, with a pumpkin base and rosemary finish. Get the full recipe here.
Healthy Brownie Chocolate Ice Cream
As if this ooey-gooey vegan chocolate ice cream wasn't decadent enough, it went and stocked itself full of (black bean) brownies. It's easy to make, too—if you can turn on a blender, you can whip this up. If you need to eat the whole batch, well, who are we too judge? At least you'll be benefitting from a hefty dose of fiber, tons of antioxidants and the superfood powers of coconut oil. Get the full recipe here.