3 Mermaid-Approved Seaweed Recipes Packed With Essential Minerals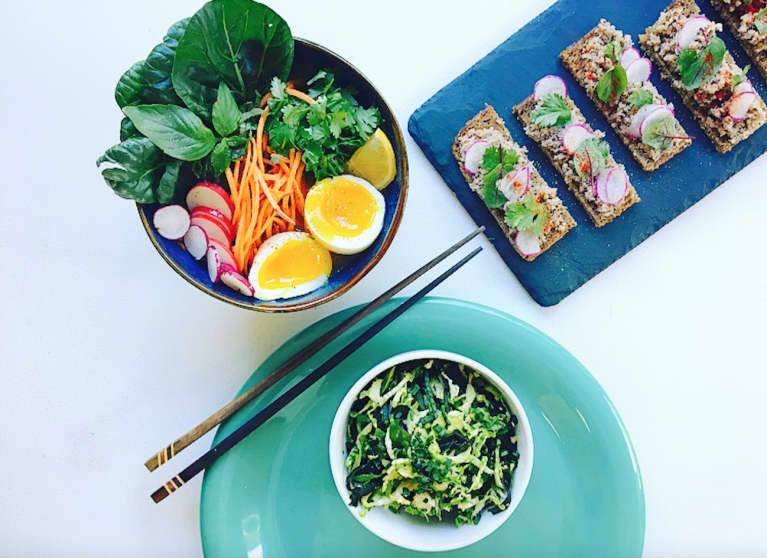 As a private chef and wellness lover, I'm always trying to balance flavor and health benefits. I've found myself adding seaweeds to broths, soups, and salads and found that these sea veggies pack a big punch. Seaweeds are some of the most nutrient-dense foods you can give to your body. Along with vitamins and minerals, sea veggies are good sources of iodine, which helps regulate the thyroid hormones. They are also antioxidant and anti-inflammatory, so eat up!
Dulse has been shown to help in bone density because of its calcium, magnesium, and iron properties.
Ingredients
½ cup almonds (soaked overnight)
2 tablespoons dulse flakes
½ lemon, juiced
1 clove garlic
½ teaspoon liquid aminos or tamari
Handful of chopped cilantro
Preparation
Blend all ingredients in a food processor and use a dip for crudités or spread on crackers.
Kombu adds a great flavor to broths and soups and contains fucoidan, which can protect us from radiation.
Ingredients
1 onion, roughly chopped
1 carrot
1 celery stalk
1 garlic clove
4 cups kombu (you can buy packets at most grocery stores)
Sauté onion, garlic, carrot, and celery in a pot with a bit of oil and sea salt.
Add water and 1 piece of kombu. Simmer for about an hour.
Strain and use for soups.
Wakame and Shaved Brussels Sprout Salad
Wakame is a fairly neutral-tasting sea veggie that contains vitamin B2, which helps our bodies absorb all the vitamins and minerals to give us energy!
Ingredients
2 tablespoons wakame (soaked for 5 minutes)
5 to 6 medium Brussels sprouts, shaved
½ teaspoon toasted sesame oil
2 teaspoons liquid aminos or tamari
nub of grated ginger
½ teaspoon grated jalapeño
Pinch of honey (optional/to taste)
Use a mandolin, or finely (carefully) shave Brussels sprouts.
Place Brussels sprouts in a bowl with soaked wakame.
Mix liquid ingredients, grated ginger, and jalapeño in small bowl and toss into Brussels mixture.
Massage lightly with your hands until incorporated and beautifully sesame-smelling.