My Perfect Summer Lunch: Vegetarian Open Sandwich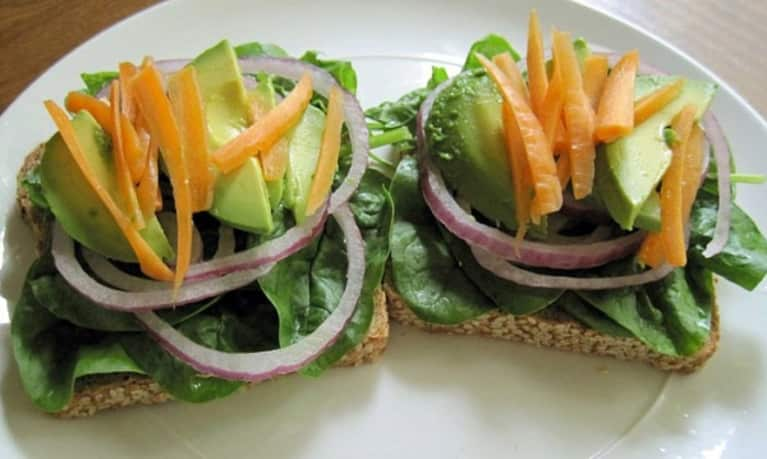 I like to keep my lunches simple, healthy, and economical, which is why this open sandwich is perfect. It's delicious, healthy, and quite frankly puts me in a good mood just looking at it. To make this sandwich all you need are sprouted bread, spinach, carrots, red onions, avocado, garlic powder, and black pepper. That's it. The red onions, garlic powder, and black pepper add natural, flavorful punch when you don't want to use condiments like mustard or mayo.
This started off being just a regular sandwich, but I had a hard time eating it since everything kept falling out. So I thought, why not turn it into an open-faced sandwich? Aside from the obvious healthfulness of this sandwich, it's also very budget friendly. I estimated this to cost no more than $1.25 per open sandwich. I can't think of any restaurant that sells a sandwich like this, with fresh organic spinach and carrots from the farmer's market, at this price.
Ingredients (makes 4 open sandwiches):
4 pieces of sprouted 100% whole grain bread
2 handfuls of organic spinach
1 avocado (cut into one-inch pieces)
1 large carrot (sliced into strips)
Red onion (sliced thin, as much or as little to taste)
Black pepper (to taste)
Garlic powder (to taste)
Directions:
Generously sprinkle garlic powder and black pepper on bread slices.
Wash vegetables, cut red onion into thin slices, cut carrots into strips, cut avocado into one-inch pieces.
Place spinach on bread, followed by rest of vegetables.