Spinach Salad with Carrots, Walnuts, and Zesty Spice Dressing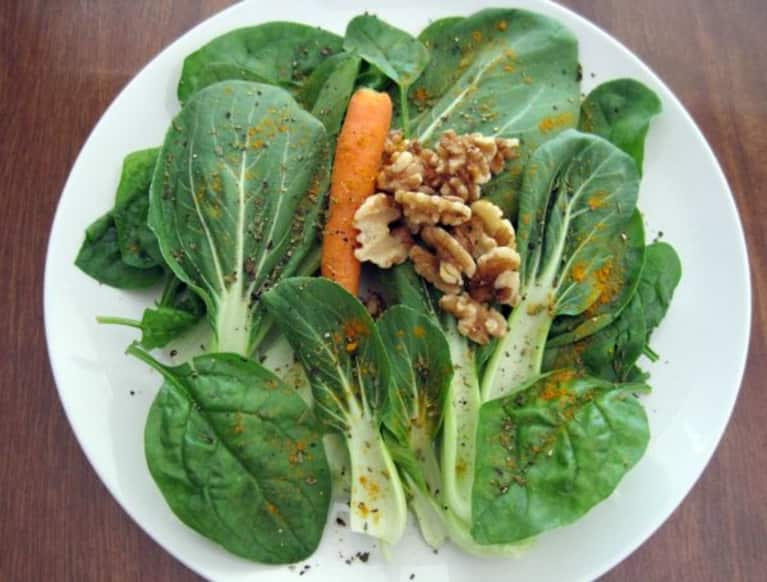 Summer for me means spending as much time outdoors as possible, but it's also a time when I incorporate raw food into my diet with fresh salads. Our favorite salad is as simple as it gets. It consists of organic spinach and carrots from the farmer's market and raw organic walnuts. We throw bok choy into the mix from time to time. Both spinach and bok choy are good sources of vitamins K, A, C, and B6, folate, potassium, and calcium. You can add whatever dark leafy green vegetables you have on hand or work better for your body. What takes this salad to another level is the "anti-cancer salad dressing" recipe I learned from Chris Wark of Chris Beat Cancer. This unique spice dressing recipe was included in his blog post about the cancer-fighting salad he eats regularly. The non-traditional dressing sounded a bit scary to me at first, and it took a few times to get used to because it was so different from the sweet and creamy dressings I grew up with, but it has now become one of the few salad dressings I use regularly. This salad is nutritious, affordable, and a breeze to prepare. I eat this salad more for its health benefits than for taste, but I always feel incredibly energized and all around good after eating it.
Ingredients:
Organic spinach
Organic carrots
Organic bok choy (optional)
Organic raw walnuts
Bragg organic apple cider vinegar
Oregano
Garlic powder
Black pepper
Turmeric
Curry powder
Cayenne pepper
Directions:
Wash vegetables and plate them along with a handful of walnuts. Drizzle about 1 to 2 tablespoons of Organic Apple Cider Vinegar over the vegetables, to taste. Sprinkle on spices, to taste. (We tend to put more oregano and black pepper, while going lighter on the cayenne pepper).