City Guide: Check Out How Yogi Tara Stiles Does New York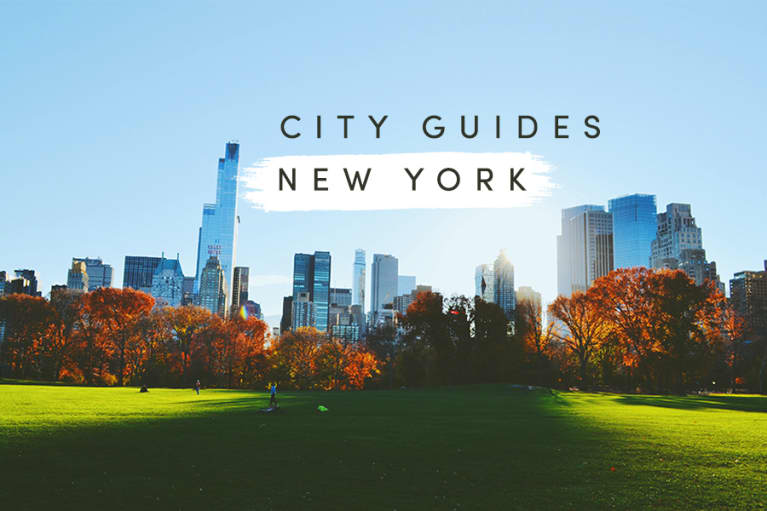 Ready for the ultimate road trip? Our new series will show you where wellness trailblazers are heading to sweat, eat, and unwind in their respective cities. Today, we're traveling through New York with Tara Stiles, the jet-setting yogi who now calls SoHo her playground.
I moved to NYC in the spring of 2000, basically the day after I finished dance conservatory in Chicago. I had visited the city several times for dance and had dreamed of living there since I was little.
My original plan (we're talking kindergarten here) was actually to become a nun and perform as a dancer at night. Blame it on my Catholic School education and my desire to help others. As I got older, I was disheartened to realize that the nun thing probably wouldn't allow me to explore other passions on the side, so I knew I had to tweak my plan a bit. My relatives told me that dancing wasn't the best way to pay the rent, and I always loved arguing for what's right, so becoming a lawyer by day instead made sense.
As it turns out, my plans weren't so far off, intention-wise anyway. They all spoke to the yoga principle of being a responsible person for the environment and for ourselves.
I got so lucky when my ballet teacher Rory Foster introduced me to yoga. I started by bringing it into my dance practice once a week. I still remember my first class, seeing the teacher sitting at the front of the room, calm, cross-legged, and radiating happiness. I knew I wanted that quality for myself.
At the time, yoga still wasn't popular, and wellness wasn't part of the city's vernacular, so everyone thought I was a bit bonkers.
Once I moved to NYC, I dove into everything—I danced with various small companies and led informal yoga sessions for friends. Then, I started a free yoga class in Central Park, made a homemade sign, and that was it. I was hooked. I used YouTube (a new platform back then) to share simple how-to videos and started writing for publications like The Huffington Post and Women's Health.
At the time, yoga still wasn't popular, and wellness wasn't part of the city's vernacular, so everyone thought I was a bit bonkers. I got a lot of criticism from the self-identified traditionalists for starting my own practice to help people feel great with yoga and standing behind the idea that yoga is for everyone. We still have a long way to go, but we've come so far.
These days, if you love wellness, NYC is your place. If you have a passion, you can live it out on these streets. I still believe that if you can make it here, you can make it anywhere, and it's so incredible that now it is considered "cool" to be healthy along the way! Here's a taste of my New York.
I take advantage of natural spaces.
NYC actually has a lot of lovely nature; you just have to step off your block sometimes to find it. These days, I live downtown in SoHo, and I love taking long walks along the West Side Highway or spending the day hiking around Central Park to get my heart pumping.
I check out the yoga every borough has to offer.
For yoga, I obviously spend a lot of time in my NoHo studio, Strala, when I'm in town. I also love visiting Eddie Stern's Brooklyn Yoga Club in Fort Greene. Eddie is incredibly experienced in traditional forms of the practice, and he always keeps it mega-fresh. You can hang out at his studio after class, read a book from his library, or ask him questions. Trust me, he'll have the answers!
Allll the plant-based cafés.
When I first moved here, a vegetarian restaurant was known as a falafel joint! Nowadays, there are so many plant-based cafés that it can get overwhelming. I prefer eating foods close to nature over the trendy vegan spots, which can be less healthy. Spring Street Natural and Angelica Kitchen are a couple of favorite go-to spots. I live really close to Dean & Deluca, so I often go there to pick up a few fresh veggies and fruits.
I take in the incredible music, dance, and culture scene.
I love checking in on the NY-based music duo Sofi Tukker when they come to town. Given my background in ballet, American Ballet Theater season at Lincoln Center is always a special time for me, and I watch Jessica Lang Dance when they're around too. San Gennaro in Little Italy is a fun celebration to walk through—it's a festival celebrating all things Italian culture.
Shiatsu, shiatsu, shiatsu
In my opinion, Sam Berlind is the best shiatsu practitioner in the world. Hands down. I'm obsessed. Shiatsu, a form of Japanese massage, is a total body, mind, and soul reset—fancy spa robe and lemon oil not necessary.
Early morning walks around SoHo are something my partner Michael and I do to restore, plan, and clear the mind.