The Perfect Mid-Season Pumpkin Gingerbread Muffin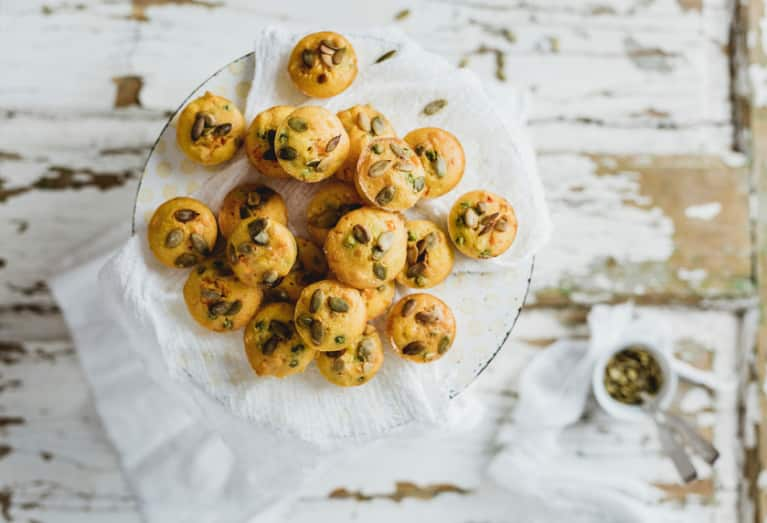 This time of year, when we're halfway between prepping for Thanksgiving and getting a head-start on our holiday gift shopping, we're looking for a baked treat that satisfies our craving for all things pumpkin, with a little gingerbread flair. These muffins are that treat.
And because they're made with wholesome (and gluten-free) ingredients, they're great for breakfast, dessert, and sharing with guests and coworkers. They're THE muffin for this hectic time of year.
Cozy Gingerbread Pumpkin Muffins
1¾ cups gluten-free flour blend (Bob's Red Mill makes a great one)
½ cup coconut sugar
1½ teaspoons cinnamon
½ teaspoon ground ginger
½ teaspoon ground cloves
1 teaspoon sea salt
1 teaspoon baking powder
2 teaspoons baking soda
½ cup chopped walnuts
⅓ cup chopped dates
½ cup vanilla almond milk
1 teaspoon apple cider vinegar
1 cup organic canned pumpkin puree
¼ cup grapeseed oil
¼ cup blackstrap molasses
Preparation
1. Preheat oven to 350°F. In a bowl, mix together the dry ingredients: flour, coconut sugar, spices, baking powder and soda, chopped dates, and walnuts.
2. In a separate bowl, whisk together the almond milk and vinegar until foamy. Then whisk the pumpkin, grapeseed oil, and molasses into the almond and vinegar mixture.
3. Slowly pour the wet ingredients into the dry ingredients, folding in small batches to ensure everything is fully incorporated and mixed well.
4. Pour ¼ to ½ cup of the batter into muffin liners and bake for 17 to 20 minutes until the center is set. Enjoy them warm, spread with almond butter, or drizzled with a little maple syrup!