Celebrating Rosh Hashanah? Make This Plant-Based Dish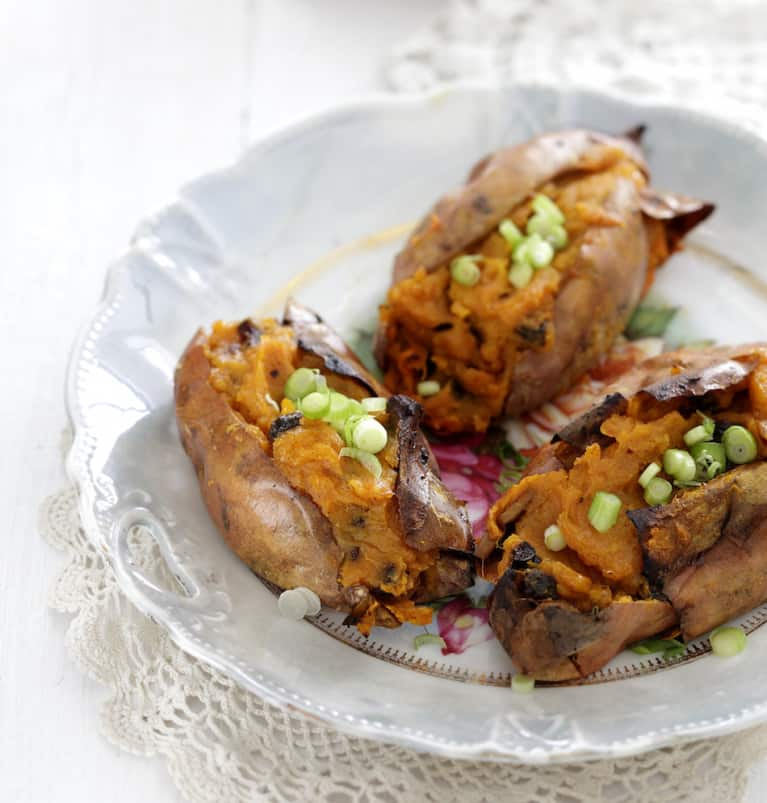 This is a new twist on classic tzimmes — a twice-baked sweet potato version.
Tzimmes (sometimes spelled tsimmes) is a traditional Ashkenazi Jewish sweet stew typically made from carrots and dried fruits such as prunes or raisins and often combined with other root vegetables.
Tzimmes is often part of the Rosh Hashanah meal, when it's traditional to eat sweet dishes. (It can be served for Pesach/Passover, too, as it meets all the kosher for Passover requirements.)
I've adapted a traditional tzimmes recipe with healthy ingredients that are all plant-based. This version is naturally sweet, satisfying, sweet smelling, visually stunning, and healthy for your body.
Twice-Baked Sweet Potato Tzimmes
4 large sweet potatoes (or yams)
Juice of 2 oranges
2 teaspoons cinnamon
¼ teaspoon sea salt, or to taste
¼ cup raw sugar or maple syrup
1 cup prunes, coarsely chopped
Garnish: 2 green onions
Preparation
1. Preheat the oven to 375°F (190°C). Place sweet potatoes on a baking sheet and bake for 1 hour, or until completely baked.
2. Remove from the oven and set aside to cool. When cool enough to handle, slice them in half lengthwise. Use a spoon to scoop out the orange flesh and place it in a large bowl. Reserve the sweet potato skins.
3. In a large bowl, mash the sweet potato flesh, adding the orange juice, cinnamon, sea salt, and raw sugar. Stir in the chopped prunes.
4. Fill the empty sweet potato skins with this mixture and place them on a baking sheet. Bake for 15 minutes, until they are golden on top. Garnish with thinly sliced green onion before serving, if desired.