You'll Want To Put These Spiced Cashews On Everything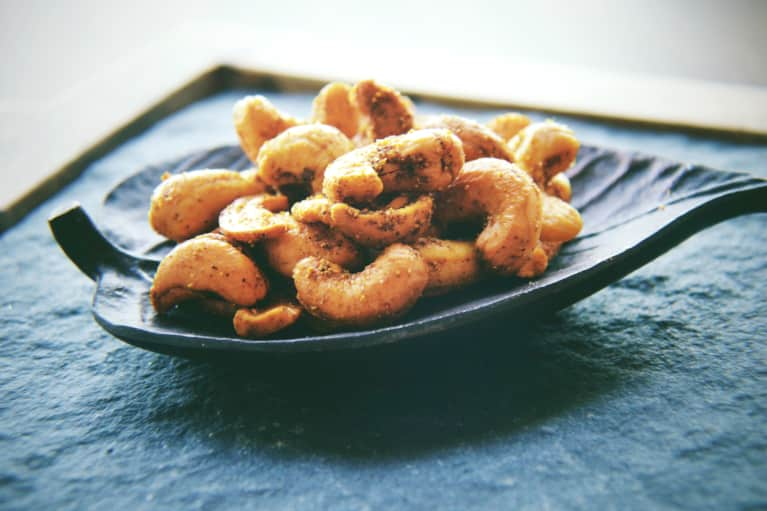 We like to lean toward simplicity and clean flavors. So every time we start a jerk dish with a blank canvas, it's always a riot how long the list of ingredients grows.
The point is that jerk is a very complex blend of spices that must work in a perfect harmony of herbal, sweet, spicy, and sour. It takes many parts to complete the whole, and nothing can be out of sync.
These cashews have made many appearances on our V Street menus over the years but most recently played a great supporting role alongside our Jerk Trumpet Mushrooms. They are terrific on top of a salad or just for snacking.
Serves 4 to 6 as a snack, 8 to 10 as a salad addition
Ingredients
2 cups unsalted cashews
1 tablespoon sunflower oil
1 tablespoon Jerk Spice (see recipe below)
Preparation
1. Preheat the oven to 350°F. Toss the cashews lightly with the sunflower oil in a medium bowl. Sprinkle with jerk spice to taste.
2. Spread the cashews in a single layer on a baking tray.
3. Bake for about 4 minutes, until the cashews are lightly golden brown. Allow to cool completely before serving. Store in an airtight container for up to 1 week.
1 tablespoon sea salt
2 tablespoons freshly ground black pepper
1½ tablespoons allspice
¼ teaspoon plus ⅛ teaspoon ground cloves
¾ teaspoon nutmeg
1½ teaspoons cayenne pepper
1½ teaspoons cumin
1½ teaspoons curry powder
¾ teaspoon cinnamon
Preparation
Combine all of the ingredients in a small bowl until thoroughly mixed. Store in an airtight container for up to 2 weeks.