PB & J Thumbprint Breakfast Cookies + 2 Other Plant-Powered Morning Meals
Our editors have independently chosen the products listed on this page. If you purchase something mentioned in this article, we may
earn a small commission
.
Angela Liddon of the popular vegan blog Oh She Glows knows a thing or two about making filling and delicious plant-based breakfasts.
Today we're sharing a few recipes from her newest cookbook, Oh She Glows Every Day, to help you start your day on the right foot.
This recipe is a great savory breakfast option, and it comes together in less than 30 minutes.
Try making it at the peak of summer, when you can enjoy the fresh, sweet flavors of corn, bell pepper, and juicy cherry tomatoes.
Serves 3 or 4
Ingredients
1 tablespoon (15 mL) extra-virgin olive oil
1 small onion, diced (about 1½ cups/ 375 mL)
1 red bell pepper, sliced into thin strips
1 medium jalapeño, seeded and minced (optional)
½ cup (125 mL) frozen or fresh corn
1 (14-ounce/398 mL) can black beans, drained and rinsed, or 1½ cups (375 mL) cooked black beans
½ cup (125 mL) fresh tomato salsa
1 teaspoon (5 mL) ground cumin
1 teaspoon (5 mL) garlic powder, or to taste
½ to ¾ teaspoon (2 to 4 mL) fine sea salt, to taste
1 cup (250 mL) fresh cilantro, roughly chopped, plus more for garnish
6 medium or 8 small corn or flour tortillas
1 large avocado, pitted and sliced
Fresh lime juice, for serving
Preparation
1. In a large skillet or wok, heat the oil over medium heat. Add the onion and sauté for 5 minutes, or until the onion is translucent.
2. Add the bell pepper, jalapeño (if using), and corn, and cook for 5 minutes more, or until the peppers soften.
3. Stir in the beans, salsa, cumin, garlic powder, and salt. With a fork, lightly mash some of the beans, if desired, leaving most of the beans intact. (This gives it a bit of a refried bean texture, but it's optional.) Cook for 3 to 5 minutes more, until the mixture is heated through and the vegetables are tender. Stir in the cilantro just before serving.
4. Warm the tortillas just before serving, if desired (see Tip).
5. Divide the bean mixture among the tortillas, and serve with sliced avocado, salsa, and cilantro. Squeeze some fresh lime juice on top of each tortilla.
6. Store any leftover bean mixture in an airtight container in the fridge for up to 3 days, or you can freeze the rancheros for up to 1 month. Simply assemble each ranchero in a wrap, wrap it in a layer of parchment paper and foil, and place in a freezer bag. To thaw, remove the foil-wrapped rancheros from the bag and place in a 400°F (200°C) oven for 20 to 25 minutes, flipping halfway through, until warmed throughout.
PB + J Thumbprint Breakfast Cookies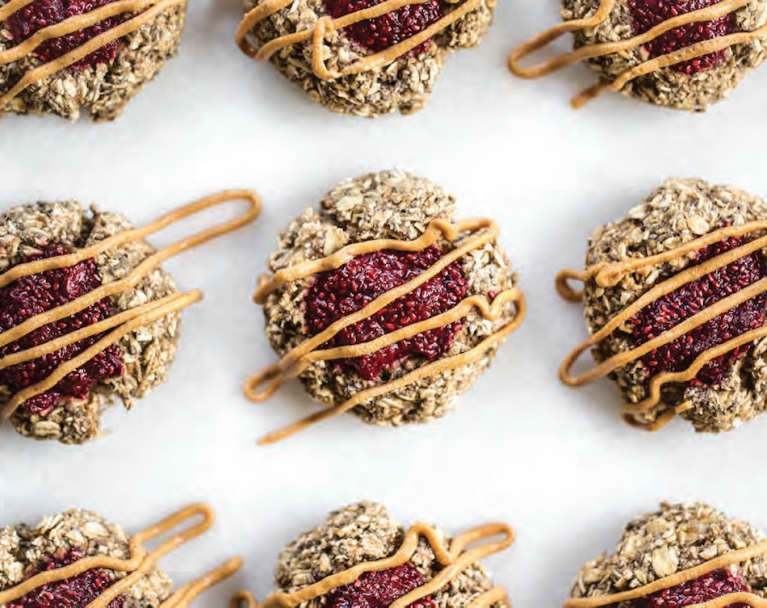 These wholesome cookies are soft, very dense, and mildly sweet, thanks to the addition of fresh, ripe banana. Rolled oats give them a pleasantly chewy texture. I like to think of them as portable baked oatmeal.
They're also a perfect option for breakfast on the go ... that's if you can keep yourself from eating them that long (I never can).
Prepare them at the start of the week and grab a few as you leave the house on busy mornings, or simply have them on hand for a healthy snack.
Have fun adding different mix-ins to the recipe, like chopped nuts or seeds, or using different flavors of jam. I always pop some in the freezer for later, as they freeze and thaw beautifully.
Makes 8 large cookies
Ingredients
2 cups (500 mL) gluten-free rolled oats
1 cup (250 mL) mashed very ripe banana (about 2 extra-large)
3 tablespoons (45 mL) chia seeds or ground flaxseed
1 teaspoon (5 mL) ground cinnamon
⅛ teaspoon (½ mL) fine sea salt
8 heaping teaspoons of your favorite jam
¼ cup (60 mL) smooth peanut, almond, or sunflower seed butter, for serving (optional)
Coconut oil or coconut butter, for serving (optional)
Preparation
1. Preheat the oven to 350°F (180°C). Line a baking sheet with parchment paper.
2. In a food processor, add the oats and pulse until the oats are coarsely chopped. Avoid processing them into a powder—you still want some texture.
3. Transfer the oats to a large bowl. Add the banana, chia seeds, cinnamon, and salt, and stir to combine.The mixture should be very wet and dense.
4. With a retractable ice cream scoop or a spoon, scoop the dough into 8 mounds, placing them at least an inch (2½ cm) apart on the baking sheet. Press your thumb into the center of each cookie to create a well. Fill each well with 1 heaping teaspoon (6 mL) of jam.
5. Bake the cookies for 11 to 13 minutes, until they are slightly firm but still soft and doughy in the middle. Transfer the cookies to a cooling rack and let cool for 10 minutes or so.
6. Spoon the nut butter into a plastic baggie and snip off one corner. Pipe the nut butter over the cookies. Alternatively, you can skip this step and simply enjoy the cookies as they are, or serve them with a pat of coconut oil or coconut butter. The cookies will keep in an airtight container in the fridge for a few days, or you can wrap them in plastic wrap and place into an airtight container or zipper bag in the freezer for 2 to 3 weeks.
Roasted Hazelnut-Almond Granola Clusters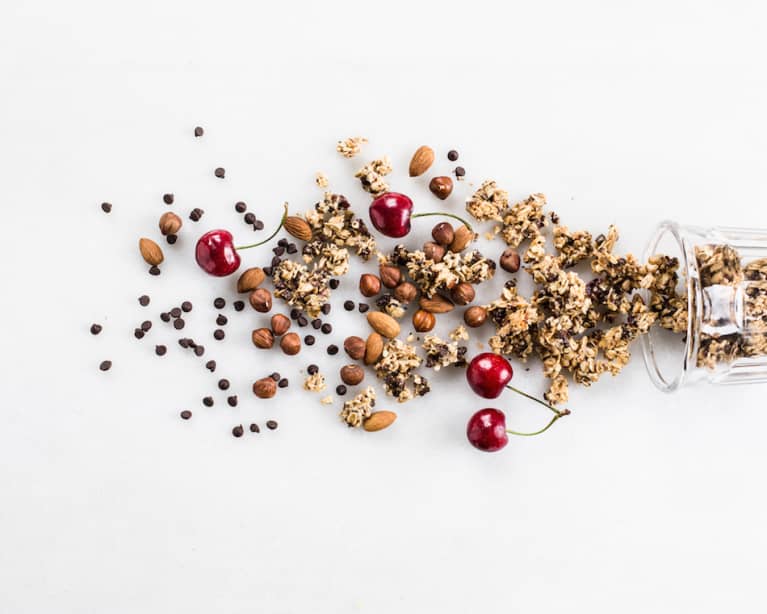 Oh, this granola. It has become an obsession for me and for Eric, who loves it as much as I do. The first time I made it, I knew it had to go into this book.
It's stolen the hearts of everyone who has tried it, from my recipe testers to family and friends. The granola is brimming with fragrant toasted hazelnuts and almonds, and it's studded with chocolate chips and dried cherries.
Binding it all together is a decadent mixture of maple syrup, coconut oil, and my homemade Roasted Hazelnut-Almond Butter, which brings out the naturally nutty flavor of the granola. If you don't want to make the Roasted Hazelnut-Almond Butter, you can substitute raw or roasted almond butter in a pinch.
Hard as it is not to keep this granola all to yourself, it makes a lovely homemade gift for the holidays, too. Just allow it to cool completely and then fill up a mason jar and add a ribbon and tag. It's easy and festive, and your friends and family will be just dying for the recipe!
Ingredients
3/4 cup (175 mL) raw hazelnuts
1/2 cup (125 mL) raw almonds
1 1/3 cups (325 mL) gluten-free rolled oats
1/2 cup (125 mL) unsweetened shredded coconut
1/4 cup plus 2 tablespoons (90 mL) non-dairy mini chocolate chips
1/2 cup (125 mL) dried cherries, finely chopped
2 tablespoons (30 mL) chia seeds
1/4 teaspoon plus 1/8 teaspoon (1.5 mL) fine sea salt
1 tablespoon (15 mL) virgin coconut oil
4 1/2 teaspoons (22 mL) brown rice syrup
1/4 cup (60 mL) Roasted Hazelnut-Almond Butter or roasted almond butter
1/3 cup (75 mL) pure maple syrup
2 teaspoons (10 mL) pure vanilla extract
Preparation
1. Preheat the oven to 300°F (150°C). Spread the hazelnuts over a small baking sheet and the almonds over another small baking sheet. Put both in the oven and roast for 12 to 14 minutes, until the hazelnut skins have darkened, cracked, and are almost falling off. Let the nuts cool on the sheet for 5 minutes or so. Transfer the hazelnuts to a damp dishcloth and rub vigorously until most of the skins fall off.
The goal is to remove most of them, but a few stragglers are okay! Chop the hazelnuts and almonds and set aside.
2. Line a large baking sheet with parchment paper and keep the oven set to 300°F (150°C). In a large bowl, stir together the chopped hazelnuts and almonds, oats, shredded coconut, chocolate chips, cherries, chia seeds, and salt.
3. In a small pot, melt the coconut oil over low heat. Transfer it to a small bowl and whisk in the brown rice syrup, hazelnut-almond butter, maple syrup, and vanilla until smooth. (Normally I would just whisk everything into the pot to save a dish, but for this recipe we don't want the wet mixture to become warm and melt the chocolate chips while mixing.)
4. With a spatula, scoop the wet mixture on top of the dry mixture, being sure to get every last drop. Stir well until thoroughly combined.
5. Scoop the granola mixture onto the prepared baking sheet and spread it out into a thin layer, no more than 1/4- to 1/2-inch (5 mm to 1 cm) thickness. Try to space out the granola as much as possible so it has room to breathe while cooking.
6. Bake for 10 minutes, then rotate the pan and bake for 8 to 12 minutes more, until the bottom and edges of the granola are just starting to turn golden (the granola itself will still look a bit pale in color). The granola will get crispy as it cools.
7. Let the granola cool completely on the baking sheet, then break it ap art into clusters. It will keep in an airtight container in the fridge for 3 to 4 weeks or in a large zip-top freezer bag in the freezer for a couple of months. Be sure to press all the air out before freezing (or use a straw to suck out all the air from the bag.)
​Reprinted from Oh She Glows Every Day by arrangement with Avery, a member of Penguin Group (USA) LLC, A Penguin Random House Company. Copyright © 2016, Angela Liddon