An Orange-Mango Creamsicle Smoothie To Sip Poolside
This recipe was born from envy and disappointment.
That sounds awful, but let me elaborate.
Too often I find myself sitting on a sunny restaurant deck, basking in the sun, sunglasses and flipflops on, only to have my summer mojo brought to a screeching halt.
It comes time to order some fun, fruity drinks with umbrellas, and I'm usually left out. The only fun, summa-time drinks on the menu are loaded with artificial ingredients, milk, cream or other things I generally decline, politely, of course.
After one too many boring lemonades, I decided it was time to take my summer sipping into my own hands and make my own festive and delicious beverage, one deserving of a colorful, swirly straw! So on a hot day, when looking for a healthy, vegan, and thirst-quenching drink, you can slurp on this Orange-Mango Creamsicle Smoothie.
Bursting with bright citrus and refreshing mango and thickened with decadent cashews, it's sure to please and bring smiles to suntanned faces everywhere.
So put your foot down, Mason jars up, and enjoy!
Orange-Mango Creamsicle Smoothie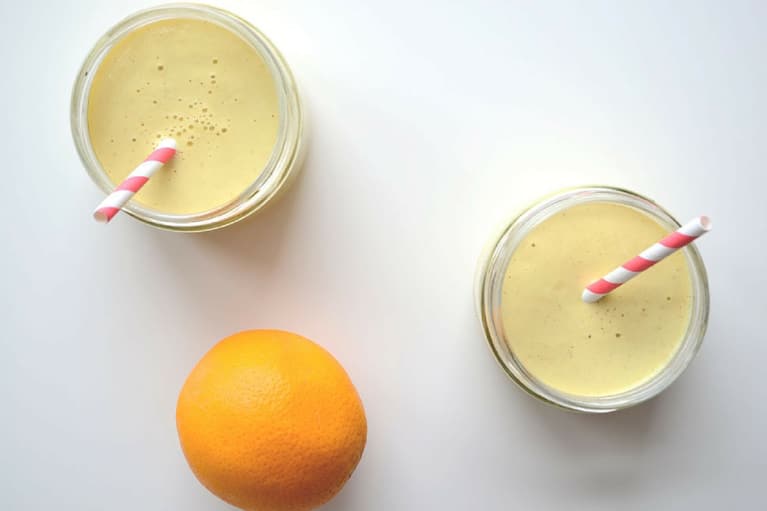 Serves 1 large or 2 small
Ingredients
¼ cup raw cashews
2 medjool dates, pitted
1 large orange, peeled and seeds removed
½ cup frozen mango
1 cup unsweetened almond milk
4 ice cubes
¼ teaspoon cinnamon
Preparation
1. Soak the cashews and pitted dates in a bowl of warm water for about 20 minutes. Then drain, discard water, and add the cashews and dates to a blender.
2. Add all remaining ingredients, and blend on high until a smooth consistency is reached.
3. Serve as is, or, for the hottest of summer days, pour the smoothie into glasses filled with ice. Enjoy!