Savory Breakfast Ideas For When You're Over Fruity Smoothie Bowls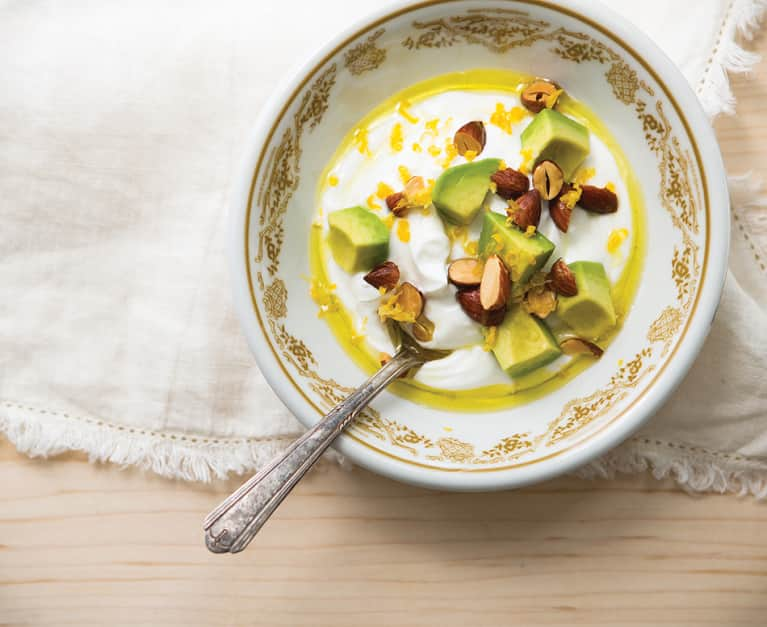 Our editors have independently chosen the products listed on this page. If you purchase something mentioned in this article, we may
earn a small commission
.
Get out of a sweet breakfast rut with these quick and easy ideas.
Hang on to your hats, people. This recipe may strike you as a little strange, but do as I did when my friend Liz told me about her savory breakfast bowls: Don't knock it till you try it.
If you consider that much of the world eats yogurt with salt and spices (think Indian raita and Greek tzatziki), you'll realize that we're just a little late to the game. The yogurt here is perfumed with lemon zest and topped with creamy avocado and toasted almonds. Talk about healthy fats!
It's not a big breakfast but delivers a nutrient-dense package that will have everyone bright-eyed and bushy-tailed all morning long.
1 cup plain Greek yogurt
1 teaspoon extra-virgin olive oil
Salt
½ lemon
½ large ripe avocado, cut into small cubes
⅓ cup chopped or slivered toasted almonds
Preparation
1. Spoon the yogurt into 2 small serving bowls, such as cereal bowls. Drizzle the olive oil over the 2 bowls and add a tiny pinch of salt to each.
2. Zest enough lemon rind over the yogurt so that it looks like a little shower of lemon "snow" on top. Stir well. Top with the avocado and a few drops of fresh lemon juice. Sprinkle a tiny pinch of salt over the avocado and then top with the almonds.
Boost It: This recipe is extra tasty with zest from a Meyer lemon. It's also particularly good if you toast the almonds yourself and add them to the yogurt while they are still warm from the oven.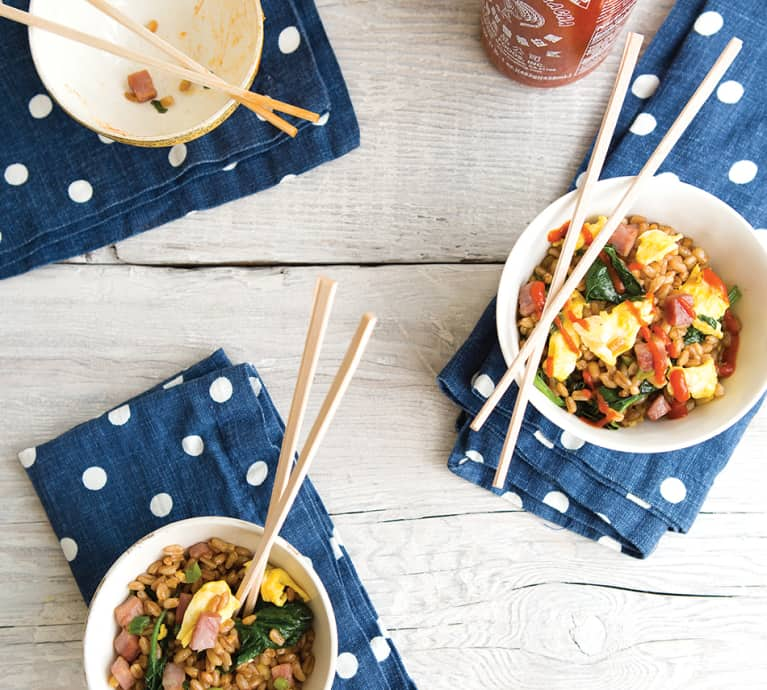 The idea for this fried rice sprang from a conversation with fellow parent Dan Duane while we waited with our kids at the bus stop one day.
It's an enormously flexible recipe that can be made with farro, spelt, or another sturdy grain in place of rice. It's even better when the rice is a day or so old because it tends to crisp up and absorb the other flavors in the pan even better.
Feel free to substitute any chopped leftover vegetables for the spinach. I use a little more egg than in typical fried rice because, well, it is breakfast, after all.
Serves 3 or 4
Ingredients
2 tablespoons extra-virgin olive oil, divided
3 cups cooked brown rice, or farro, spelt, or sorghum
½ cup chopped ham
3 eggs, lightly beaten
4 scallions, thinly sliced, white and light green parts only (about ⅓ cup)
2 large handfuls baby spinach
1 tablespoon seasoned rice vinegar
1½ teaspoons soy sauce
Sriracha or other hot sauce (optional)
Preparation
1. Pour 1 tablespoon of the olive oil into a large skillet over medium-high heat. Add the rice and ham and cook, stirring regularly, until heated through, about 2 minutes (for a finished dish with a little more texture and crunch, cook an additional 1 to 2 minutes).
2. Push the rice far over to one side of the skillet. In the empty part of the pan, add ½ tablespoon of the remaining olive oil. Add the eggs and scramble them just until cooked through. Scoop up the eggs and put them on top of the rice.
3. Pour the remaining ½ tablespoon of olive oil into the empty part of the pan and add the scallions. Sauté for about 1 minute to soften. Add the spinach and sauté just enough to wilt. Stir everything together in the pan thoroughly. Add the rice vinegar and soy sauce and stir again.
Serve with sriracha on the side, if desired.
Boost It: When you add the scallions to the pan, add a clove of thinly sliced garlic and/or a 1-inch piece of fresh ginger, finely chopped.