3 Recipes That Prove Summer Is The Best Time To Eat Soup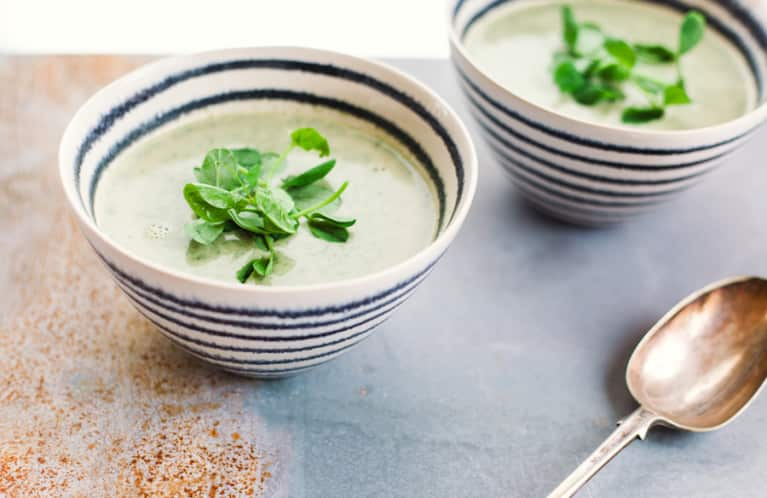 Summertime soup is a well-kept secret among many nutrition experts, and for good reason.
In warmer months, our bodies crave more hydration, especially if we're working out in the hot summer sun. We often reach for juices or fruit-based smoothies to double up on hydration and nutrition, but many of these options can be high in sugar.
Soups, on the other hand, are hydrating, high in fiber, low in sugar, and great at replenishing the electrolytes like sodium, calcium, and potassium lost in sweat. Cooked vegetables also produce less gas and bloating than raw produce, and their combination of water, fat, and complex carbohydrates keeps you hydrated and satisfied.
All this adds up to an eating experience that's easy on your digestive system, efficient at delivering nutrition, hydrating, and delicious! Here are three of my favorite soups that are perfect for summer:
1. Chilled Chickpea-Avocado Tahini Puree
½ pound dried chickpeas, soaked overnight and drained, or 1 can (15 ounces) low-sodium chickpeas, rinsed and drained
1½ quarts water plus more as needed (reduce to 1 quart if using canned beans)
1 cup ice
2 tablespoons tahini
1 tablespoon chopped fresh chives
3 very ripe avocados, halved and flesh scooped out
Peel 1 lemon, grated (about 2 teaspoons)
Juice of 1 lemon
Peel 1 lime, grated (about 2 teaspoons)
Juice of 1 lime
1½ teaspoons sea salt (omit if using canned beans)
Preparation
1. In a medium pot over medium-high heat, simmer the chickpeas and water for 25 minutes or until the chickpeas are very tender. Drain the liquid. (Skip this step if using canned chickpeas.)
2. In a countertop blender, add the chickpeas, ice, tahini, chives, avocados, lemon peel, lemon juice, lime peel, lime juice, and salt. Blend until a smoothie-like consistency, adding more water as needed.
2. Creamy Cocoa with Sweet Potatoes
1 large sweet potato, peeled and cut into 2-inch chunks (about 2 cups)
⅓ cup black rice
1 cup water
1 tablespoon 100 percent cocoa powder
Pinch of ground red pepper
Pinch of ground black pepper
½ teaspoon sea salt
1 can (15 ounces) coconut milk
Preparation
1. Place a steamer basket in a large pot with 2 inches of water. Bring to a boil over high heat. Steam the sweet potato in the basket for 12 minutes or until the potato is very soft and easily pierced with a knife. If you do not have a steamer basket, fill the pot with 1 inch of water and bring to a boil over high heat. Add the sweet potato. Reduce the heat to low, cover, and cook for about 10 minutes. Allow the potato to cool to room temperature. Reserve the water.
2. Meanwhile, in a medium pot over high heat, combine the rice and water, cover, and bring to a simmer, Reduce the heat to medium-low and cook for 40 minutes or until the rice is tender.
3. In a countertop blender, combine the potatoes, the reserved steaming water, cocoa powder, red pepper, black pepper, salt, and coconut milk. Puree to a smoothie consistency.
4. Stir in the black rice. Enjoy warm or chilled.
Honeydew with Matcha and Mint
1 tablespoon matcha powder
¼ cup boiled water
½ honeydew melon, cut into 1-inch chunks (about 4 cups)
12 ounces coconut water
¼ cup shredded coconut
½ cup loosely packed fresh mint
½ cup loosely packed fresh basil
1. In a small bowl, whisk the matcha powder into the water to dissolve.
2. In a countertop blender, combine the tea, melon, coconut water, coconut, mint, and basil. Puree to a smoothie-like consistency.
3. Pour over ice.