6 Ways To Find Your Soul Mate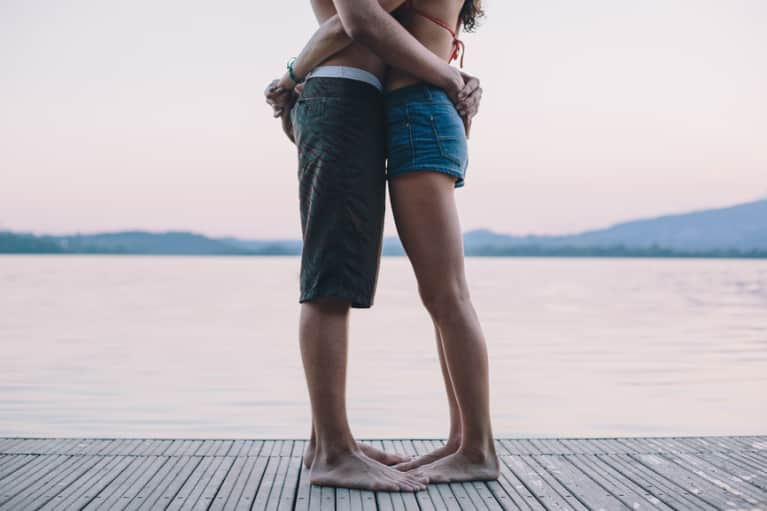 Full transparency: I might qualify for the Guinness World Record for failed relationships.
I got engaged to my college sweetheart before graduation but broke that off. Then I got married to someone totally wrong for me right out of college because I was supposed to (according to my mom). I had another engagement that was broken off, got married to the husband I eventually had kids with, and after that divorce got into several long-term relationships.
At several points during this journey, I questioned whether I was looking for a unicorn that doesn't exist. Eventually, I decided I should probably settle.
But after trying and trying, I realized I wouldn't be happy unless I found that person—or learned to be happy alone. And I met the absolute love of my life.
Now that I'm engaged to my fiancé Tim, I realize I've never actually been in love before. I know that sounds crazy, having been married and engaged multiple times, but it's true. I finally get it.
That long, challenging journey to finding the love of my life feels so worth it. Along the way to finding lasting love, I learned many lessons. Here are six of the things I learned that helped me find Tim:
1. Don't try to appeal to everyone.
I created an online profile, just as you would when creating a job description, with the goal of attracting the right people and repelling the wrong ones. I wasn't trying to be all things to all people.
2. Don't sell yourself short.
I had one guy tell me, "Oh, I don't like strong, independent women." Rather than water down my profile, I built it up. "I'm a four-time New York Times–bestselling author," I wrote. "I'm here to build a legacy. I work a lot. I'm passionate about it. I'm looking for someone who lives their life on purpose and is on a mission as well." I'm not going to downplay the traits that make me who I am, and neither should you.
3. Do the work on yourself.
I did a lot of work on myself the last summer before I met my fiancé. I stared my emotional blocks dead in the face and dealt with them. You want to go into the dating game being your very best self. You also want to find someone who's done the work to be their best self, which Tim had done. It's always a process. I've got more to do, but I completed a lot of work. Once you've done that, be completely you.
4. Have a phone conversation.
I got super clear on what I was looking for and subsequently went out on a lot of dates. They had to clear a lot of hurdles before we got there, though. I knew I was looking for a needle in a haystack, but I think you can find out a lot just by getting on the phone with someone. That filters out a lot of people before you spend the time going on a date.
5. Make sure they get along well with your friends.
My second date with Tim involved a bunch of my friends. He rolled with them perfectly. They all love him. We were out until 2:30 in the morning having the best time, and he fit in perfectly.
6. My biggest lesson from this journey: Don't settle. Trust your gut.
I kept trying to settle into a relationship because I kept thinking that the person I was really looking for didn't exist. Knowing how I feel now and what it feels like to be truly supported, I realized I've been settling my entire life. Keep putting yourself out there and trust the process.
Related reads:
In order to be your best self in your relationships—whether it's with a friend, family member, or partner—you need to FEEL your best, inside and out. Ready to learn more about how to become your most vibrant self? Register now for our FREE Functional Nutrition Webinar with Kelly LeVeque.