Superstar Yogi Caley Alyssa Shares The Beauty Rituals That Keep Her Balanced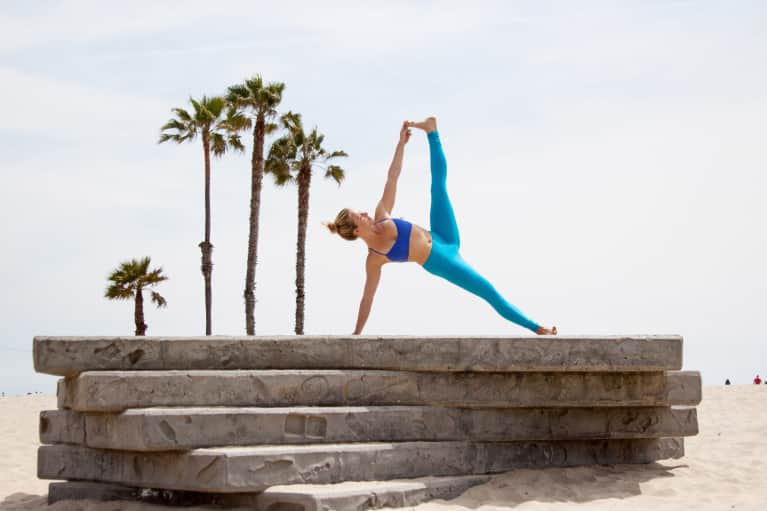 Our editors have independently chosen the products listed on this page. If you purchase something mentioned in this article, we may
earn a small commission
.
Caley Alyssa's passion for yoga and love for connection has parlayed into a global social media community that's blooming. With summer in full swing, her novel beauty and wellness ideas will teach you how to power-up your daily rituals as the asphalt temperature continues to rise. From clever hacks—like a delicious herbal morning potion—to a swoon-worthy curation of natural products, Caley's take on what "skin deep" really means hits our sweet spot.
I always start off my morning with a hot herbal concoction to get my system moving and wake me up! This includes a kaleidoscopic mix of powders: matcha green tea, Bloom Pure Raw Honey, maca powder, Philosophie Love Cacao Magic & Green Dream powder, Mattole Valley Vanilla Naturals Plant Protein no.1 mixed with Bulletproof Brain Octane Oil, cinnamon, turmeric, ginger, black pepper, and steaming hot water. I blend it all up in my Vitamix to create a warm and frothy little beverage I can sip on while I teach or work on my computer. If I really need a pick-me-up, sometimes I'll add in a cold brew from Stumptown Coffee. I love having this first thing because it hydrates me, and it's a deliciously happy morning ritual to wake up to. It also gives me a chance to get my system going before eating a big meal or making a smoothie, and the best part is that I can sip on it while I teach my early morning classes. Bonus!
From time to time, I like to introduce Herbal Junction, a potent plant elixir—similar to Kombucha—and made with lots of love in Oregon. My favorite flavors are Mate Way and Love Potion #9, and they're brilliant to drink at a party instead of alcohol—they give you that natural "buzz" without any negative impact the following day.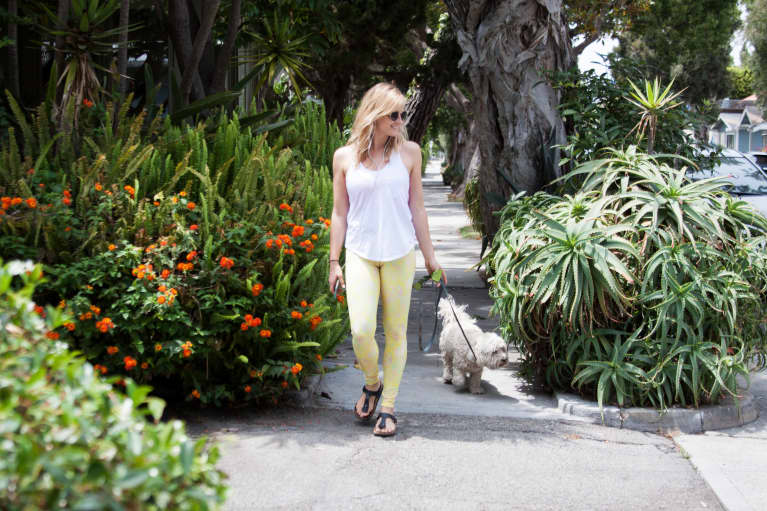 When I'm not practicing yoga, I love to go climbing at the Cliffs of Id, a local rock wall gym in Culver City. I go there twice a week and to Boulder too, where I hike with my dogs and run on the beach—nontraditional workouts where I can be in nature are always treasured. Otherwise it's on the yoga mat at home or with one of my favorite local teachers like Chad Hamrin, Jerome Mercier, or Vytas Baskaskaus. Vytas is my boyfriend so I'd say I'm a little biased! Depending on how much time I have, sometimes I'll practice for 15 minutes or an hour. I love practicing in the morning because I'm such an early bird and by the end of the day I'm exhausted and just want to relax. My favorite pose to reduce stress is lying with your legs up against a wall (Viparita Karani). To optimize health, it's the yogic squat, Malayan.
I have a trick for my smoothies that I learned from my old roommate. I get a big tub of prewashed kale or spinach and put it straight into my freezer with a few ripe bananas. This way, when I make my smoothies, they are colder, thicker, and generally yummier from being frozen. Then I add almond milk, the same Philosophie Superfood powders I put in my morning herbal drink and Artisana Organic Walnut Butter or avocado for a good fat source. Sometimes I add in fresh mint and cacao nibs to make my healthy take on a beloved mint chocolate chip milkshake.
To restore, I luxuriate in the tub with an array of different bath salts, mostly Epsom, but really any I can get my hands on. When I need something more restorative, I'll go to the Olympic Spa, a local Korean bathing house that does the best scrubs and deep tissue massages. I do make the time to meditate once a day and sometimes twice if time allows. I have a beautiful space in my home where I'll go to be quiet, and I find it helps to have a room or a corner picked out so it becomes a happy ritual you look forward to. I am trained in TM, which uses a mantra, but I practice all kinds of techniques. One of my favorite guided apps is called Into the Vortex by Abraham Hicks. I also enjoy the 1giantmind guided app. I don't normally use props other than something comfy to sit on.