The Vegan + Kosher Chocolate Chip Cookies That Will Win Passover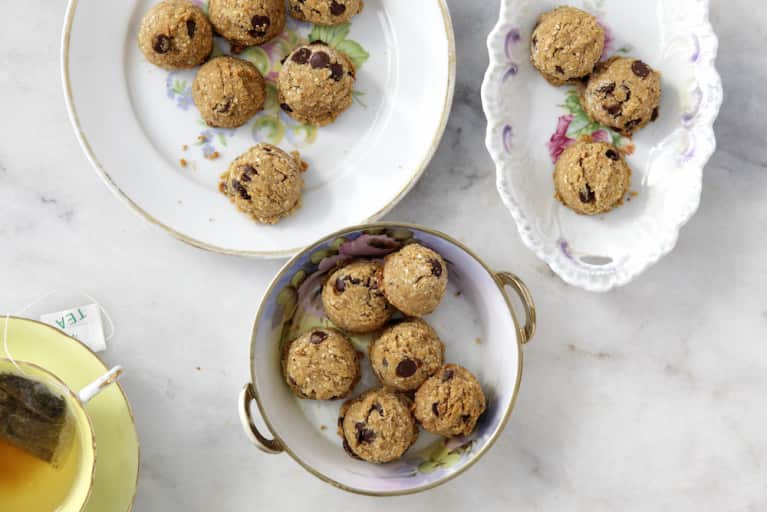 During Passover, it feels nice to enjoy nourishing homemade treats that are good for us. I've adapted a traditional chocolate chip cookie recipe with healthy ingredients that are all plant-based and kosher for Passover.
Everyone from your kids to your husband to your mother and mother-in-law won't be able to keep their hands off these.
These cookies are Pesach-friendly* and you can make them with either white beans or sweet potatoes (trust me on this) depending on your dietary preference.
The recipe below yields a dozen cookies—which I can tell you from experience will go quickly—so make two or three batches for the holiday, depending on how many guests you'll be hosting.
Nutty Chocolate Chip Cookies
Makes 12 cookies
Ingredients
1¼ cups cooked white beans (for those who eat beans on Pesach) or cooked sweet potato puree (for those who do not eat beans during the holiday)
¼ cup natural almond butter
1 teaspoon vanilla extract
¼ cup honey or 2 tablespoons sugar
1 teaspoon baking powder
¼ teaspoon salt
½ cup matzo meal (can use gluten-free matzo meal)
3 tablespoons chocolate chips (use a dairy-, nut-, and soy-free version)
Preparation
1. Preheat the oven to 350°F. Line two baking sheets with parchment paper.
2. Rinse white beans multiple times with the colander. Put white beans (or sweet potato puree), almond butter, vanilla, sugar, baking powder, and salt into a food processor.
3. Mix until very smooth, scraping down the sides of the container when necessary. Transfer the dough into a mixing bowl and fold in the matzo meal and chocolate chips.
4. Place rounded tablespoons of the dough evenly spaced 2 inches apart on the baking sheets. Bake for approximately 20 to 24 minutes or until they turn golden brown.
5. Remove the cookies from the baking sheet and allow them to cool before serving or storing.
*Passover traditions vary widely, and some foods are eaten only in some communities on the holiday. This menu assumes the broadest definition of "kosher for Passover" ingredients.