Sautéed Pear Gluten-Free Pancakes (Made With Chickpea Flour!)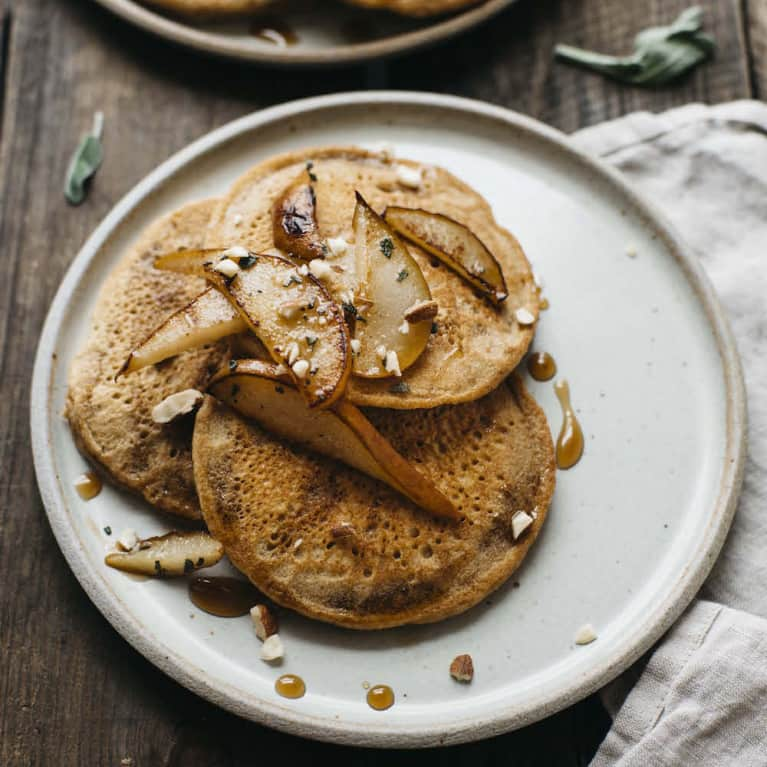 Gluten-free pancakes were something that eluded my kitchen for quite some time after I went gluten-free. The batter was always too runny, and the pancakes never held together long enough to be flipped over. Then, I read an article that simply said to increase the amount of flour to reach a consistency that was thicker, and I've never looked back.
These pancakes are slightly sweet and hearty without being dense, hold together perfectly, and are just as delicious when eaten as leftovers.
Sautéing the pear slices is a really quick and tasty way to soften and warm them, and the sage is great for making this morning meal not too sweet. While the pears may be sweet enough for some, I really like drizzling these pancakes with warmed maple syrup.
Sautéed Pear + Sage Pancakes With Almonds
Serves 4
Makes 8 to 10 pancakes
Ingredients
¾ cup (90 g) chickpea flour
¾ cup (85 g) oat flour
1 tablespoon cane sugar
1 teaspoon ground cinnamon
½ teaspoon baking powder
¼ teaspoon baking soda
¼ teaspoon sea salt
1 large egg
1 cup (240 ml) almond milk
2 tablespoons extra-virgin olive oil
½ teaspoon pure vanilla extract
1 tablespoon plus 1 teaspoon coconut oil
1 firm but ripe pear, cored and sliced thin
1½ teaspoons minced sage, plus extra for garnish
¼ cup (35 g) toasted almonds, roughly chopped
Maple syrup
Preparation
1. Preheat oven to 200*F (95*C) and line a baking sheet with foil; set aside.
2. In a large mixing bowl, combine the flours, sugar, cinnamon, baking powder, baking soda, and salt. In a separate bowl, whisk together the egg, milk, olive oil, and vanilla. Gently pour the wet ingredients into the dry, mixing thoroughly to combine.
3. Heat a large skillet over medium heat; add 2 teaspoons coconut oil; once melted, add 2 tablespoons of batter for each pancake. Cook 2 to 3 minutes on each side; place the cooked pancakes on the baking sheet and place in the oven to keep warm. Repeat with the remaining batter, adding more coconut oil to the skillet as needed.
4. While the pancakes are keeping warm, heat the same skillet over medium heat. Melt the remaining 2 teaspoons of coconut oil; add the pear slices (reserving some slices for garnish) and cook, stirring occasionally, until lightly browned, 4 to 5 minutes. In the last 30 seconds, add the minced sage and cook until wilted and fragrant.
5. Plate pancakes; top with a few pear slices, sage, almonds, and syrup.
Want more?