10 Steps To Create Your Own Altar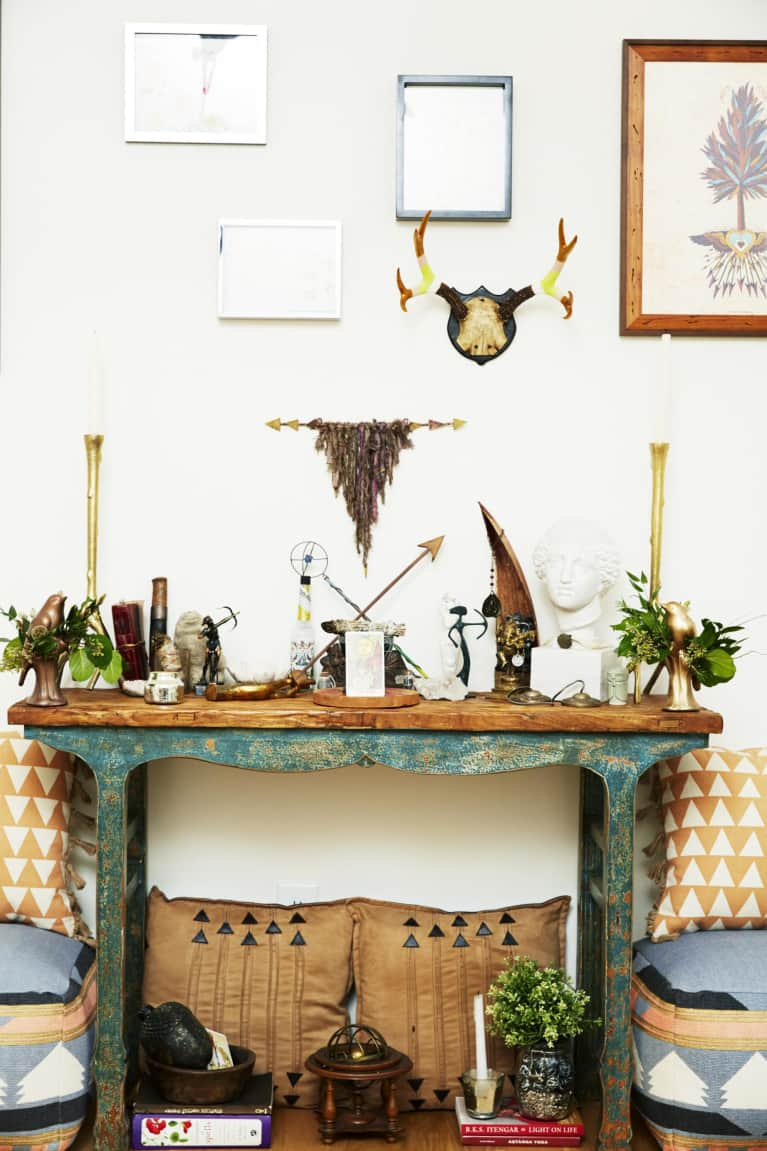 Our editors have independently chosen the products listed on this page. If you purchase something mentioned in this article, we may
earn a small commission
.
Kathryn Budig is an internationally celebrated yoga teacher who has spent the last decade teaching students to aim true on and off the mat through workshops all over the world. We're excited to share her wisdom here, and if you want even more of her Aim True philosophies, be sure to check out her newest mindbodygreen course, Aim True: A 21-Day Journey to Find Your Purpose, Ignite Your Passion and Love Yourself.
We can be connected and spiritual anywhere in the world, but it helps to create a space conducive to appreciation, gratitude, and connection. An altar can be an entire room or a small table with symbolic items on it. Create an altar the way you would decorate a mantel—full of images and symbols that create good feelings and memories. Here are some ideas for what to include:
Symbols of hope and inspiration. (My altar has my childhood teddy bear to remind me to be playful and a wand that my mother gave me to remind me that magic is real and I can create it.)
Pictures of your loved ones, teachers, and people who inspire you.
Sculptures/physical representations of deities. (What deities do you relate to? This can be Shiva, the Virgin Mary, or even Artemis.)
Beautiful, living things (plants, flowers).
Storage for yoga and spirituality books.
Something to write with and a sacred journal. (It's also a good place to store important letters or notes.)
Candles, incense, and holders to help you relax or focus, to be lit and extinguished at the beginning and end of a practice.
A fireproof bowl in which to burn incense, resin, and paper inscribed with things you want to let go of.
A bundle of dried sage to burn and cleanse the space before a practice. (I'll sage myself to dispel negative energy after a practice around frustrating people or situations.)
Mala beads (for Japa meditation practice) to keep them energetically charged.
From
Aim True
by Kathryn Budig. Copyright © 2016 by Kathryn Budig. Reprinted by permission of William Morrow Books, an imprint of HarperCollins Publishers.