The Genius Ingredient Behind These Amazing Brownies Is Probably In Your Cabinet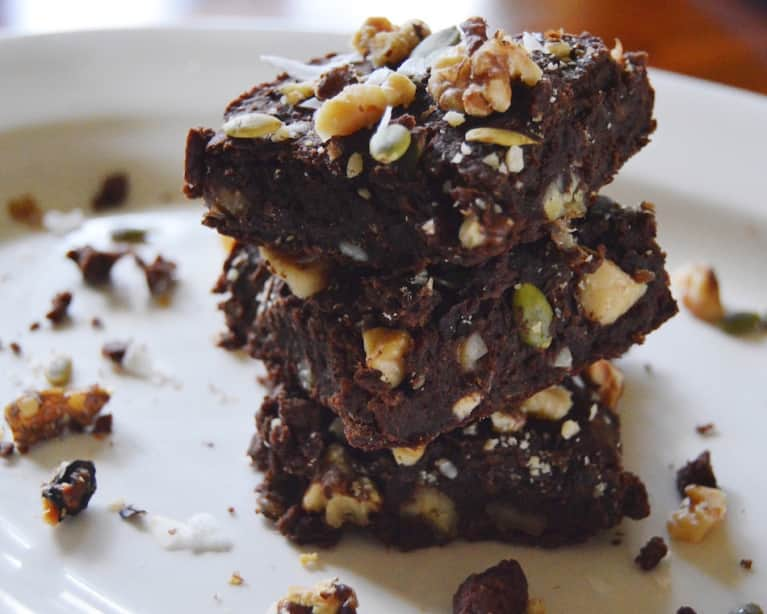 Brownies are a special treat that just about everyone loves to indulge in, but they're usually filled with tons of sugar and processed flours. You can forget that! Instead of reaching for the boxed brands, try these brownies that are made of none other than the powerful garbanzo bean (also known as chickpeas)!
Garbanzo beans are a healthy source of protein with a high fiber count that'll keep your digestive system on track. Not only are they great on salads and in curries, they're also the perfect healthy swap in desserts to up the nutrients and leave out the unnecessary refined ingredients.
These Superfood Brownies are rich, gooey, and packed with nutritional benefits that will keep you energized. They're easy to whip up and a no-hassle cleanup. Eat 'em up for breakfast, a midday snack, or when you get that late-night sweet craving. Enjoy!
1 15-oz. can organic garbanzo beans/chickpeas (no salt added)
1 large ripe banana
1 flax egg (1½ tablespoons of flaxseed + 3 tablespoons of H20)**
3 tablespoons raw cacao powder
¾ cup dates (soaked in warm water for 10 to 15 minutes)
1 teaspoon vanilla extract
¾ cup mix of pumpkin seeds and walnuts (or nuts of your choice), plus ¼ cup for topping
2 tablespoons coconut flakes
Coconut oil cooking spray
Cacao nibs (optional)
Preheat oven to 350°F.
Combine garbanzo beans, banana, flax egg, cacao powder, dates, and vanilla extract in a food processor (or blender) until fully combined and smooth.
Fold in ¾ cup of nuts and 1 tablespoon coconut flakes (and optional nibs). Spray an 8-by-8-inch baking pan with coconut oil cooking spray and fill with batter. Top with ¼ cup nuts and 1 tablespoon coconut flakes.
Bake in the oven for 30 to 45 minutes. Let cool and cut into 9 brownies.
How to make a flax egg: combine 1 to 1½ tablespoons of flax meal with 3 tablespoons water. Let sit for 10 to 15 minutes and voilà, a vegan egg!