3 Desserts That Will Completely Change Your Mind About Clean Eating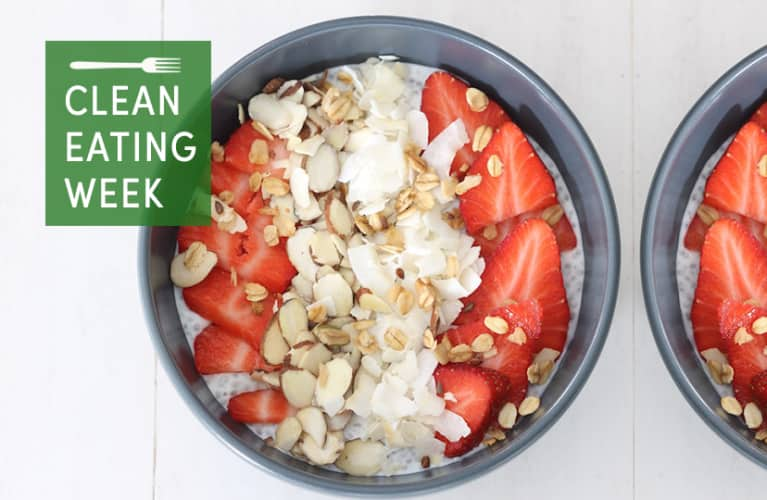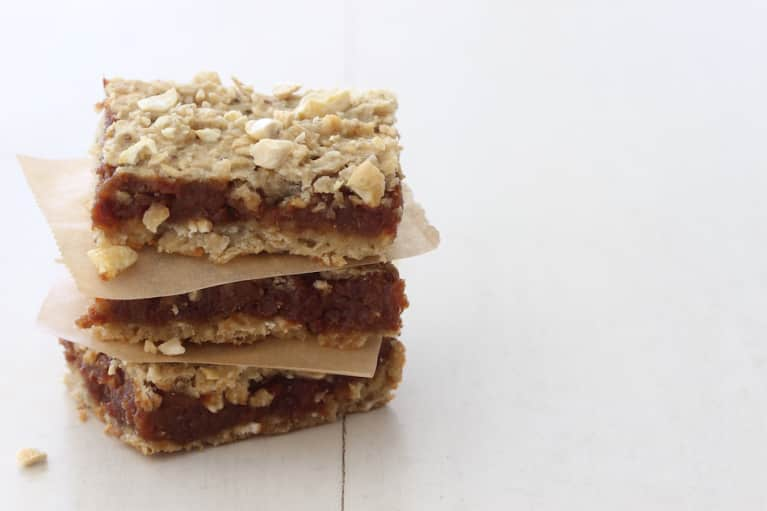 1 tablespoon chia seeds
¼ cup water
2 cups oats, divided
1 cup raw cashews
1 cup applesauce
2 tablespoons maple syrup
1 tablespoon coconut oil
1 tablespoon sunflower seeds
1 teaspoon vanilla
1 teaspoon baking powder
1 teaspoon salt
1 1/2 cup dried dates
1/2 cup dried cherries
2 teaspoons cinnamon
1/2 cup applesauce
1/4 teaspoon salt
Preparation
1. Preheat the oven to 350°F. In a small bowl, mix together chia seeds and water until combined. Let set for 15 to 20 minutes.
2. For the crust: In a blender or food processor, combine chia seed mixture, 1 cup oats, cashews, applesauce, maple syrup, coconut oil, sunflower seeds, vanilla, baking powder, and salt. Blend or process until smooth. Fold in remaining 1 cup oats into mixture but do not process.
3. For the filling: In a food processor, combine dried dates, dried cherries, cinnamon, applesauce, and salt. Mix thoroughly until combined.
4. In a 9-by-13-inch baking pan, spread half of the crust mixture on the bottom of the pan.
5. Layer the filling on top, followed by another layer of the crust mixture. Sprinkle with crushed cashews (optional). Bake for 25 to 30 minutes.
Serves 1
Ingredients for the pudding
1 tablespoon chia seeds
1 cup almond milk
1 cup plain yogurt (or vegan option)
1 tablespoon honey (or maple syrup)
4 strawberries, sliced
1 tablespoon sliced almonds
1 tablespoon unsweetened coconut flakes
1 tablespoon granola
1 teaspoon flax seeds
Preparation
Mix pudding ingredients and refrigerate for at least 30 to 45 minutes (or overnight). Top with strawberries, almonds, coconut, granola, and flax, and enjoy!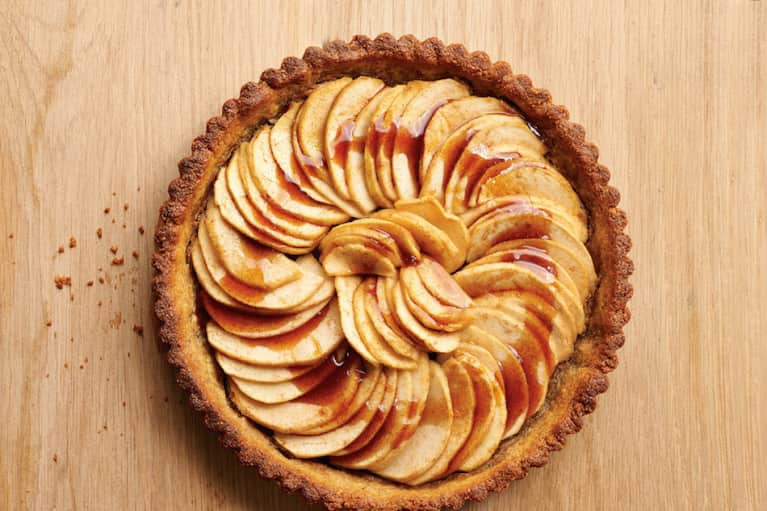 Serves 6
Ingredients for crust
1½ teaspoons flax meal
1 tablespoon water
2½ cups walnut pieces
¼ teaspoon sea salt
2 tablespoons coconut oil
2 tablespoons maple syrup
4 large apples, peeled and thinly sliced
3 tablespoons maple syrup
3 tablespoons orange juice
½ teaspoon ground cinnamon
Preparation
1. Preheat the oven to 375°F. Lightly oil the bottom and sides of a 9-inch tart pan with a removable bottom or a 9-inch pie plate.
2. To make the crust: In a small bowl, combine the flax meal and water, stir well, and set aside for 10 minutes to form a gel.
3. In a food processor, combine the walnuts and salt. Process until sandy. Add the oil, maple syrup, and reserved flax mixture, and pulse to combine. Press the crust mixture into the bottom and up the sides of the pan. Bake for 12 to 15 minutes or until the edges are golden brown. Let the crust cool for at least 10 minutes.
4. To make the filling: In a large bowl, toss the apples with the maple syrup, orange juice, and cinnamon to coat. Lift the apple slices from the syrup and reserve both the apples and the syrup.
5. Arrange the apples in concentric circles in the prebaked crust, and bake for 30 minutes. Cover the tart with foil and bake for an additional 20 to 25 minutes or until the apples are tender. Meanwhile, in a small saucepan over medium heat, heat the reserved syrup until it reduces to 3 tablespoons or a light syrup. Drizzle the syrup over the hot apples. Let the tart cool just until warm or chill (if desired).