Kick-Start Spring With 3 Clean "Power Soups"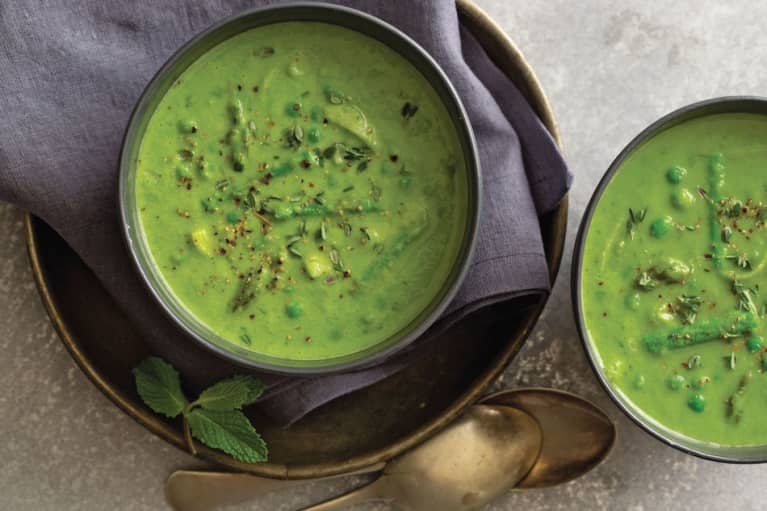 Our editors have independently chosen the products listed on this page. If you purchase something mentioned in this article, we may
earn a small commission
.
Rachel Beller is a registered dietitian and Hollywood-based nutritionist. Today she's sharing a few recipes from her new book, Power Souping. These three recipes will kick-start a fresh and clean start to spring!
Deflame Me Smoothie Bowl With Ginger, Coconut + Turmeric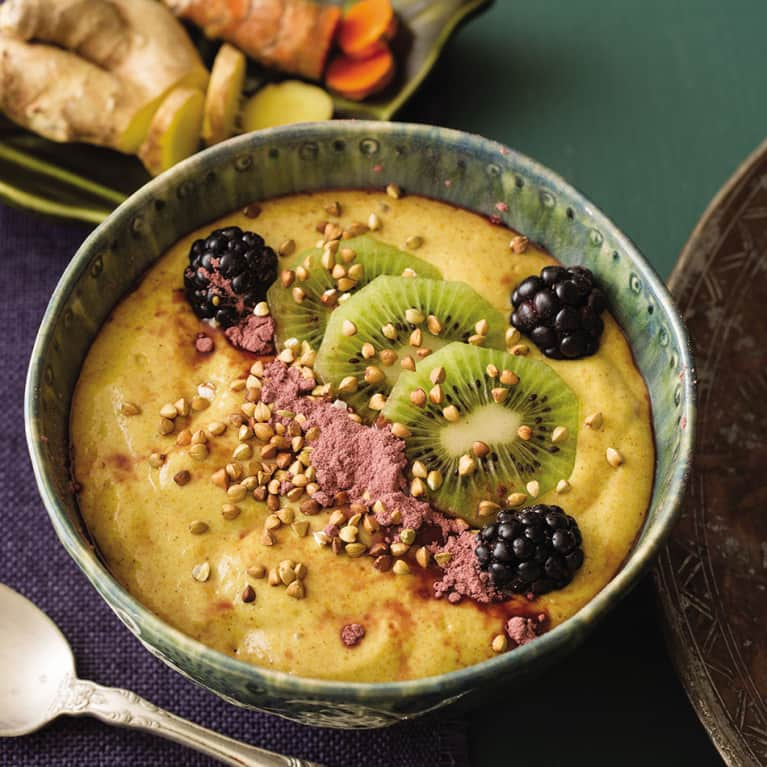 With turmeric, ginger, and cinnamon, this anti-inflammatory smoothie bowl is a body-detox bonanza! An ever-growing body of research shows that just a pinch of turmeric may have a huge effect on reversing cellular damage. So drink up!
Serves 1
Ingredients
½ cup unsweetened coconut milk
1 small frozen banana
1 tablespoon plant-based protein powder
2 teaspoons almond butter
½-inch piece fresh turmeric, peeled and minced, or ½ teaspoon ground
½-inch piece fresh ginger, peeled and minced
½ teaspoon Ceylon cinnamon
½ teaspoon pure vanilla extract
1 tablespoon organic psyllium husk
2 ice cubes
1 date, pitted, or 1 teaspoon raw honey (optional)
1 teaspoon buckwheat groats
1 tablespoon pomegranate powder
½ sliced kiwi
3 blackberries
Preparation
Place the coconut milk, banana, protein powder, almond butter, turmeric, ginger, cinnamon, vanilla, psyllium husk, ice cubes, and, if using, the date in a high-powered blender and puree until smooth. Dress with toppings, if desired.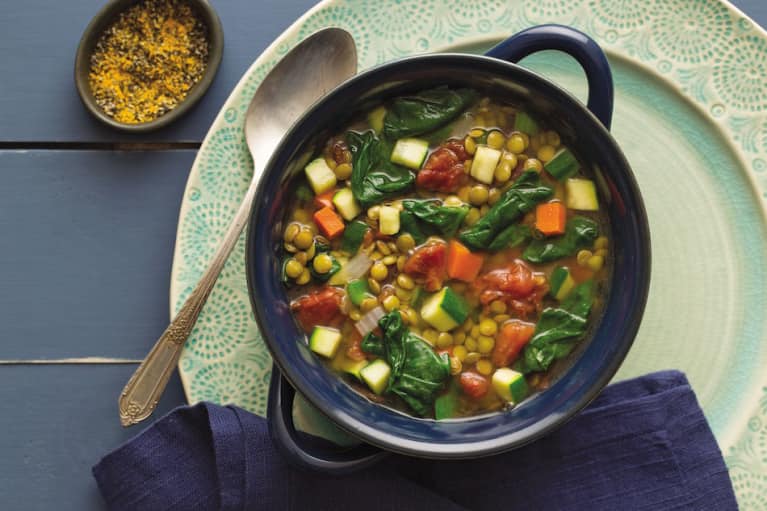 Every other week I make a big batch of this for my team. It keeps everyone full, energized, and satisfied. Not only is this lentil-and-veggie soup delicious, but it's also a cinch to make, lasts for days in the fridge, and is a hit with the entire family (home and office).
Leftovers you can get excited about? Sign me up!
Serves 6
Ingredients
1 tablespoon extra-virgin olive oil or avocado oil
1 medium onion, chopped
1 medium carrot, chopped
2 stalks celery, chopped
2 cups dried French green lentils
1 large tomato, chopped
8 cups filtered water
2 medium zucchini, chopped
4 cups baby spinach
2 cloves garlic, minced
Himalayan or sea salt and freshly ground black pepper
Add to your pot (optional)
½ teaspoon ground turmeric and/or 1 teaspoon ground cumin (along with zucchini)
1 tablespoon minced fresh rosemary (for finishing)
Add to your bowl (optional)
Preparation
1. Heat the oil in a large pot over medium heat. Add the onion, carrot, and celery and sauté for 3 to 5 minutes, until softened. Stir in the lentils and tomato and cook for another 2 minutes.
2. Add the water and bring the soup to a boil. Reduce the heat, cover, and simmer for 20 minutes, then stir in the zucchini, spinach, and garlic. Season with salt and pepper to taste, and serve.
Debloat Me: Green Pea, Asparagus + Parsley Soup
A Hollywood favorite during award season among my celebrity clients, this tummy de-bloater is my delicious red-carpet-ready trick of the trade. The secret in this soup (pictured above) is the parsley, which helps flush out excess water from the body and keeps tummy bloat at bay.
Plus, asparagus is rich in vitamins A, E, C, and K, and the green peas are high in protein and loaded with all types of B vitamins that may help energize you. I think of this trio of power greens as a tasty multivitamin in a bowl!
Serves 6
Ingredients
1 tablespoon coconut oil
1½ cups chopped leeks
8 cups low-sodium vegetable broth
6 cups frozen green peas
2 bunches of asparagus (30 to 40 stalks), tough ends removed and cut into 1-inch pieces
½ cup chopped fresh parsley
Himalayan or sea salt and freshly ground black pepper
2 teaspoons minced fresh thyme (stir in with the parsley)
Preparation
1. Heat the oil in a large pot over medium heat. Add the leeks and sauté for 4 minutes, until softened. Add the broth and bring to a simmer. Stir in the peas and asparagus and simmer, covered, for 3 minutes longer.
2. Carefully place half of the soup in a high-powered blender and puree until smooth, then return it to the pot. Add the parsley and stir well to combine. Season with salt and pepper to taste and serve.
From POWER SOUPING by Rachel Beller. Copyright © 2016 by Rachel Beller. Reprinted by permission of William Morrow, an imprint of HarperCollins Publishers.