3 Soup Recipes For Glowing Skin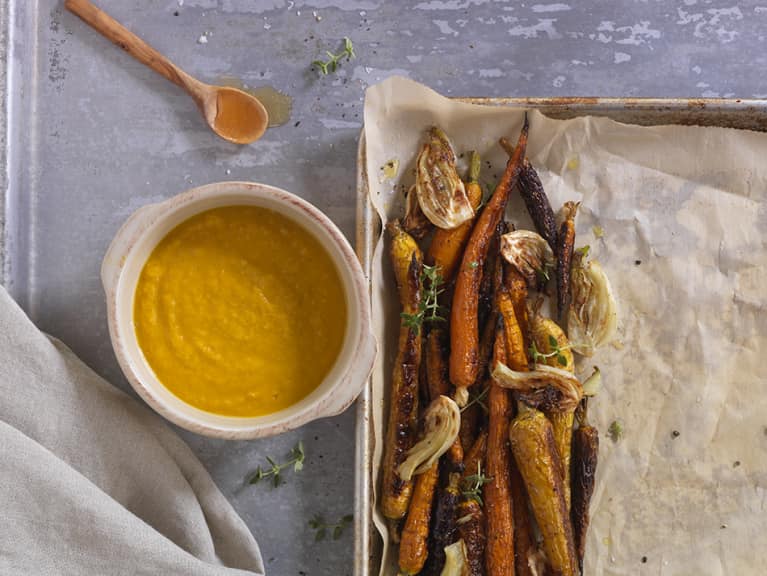 Our editors have independently chosen the products listed on this page. If you purchase something mentioned in this article, we may
earn a small commission
.
Rumor has it that juicing is out and souping is in. This cold-weather-friendly method of cleansing is gaining traction because soups are typically blended, leaving behind that much-needed fiber, and they can be eaten with a spoon—both of which contribute to overall satisfaction. Souping expert Alison Velazquez shares three recipes below to get you started.
Your diet plays a role in how you look as well as how you feel. A diet high in processed foods, sugar, refined carbohydrates, and little water can result in dull skin, dry hair, and brittle nails. Eating only hydrating, nutrient-dense soups can help correct these issues and give your appearance a boost.
Sweet and creamy, this blend is reminiscent of a strawberry milkshake. With fresh strawberries, tart rhubarb, and rich macadamia nuts, it tastes indulgent but delivers on nutrition. Serve chilled.
Serves 4 (1-cup servings)
Ingredients
¾ cup unsalted macadamia nuts
⅔ cup rhubarb, diced
1 cup strawberries, hulled and halved
2⅔ cups purified water
2 tablespoons agave nectar
⅛ teaspoon pepper
Preparation
1. Place macadamia nuts in a medium bowl and add hot water to cover. Let soak for 30 minutes to 24 hours before draining (discard soaking water).
2. In a small saucepan, bring ⅔ cup water to a boil over high heat. Add rhubarb and boil for 5 minutes or until tender. Drain and discard boiling water.
3. In a blender, combine macadamia nuts, rhubarb, strawberries, remaining 2 cups water, and agave nectar. Blend until nuts are broken down and mixture is smooth, about 45 seconds.
4. Transfer blending vessel to refrigerator for 30 minutes or until chilled. Blend briefly before serving.
(Pictured above)
Roasting with a touch of honey brings out the earthy sweetness of carrots and fennel, which is complemented by savory fresh thyme in this creamy, comforting soup. Serve hot.
Serves 2 (2-cup servings)
Ingredients
2 cups carrots, peeled and diced
2 cups fennel, diced
1 cup onion, diced
2 tablespoons coconut oil
2 tablespoons honey
4 cups purified water
½ teaspoon fresh thyme, minced
¼ teaspoon salt
¼ teaspoon pepper
Preparation
1. Preheat oven to 425°F. Line a baking sheet with foil.
2. In a medium bowl, combine carrots, fennel, and onion. Drizzle with coconut oil and honey, and toss to combine. Spread vegetables on prepared baking sheet and roast for 12 to 15 minutes or until they begin to caramelize.
3. In a blender, combine roasted vegetables, water, and thyme. Blend until smooth. Season with salt and pepper, and heat before serving if needed.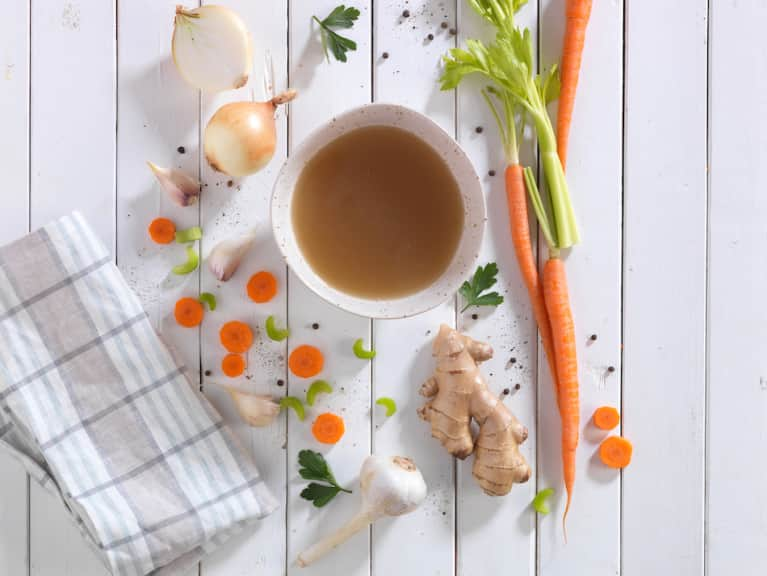 The longer you simmer this rich, savory broth, the more nutrients and minerals are extracted from the bones. Ginger adds a spicy note, but it can be omitted to make a basic beef bone broth. Serve hot.
Serves 4 (2-cup servings)
Ingredients
4 lbs. beef bones (neck, knucklebones, ribs, shank)
4 tablespoons olive oil
12 cups purified water
2 tablespoons apple cider vinegar 1 cup onion, diced
1 cup carrot, diced
1 cup celery, diced with leaves removed
8 cloves garlic, peeled
1 bay leaf
3 tablespoons tomato paste
½ bunch parsley
4 tablespoons fresh ginger, grated (optional)
Preparation
1. Preheat oven to 450°F and line a baking sheet with foil. In a large bowl, toss beef bones with olive oil to coat. Spread bones on prepared pan and roast for 20 to 30 minutes. (Roasting intensifies the flavor of the broth.)
2. Using tongs, carefully transfer bones to a large stockpot. Add water, ensuring that water covers bones by at least 3 to 4 inches. Stir in apple cider vinegar. Cook over medium-high heat until water begins to boil, about 35 minutes.
3. Reduce heat to simmer and cover. Continue to cook for a minimum of 9 hours or up to 48 hours. Intermittently skim broth to remove the impurities that rise to the top, and add water as needed to keep bones covered.
4. Two hours before removing the broth from the stove, add onion, carrot, celery, garlic, bay leaf, tomato paste, and parsley. Continue to simmer for 2 hours, and then remove pot from heat.
5. Strain broth, discarding vegetables and bones. Stir in fresh grated ginger (if using) and transfer to refrigerator to cool. Once cool, skim hardened fat from surface. Heat before serving and season with salt and pepper if needed.