A Grain-Free Granola Recipe You'll Want To Eat All Week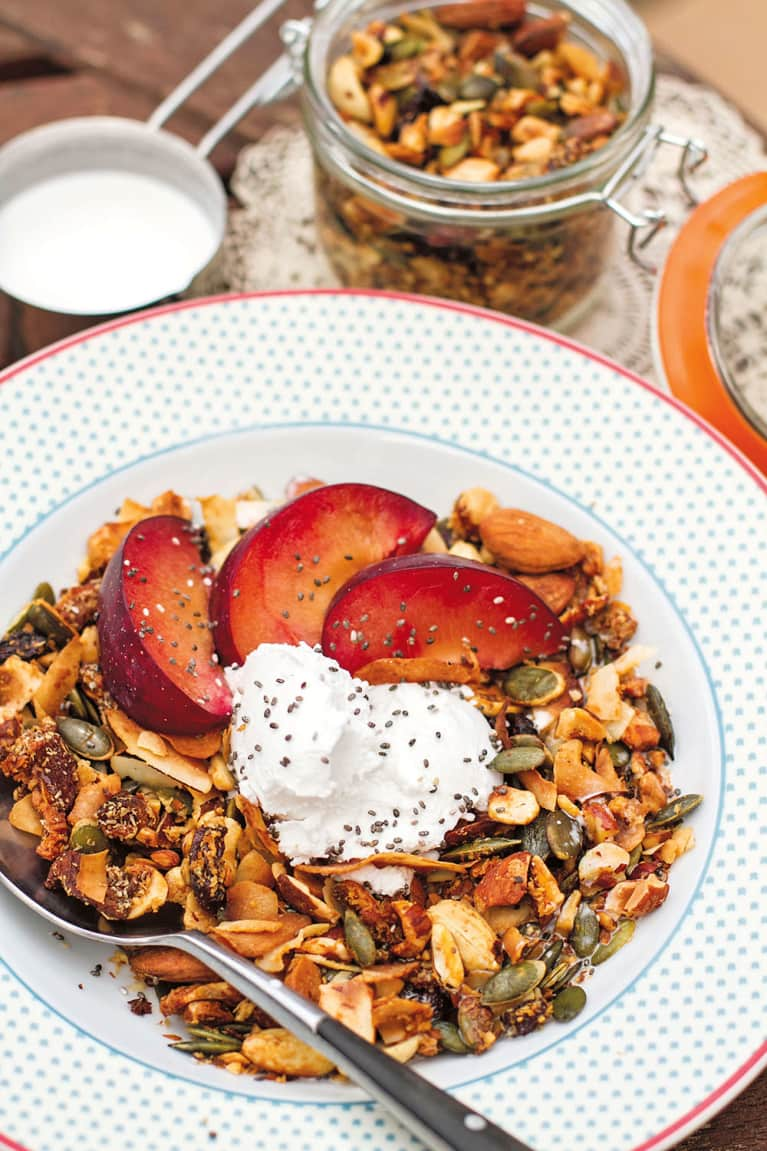 Our editors have independently chosen the products listed on this page. If you purchase something mentioned in this article, we may
earn a small commission
.
I make this granola almost every week, as it's a perfect breakfast and great snack on the go. I usually have about ½ cup of granola with some yogurt and berries. I recommend trying it with some coconut yogurt, which is a really great dairy-free option.
Coconut oil for greasing
3 cups mixed almonds, hazelnuts, and macadamia nuts
⅔ cup dried plums, cherries, cranberries, or apricots, or a mixture
⅔ cup unsweetened shredded coconut
½ cup coconut flakes
½ cup pumpkin seeds
2 tablespoons maple syrup
2 to 3 tablespoons raw honey or coconut syrup
1 teaspoon vanilla extract
Zest of 1 orange (optional)
1 to 2 tablespoons chia seeds
Preparation
1. Preheat oven to 350°F. Grease a rimmed baking sheet with coconut oil and line with parchment paper.
2. Using a food processor, pulse 2½ cups of the nuts and all of the dried fruit into small crumbs.
3. In a large bowl, add the ground nut–fruit mixture, the remaining ½ cup whole nuts, the shredded coconut, coconut flakes, pumpkin seeds, maple syrup, honey, vanilla, and orange zest (if using). Stir with a wooden spoon until combined. Pour the mixture onto the prepared baking sheet and use a spatula to flatten it out.
4. Bake until browned, 20 to 25 minutes, stirring twice during the baking process. Remove to a wire rack and let cool completely. Stir in the chia seeds. Store in an airtight container at room temperature for up to 2 weeks.