Cook Once, Eat Twice: Salmon + Roasted Winter Veggies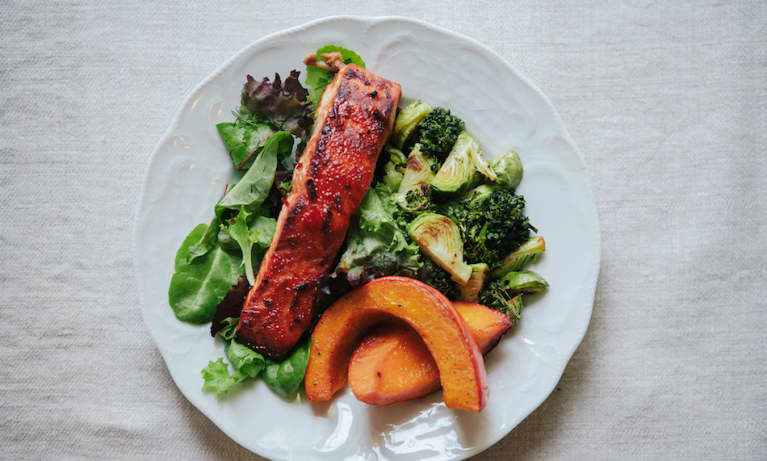 We've been enjoying winter squash and Brussels sprouts all season long, but this recipe is a must-have before the cold weeks come to an end. Eating with the seasons is one of the best ways to stay healthy and grounded. There's a reason winter squash is available in winter: it's warming and full of nutrients that help fight colds and sickness.
In the 10-Day Health Challenge kitchen, using tasty leftovers in a creative way is a no-brainer. Why not save some time and have tomorrow's lunch prepped the night before?
This hearty, wintery recipe does exactly that. It loads up on healthy whole foods, uses less than 10 ingredients, and sure is easy-peasy! You'll love tonight's delicious dinner so much you'll want it for tomorrow as well — guaranteed.
Harissa Salmon + Winter Vegetables
Serves 1, with enough for 2 meals
Ingredients
1 small kabocha squash (1½ to 2 lbs.)
1 cup Brussels sprouts, halved
1 bunch broccolini
8-10 oz. salmon (2 fillets)
3 tablespoons harissa paste, divided
1 tablespoon honey
Juice of half a lime
½ cup brown rice or quinoa
¼ cup coconut milk
1 cup of chopped kale
chopped cilantro
pumpkin seeds
Preparation for dinner
1. Heat oven to 400°F. Prepare the squash by cutting it into eight wedges and removing the seeds. There's no need to skin kabocha squash, as it's edible and fiber-rich. Place the wedges on a large baking sheet lined with parchment and bake for 25 minutes.
2. Cut off the bottom 2 inches of the broccolini stems, then cut in half.
3. Make the harissa marinade: combine 2 tablespoons of harissa with honey and lime juice. Brush the salmon pieces with ½ of the harissa marinade and toss the Brussels sprouts and broccolini in the other half. Place the salmon in a small baking dish.
4. After 10 minutes through roasting the squash, turn up oven temperature to 425°F, push the squash to one side of the baking sheet and add the broccolini and Brussels sprouts to the other side. Continue roasting for 15 minutes, tossing the veggies once more after about 10 minutes. Veggies are done when easily pierced with a fork and starting to brown. Remove from oven.
5. Turn the oven to broil and cook the salmon for 8 minutes, about 5 inches from the broiler.
6. For dinner, enjoy 1 piece of salmon with half of the Brussels sprouts, half of the broccolini, and a few wedges of squash.
Preparation for tomorrow's lunch (either prepare the night before make the next day)
1. Combine ½ cup of brown rice or quinoa with 1 cup of water. Bring to a boil and let simmer on low for 20 minutes, or until the grain is cooked and al dente.
2. In a small saucepan, combine the harissa, coconut milk, and ¼ cup of water. Bring to a boil and reduce to a low simmer.
3. Cut a few wedges of squash and salmon into cubes. Add to the saucepan, along with the kale and leftover broccolini and Brussels sprouts. Cover and simmer until everything is heated, about 5 minutes. Serve over ½ cup cooked grain and top with chopped cilantro and pumpkin seeds.