Perfect Paleo Dinner: Sweet Potato-Mushroom Pancakes With Spicy Skillet Spinach
Our editors have independently chosen the products listed on this page. If you purchase something mentioned in this article, we may
earn a small commission
.
Quick, easy, and full of flavor, this Paleo-friendly recipe comes from the Paleo guru himself, Loren Cordain. A few simple and healthy ingredients come together to make these satisfying sweet potato pancakes — ideal for a breakfast-for-dinner scenario.
Sweet Potato-Mushroom Pancakes with Spicy Skillet Spinach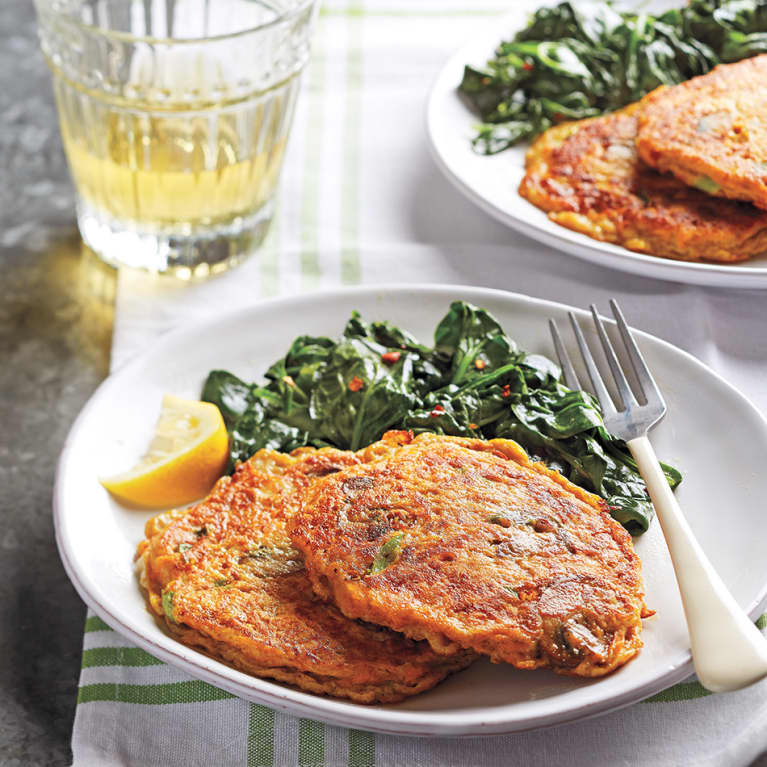 8 eggs, lightly beaten
1 pound sweet potatoes, peeled and finely shredded
1 cup thinly sliced cremini mushrooms
½ cup thinly sliced scallions
¼ cup almond flour
1 teaspoon Smoky Seasoning (recipe below)
3 cloves garlic, minced and divided
6 tablespoons extra-virgin olive oil
½ teaspoon crushed red pepper
1 x 5- to 6-ounce package fresh baby spinach
Lemon wedges
Preparation
1. For batter, in a medium bowl stir together eggs, sweet potatoes, mushrooms, scallions, almond flour, Smoky Seasoning, and 1 of the minced garlic cloves. Heat a griddle or an extra-large skillet over medium-high heat.
2. Brush the surface with some of the olive oil. For each pancake, pour ¼ cup of the batter onto the hot griddle. Cook 2 to 3 minutes or until the bottoms are golden.
3. Turn pancakes; cook 1 to 2 minutes more or until second sides are golden. Repeat with the remaining batter, adding more oil as necessary.
4. In a large skillet heat 2 tablespoons of the olive oil over medium heat. Add the remaining 2 minced garlic cloves and the crushed red pepper. Cook and stir 1 minute. Add the spinach; cook 2 minutes or just until spinach wilts, stirring occasionally.
Serve pancakes with spinach and lemon wedges.
Tip: Keep the cooked pancakes warm on a paper towel–lined rimmed baking sheet in a 200°F oven while you finish cooking the pancakes and sauté the spinach.
¼ cup smoked paprika
4 teaspoons dried orange peel
2 teaspoons garlic powder
1 teaspoon onion powder
1 teaspoon ground cloves
1 teaspoon dried basil
Preparation
In a small bowl combine smoked paprika, orange peel, garlic powder, onion powder, cloves, and dried basil. Store in an airtight container at room temperature up to 6 months. Stir or shake before using. Makes about ½ cup.
Excerpted from my cookbook, Real Paleo Fast & Easy, by Loren Cordain. Copyright © 2015 by Loren Cordain and The Paleo Diet, LLC. Reprinted by permission of Houghton Mifflin Harcourt Publishing Company. All rights reserved.