A Clean-Eating Soup Recipe To Kick-Start Your Week
My journey to clean eating over the past 10 years started in my mid-20s when I found myself nearly bedridden, suffering from a range of ailments, and without a conclusive diagnosis. And then, with a complete and total clean eating detox, I reversed my symptoms.
This new year, it's time to think not just outside the box — but out of the bag and the can as well. My practical healthy approach focuses on how much your health can improve when you get your body working for you — not against you — and how detoxing with organic food can address and correct the imbalances that may be affecting your body.
In my new book Eating Clean: The 21-Day Plan to Detox, Fight Inflammation, and Reset Your Body, I talk about how I detoxed with food and healed from a decade of ailments. Here's a recipe from my book that's clean and delicious — I know you'll love every bite.
Dipping your spoon into this bell pepper–sweet potato combo is like dipping into a bowl of sunshine. It's stunning — and the perfect antidote to a gloomy winter's day. This soup also freezes well, so if you're not serving a crowd, store the leftovers for a later date (or make a double batch).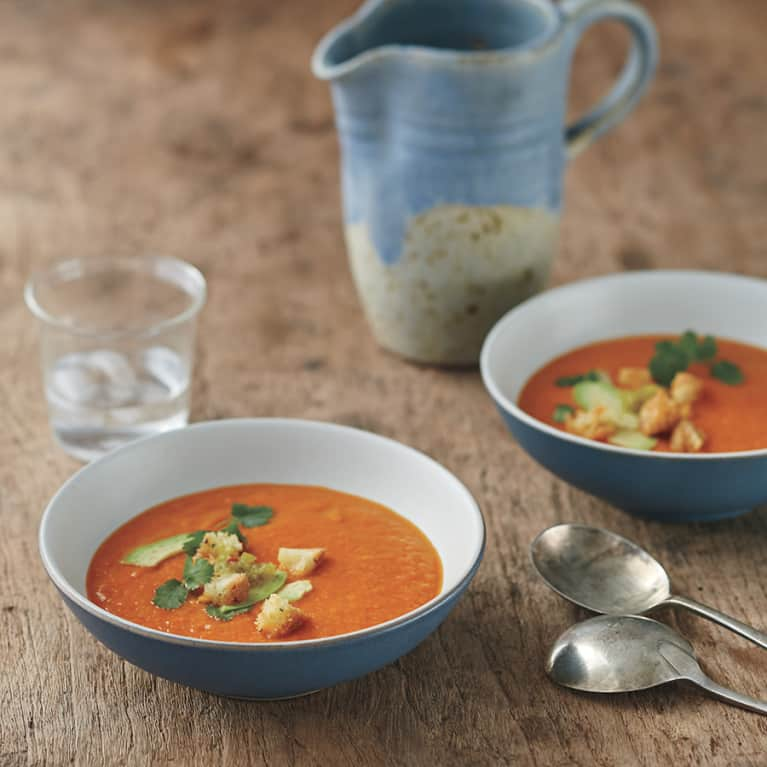 ¼ cup extra-virgin olive oil
½ small onion, diced
2 medium carrots, peeled and diced
1 celery stalk, diced
Sea salt and freshly ground black pepper, to taste
8 yellow, red and/or orange bell peppers, chopped
1 large sweet potato, peeled and chopped
4 cups low-sodium vegetable broth
3 teaspoons finely chopped fresh marjoram
1 recipe Gluten-Free Herbed Croutons, for garnish
Sliced avocado, for garnish; optional
Finely chopped fresh cilantro, for garnish; optional
Preparation
1. In a large pot, heat the oil over medium heat. Add the onion, carrot, celery, and a pinch of salt and black pepper. Cook until the vegetables are tender, about 4 minutes.
2. Add the bell peppers and cook until soft, about 6 minutes. Add the sweet potatoes and broth. Season with salt and black pepper, cover the pot, and bring to a boil. Lower the heat and add the marjoram. Simmer until the vegetables are tender, about 20 minutes.
3. Let the soup cool slightly, and then, in batches, transfer to a blender and puree until smooth. If needed, thin the soup with water. Adjust the seasoning with salt and black pepper if necessary. Return the soup to the pot to keep warm until serving.
4. Serve garnished with the Herbed Croutons and, if desired, the avocado and cilantro on top.