Cleanse The Delicious Way With This Salad
Our editors have independently chosen the products listed on this page. If you purchase something mentioned in this article, we may
earn a small commission
.
Quinoa is the grain everyone — even I — turn to when someone asks for a healthy side: It's nutty, delicious, and full of protein, but it isn't usually very fresh and summery. I often find quinoa recipes stuffed with dried fruit, nuts, and other autumnal ingredients.
This past summer, I thought about pairing tarragon with quinoa, a wholly nontraditional combination. Still, the quinoa took well to the herbaceous treatment, and some lively broccoli branches added crispness and more greenery to the salad, which ages well overnight in the refrigerator. Keep the nuts out until the last minute to preserve their crunch.
Quinoa Salad With Broccoli and Pistachios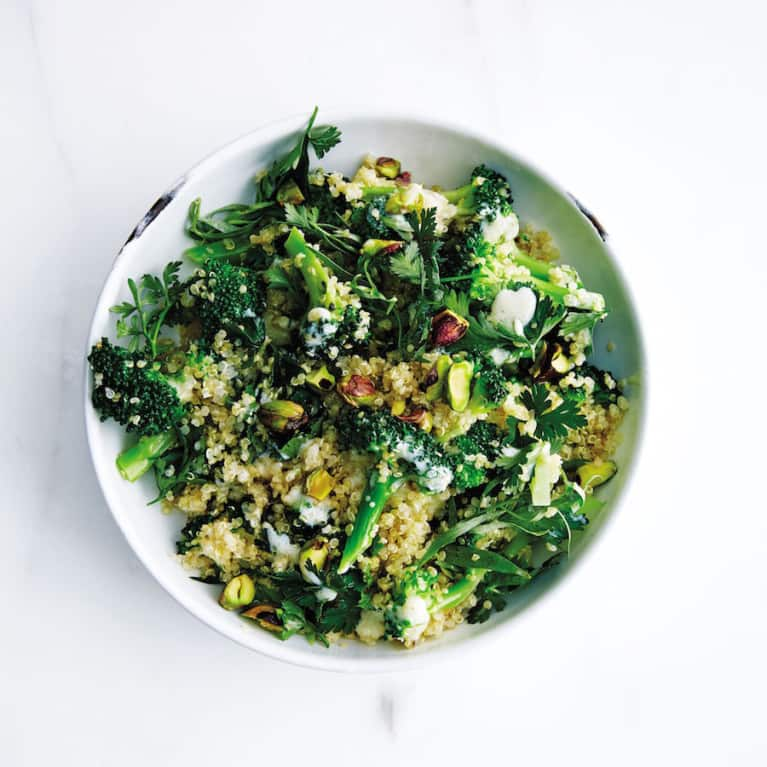 Fine sea salt
1 shallot, finely minced
6 tablespoons Buttermilk Dressing (below)
2 small broccoli heads, trimmed, cut into bite-size florets
1 cup white, red, or black quinoa (if using cooked quinoa, about 2½ cups)
½ cup roughly chopped fresh parsley leaves
¼ cup roughly chopped fresh tarragon leaves
¼ cup roughly chopped pistachios
Preparation
1. Bring a large pot of salted water to a boil. Have ready a bowl of ice water and a slotted spoon or spider near the pot of water.
2. In a small bowl, toss the shallot with 2 tablespoons of the Buttermilk Dressing.
3. Drop the broccoli in the boiling water and cook until tender but still crispy, about 1 minute. Remove the broccoli from the pot to the ice water. When cool, remove the broccoli from the cold water and drain it on a clean kitchen towel laid on a baking sheet.
4. Bring the water back to a boil and pour in the quinoa. Cook for 12 minutes or until slightly al dente. Drain.
5. In a large bowl, toss the warm quinoa with 2 tablespoons of the Buttermilk Dressing and sea salt to taste. Let the quinoa cool to room temperature, about 10 minutes.
6. Toss the quinoa with the broccoli, macerated shallots, parsley, tarragon, pistachios, and the remaining 2 tablespoons of dressing. Taste for seasoning and add more salt to taste.
Buttermilk Dressing
Makes 1¼ cups
I have a pet buttermilk culture that I need to refresh a couple of times a week, so I'm always pleased when I come up with another good use for the gently soured milk. My live-culture buttermilk slips into smoothies, and of course when I'm not doing a cleanse, it makes pancakes taste great.
This recipe is one of my favorite uses: It's reminiscent of ranch dressing but with a lighter, cooler touch. It pairs beautifully with tender herbs such as chives, parsley, tarragon, and mint, but I don't mix those in until I assemble the salad, since they don't keep as well as the dressing will on its own.
Ingredients
¾ cup buttermilk
2 tablespoons extra-virgin olive oil
2 tablespoons canola oil
1 tablespoon lemon juice
Pinch of freshly ground black pepper
1 teaspoon fine sea salt
1 teaspoon rice vinegar
1 tablespoon lemon zest
Preparation
Combine all the ingredients in a small mixing bowl and whisk to incorporate. Taste and season with more salt if necessary.
Do ahead: The dressing will keep 3 to 5 days in the refrigerator. If it loses some zing during storage, add a bit more lemon juice to brighten it up.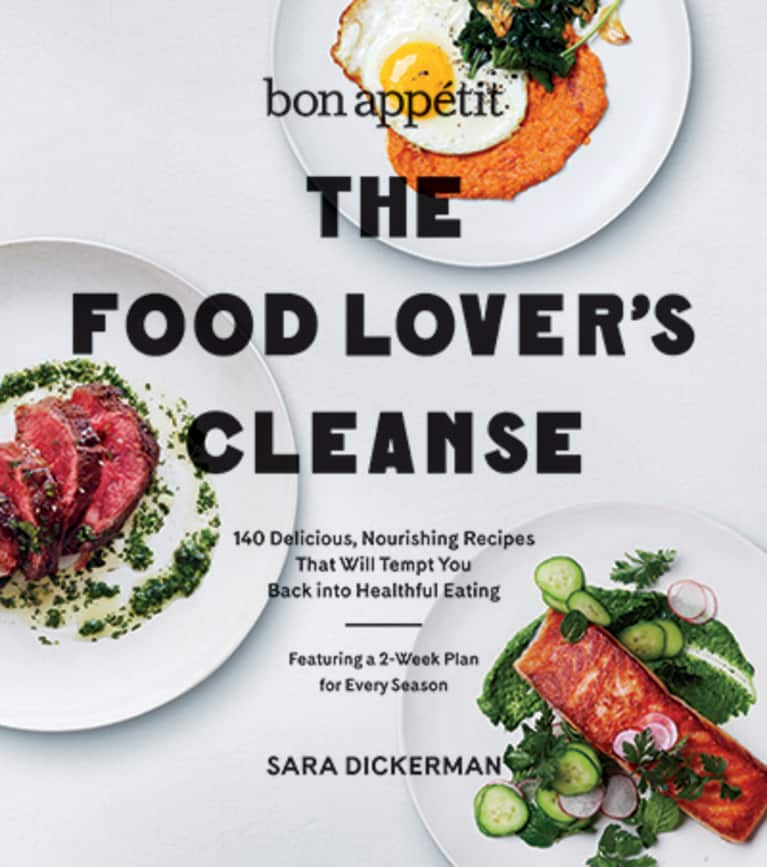 Excerpted from Bon Appétit: The Food Lover's Cleanse by Sara Dickerman. Copyright © 2015 by Sara Dickerman. Reprinted by permission of William Morrow, an imprint of HarperCollins Publishers.