Caramelized Pecan Chocolate Banana Bread (Yesss!)
I was never a big fan of banana bread, especially the kind loaded with refined sugars that I used to buy.
As I've experimented with making my own, it's become one of my favorite treats ever! This recipe is so simple to prepare, amazingly healthy, and delicious!
The chocolate gives it such a rich taste, and the texture is heavenly — soft and moist. I mostly have it before my morning workout, as both bananas and cacao are amazing sources of energy for the body. It's a great afternoon snack, too!
Caramelized Pecan Chocolate Banana Bread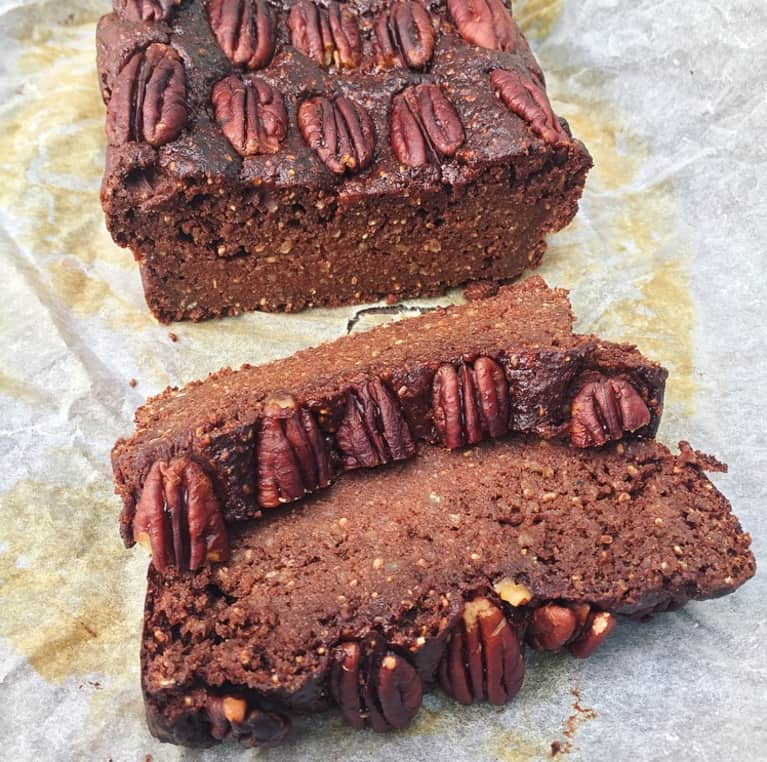 Makes 1 loaf
Wet Ingredients
3 medium to large bananas
½ cup pure maple syrup (or honey if non-vegan)
3 chia eggs*
5 tablespoons raw cacao powder
¾ cup ground almonds
⅔ cup oat flour
1 tablespoon ground cinnamon
Caramelized Pecan Ingredients
⅓ cup pecans
1 tablespoon coconut oil
2 tablespoons pure maple syrup (or honey if non-vegan)
½ teaspoon ground cinnamon
Preparation
1. Preheat the oven to 350°F. Slice the banana and place into the food processor, pulse a few times, then add the remaining wet ingredients and blend all together.
2. Add the dry ingredients to the food processor with the rest of the wet mix and blend until smooth.
3. Line up a loaf pan with parchment or grease it with coconut oil. Pour the mixture into the loaf pan and allow it to bake for 25 minutes.
4. While it's baking, prepare the topping by mixing the topping ingredients together in a bowl to coat the pecans evenly.
5. Remove the loaf pan from the oven after 25 minutes (as mentioned above) and spread the pecan mixture over the top of the bread (by slightly pushing the pecans into the surface of the bread, so they don't fall off).
6. Return loaf pan to the oven and bake for an additional 20 to 25 minutes. (The total baking time should be about 45 to 50 minutes.)
7. Remove from oven and allow it to cool for 10 minutes before slicing. Store in an airtight container for up to a week in the fridge.
*To make 3 chia eggs: Add 3 tablespoons of chia seeds to a cup with 9 tablespoons of water and let it sit in the fridge for 15 minutes until the chia seeds have absorbed the water and formed a gel-like consistency.
I'm sure you'll love this recipe! If you make these, tag me in your creations on Instagram using #beyondthebowlbyriri.