A Better-For-You Chocolate Chip + Sea Salt Cookie Recipe
Chocolate and salt? You true foodies have never balked at the uncommon combo, have you?
New to salty chocolate? Try any of those fancy salts: the precious pink fleur de sel, or the smoky, dark black salt. Be sure someone is there to catch you as you take your first bite, as you just might fall over.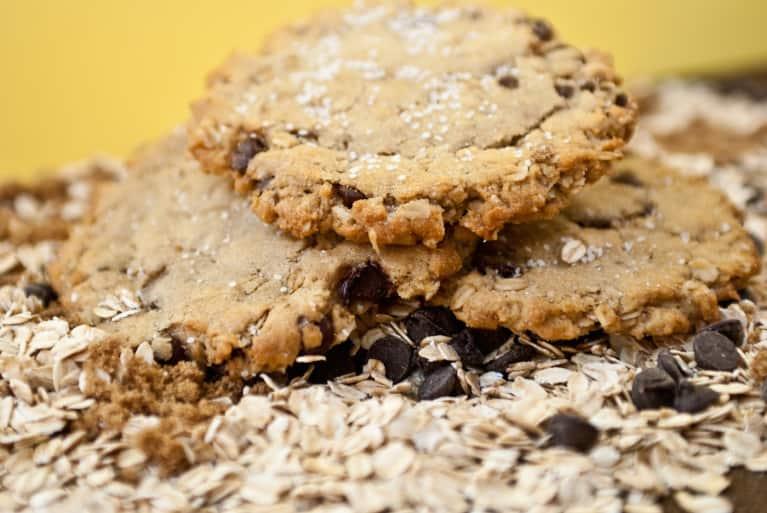 Makes 12 large or 24 small cookies
¾ cup non-hydrogenated vegan margarine (recommended: Earth Balance)
1 cup plus 2 tablespoons (8 ounces) sugar
1 cup (7 ounces) lightly packed brown sugar
1 teaspoon vanilla extract
½ cup soy milk
½ cup vegetable or canola oil
3½ cups plus 1½ tablespoons (1 pound, 2 ounces) all-purpose flour
2 teaspoons baking powder
2 teaspoons baking soda
1 teaspoon salt
1¼ cups (4.4 ounces) rolled oats (not instant)
1¼ cups chocolate chips
2 tablespoons fleur de sel or gourmet salt of your choosing
1. Preheat the oven to 350°F. Line 2 baking sheets with parchment paper.
2. In the bowl of a stand mixer, combine the margarine, sugars, and vanilla, and cream together with the paddle attachment until light and fluffy, 2 to 3 minutes. Scrape the bottom of the bowl and mix again to ensure that all the ingredients are combined, about 30 seconds more.
3. In a separate bowl, whisk together the soy milk and oil. Slowly add the soy milk mixture to the sugar mixture, and mix to combine.
4. In another separate bowl, combine the flour, baking powder, baking soda, and salt. Add the oats and chocolate chips. Add the dry ingredients to the wet ingredients and mix until a dough forms.
5. Scoop the dough onto the baking sheets with a spring-loaded ice cream scoop. Use a 2-ounce scoop for large cookies and a 1-ounce scoop for small. Leave 2 to 3 inches between each cookie and gently pat them down with your fingertips.
6. Bake for 9 to 11 minutes, until the edges of the cookies begin to brown.
7. Remove from the oven and immediately sprinkle the tops of each cookie with fleur de sel (about ⅛ teaspoon over each one). Using a spatula, remove the cookies from the pan and set on a wire mesh rack to cool.