3 Simple Green Smoothies For Energy, Immunity & Glowing Skin
Our editors have independently chosen the products listed on this page. If you purchase something mentioned in this article, we may
earn a small commission
.
Adding greens to your smoothies is a great way to up the nutrient content without messing with the flavor too much. Below are some powerful green smoothies, designed to help you heal, fuel, and glow.
Glowing Green Healer
Serves 2
Blend, sip, and nourish your skin! You'll find plenty of vitamin A in spinach (more than 50 percent of the daily recommended amount per cup), which is essential for healthy eyes and skin.
Retinoids come from vitamin A and are known to keep your skin smooth and looking young (wrinkles, hold your horses!). And with more than 100 percent of the daily recommend amount of vitamin C per kiwifruit, your skin will be happy and glowing.
Ingredients
2 cups spinach
3 cups chopped honeydew
2 kiwifruit*
1 banana*
Juice of 1 lime
Preparation
1. Blend the spinach and honeydew until smooth.
2. Add the kiwifruit, banana, and lime juice and blend again.
Tip: There's no need for an added liquid base in this recipe; once you blend your honeydew, it will liquefy and make 2 cups of melon "juice."
* Use at least one frozen fruit to make a cold green smoothie.
Fit Fuel
Serves 2
When you're hungry before a workout and want a simple, energizing drink, try Fit Fuel. Bananas contain good carbohydrates, which the body quickly and easily converts into energy before and after a workout.
Adding coconut oil to your green smoothie before your workout will help you maintain energy throughout your entire routine.
Ingredients
2 cups spinach
1 cup unsweetened coconut water
1 cup water
1 cup chopped pineapple*
1 cup sliced peaches*
1 banana*
2 tablespoons coconut oil
Preparation
1. Blend the spinach, coconut water, and water until smooth.
2. Add the pineapple, peaches, banana, and coconut oil and blend again.
Tip: Blend coconut oil at room temperature for a smooth blend; there's no need to preheat it.
Citrus Cold Recovery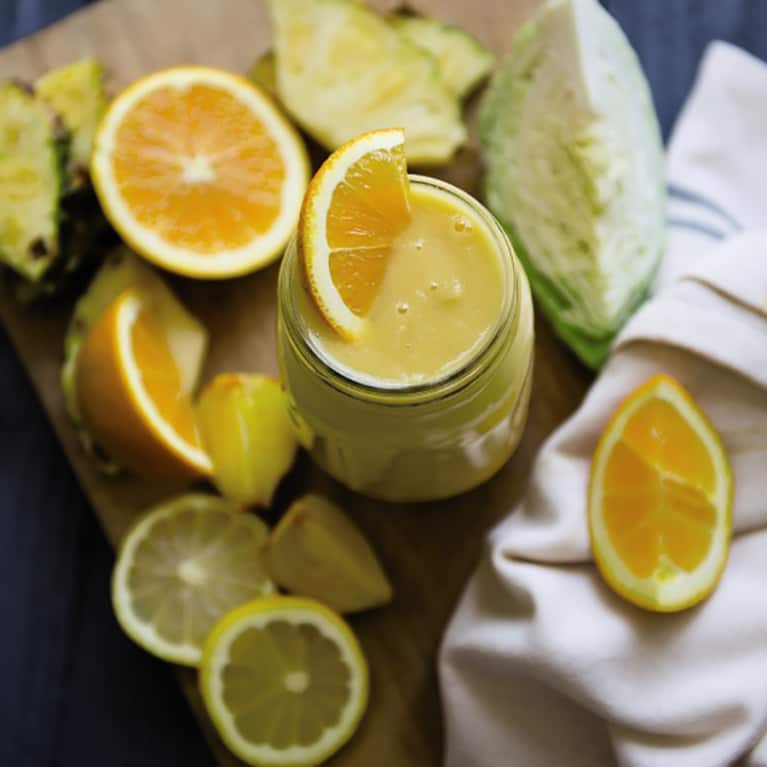 Serves 2
Caught a cold? Try this green smoothie to help nurse yourself back to health! Beets are loaded with antioxidants like vitamin C, which can help boost your immune system.
Flaxseed oil contains both omega-3 and omega-6 fatty acids; having a proper balance of these fatty acids is important for brain function and heart health.
Ingredients
2 cups green cabbage
1 cup water
2 oranges, peeled
2 cups chopped pineapple*
¼ cup peeled and cubed raw golden beet
Juice of ½ lemon
2 tablespoons flaxseed oil
Preparation
1. Blend the cabbage, water, and oranges until smooth.
2. Add the pineapple, beet, lemon juice, and flaxseed oil and blend again.
Recipes excerpted from Simple Green Smoothies.